Chineasy – Should I Believe The Hype?
Chineasy Review – What is it & Can it Help Me Become Fluent in Mandarin?
Chineasy has become a household name in the Chinese language learning market. So it's about time we gave you a Chineasy Review!
But what is Chineasy and how can it help you learn Mandarin?
So What is Chineasy?
Founded by Taiwanese born Shaolan Hsueh in 2010.
Boasting beautifully clean designs, Chineasy's goal is to make learning Chinese characters as easy as possible by creating pictograms around a character to help you remember them.
These characters are used in different formats which are also included on an app called Chineasy Cards (launched in 2018) and also Tinycards by Duolingo, both of which we reviewed not so long ago.
You can also purchase Chineasy in book form on Amazon. They have a number of publications to date which include:
The New Way to Read Chinese
100 Characters for Kids
Everyday Chinese: Learn Through Culture
… and so on.
Does Chineasy Use Simplified or Traditional Characters?
One of the caveat's of Chineasy is that it in fact mixes Simplified and Traditional Chinese.
This is hardly a surprise, given the fact Shaolan is Taiwanese, which is where the Traditional format can be found (along with Hong Kong).
Whilst that should not in any way be a negative, it might throw some beginners off in some circumstances.
The concept of understanding simplified and traditional is something that a beginner must start to understand, but Chineasy doesn't really tell us about this.
One of the key differences between traditional and simplified Chinese is the number of characters and complexity of the former.
A key example here is the word for dog, a word most of us learn at the early stages of Chinese:
狗 – Simplified Chinese for Dog
犬 – Traditional Chinese for Dog
Oddly here the Traditional version is simpler, but the key thing to note is that 犬 (pronounced quǎn) is rarely found in spoken Chinese and mainly in traditional written Chinese.
狗 (gǒu) on the other hand is far, far more commonly used in spoken and therefore teaching the traditional counterpart, might just confuse of mis-guide beginners.
Of course at more advanced stages, this becomes clearer but Chineasy is really developed for beginners.
If you plan on learning Chinese in Taiwan or Hong Kong, there's an argument for just sticking with traditional and getting to know traditional, but a beginner going to mainland China to learn Chinese will probably want to stay with Simplified.
Du Chinese Review (for 2021) ⭐️ Learn to Read Chinese
Du Chinese Review | Whereas certain apps like LingoDeer do a bit of everything, Du Chinese focuses solely on the reading part of Chinese.
I'm a Beginner – Should I Use Chineasy?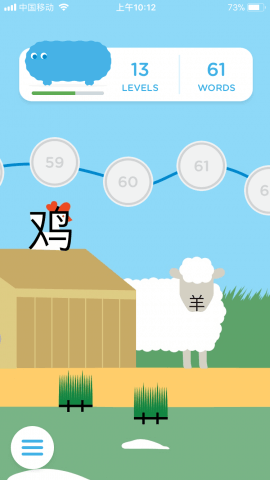 Absolutely why not?
Chineasy's simple, yet beautiful designs are a great way to ease you into a new world of Chinese characters.
The idea of the illustrations is for visual learners to memorize characters better when put into a visual context.
I'd imagine most people would get by stronger by using Chineasy than simply reading a text book over and over at the earlier stages of learning Chinese.
See in the screenshot here for the app Chineasy cards.
You are even learning in between lessons, and it's very subtly done – very useful I think.
Because of Chineasy's multiple publications you can study it on your phone, through books or flashcards – it's dynamic.
I'm Intermediate/Advanced – Should I Use Chineasy?
In a word, no.
That's no slight on Chineasy, it just doesn't really cater for the more advanced Chinese learners.
There are apps that would benefit you much more such as Du Chinese, Hack Chinese and Beelinguapp.
Chineasy will give you a foothold, but after that it's time to say goodbye and move onto the more extensive apps with deeper content.
Hack Chinese 💎 We've Unearthed a Gem
What is Hack Chinese? A database of Chinese characters (on desktop or phone) where you practice Chinese characters over and over again until they stick.
Can I Practice my Reading Using Chineasy?
No and this is a key reason why we didn't recommend if for intermediate/advanced students.
Reading Chinese is an absolutely vital element as you progress on your Chinese adventure.
Whilst Chineasy can give you a basis with individual characters, when it comes to reading actual sentences and words Chinese is a whole new game.
FOR EXAMPLE – let's say we've just learnt the word for fire on Chineasy 火
OK great, so now whenever I read an article/sentence with the character 火 it means fire?
WRONG.
In fact most Chinese words are made up of two characters, and sometimes three.
FOR EXAMPLE – 火车 ("fire vehicle" literally) means train in Chinese. 火柴 ("fire fireword" literally) means match (from a matchbox) in Chinese.
Chineasy doesn't teach you this. So whilst it's crucial we learn these characters and words at an early stage, as we progress we need to gain an understanding of how characters build words and this is something Chineasy does not do.
Chineasy Review – Is It For Me?
If you are starting out, download it.
If you have a fair knowledge of Chinese already, I'd skip this for more extensive apps.
I'd also recommend the apps over the books as well. The books feel a little more driven to children.
Either way, Shaolan and Chineasy have done a wonderful job in portraying Chinese characters and making the aesthetically fun to learn.
Will you use this App? Why or why not? Comment below and let's chat it out!
Chineasy Review – FAQ's
What is Chineasy?

Taken from Wikipedia:

Chineasy is an Internet startup created with the purpose of teaching characters, created by the entrepreneur Shaolan Hsueh. For visual learners the human brain is able to memorize information better if it is put into a visual context.
Is Chineasy free?

Yes Chineasy is completely free to download and use on your phone. There is a premium version which you will need to pay for to unlock further parts of the app.
Does Chineasy teach Cantonese?

No, but the traditional characters are actually used in Cantonese so you will actually learn some Cantonese characters, but the pronunciation is completely different in most cases.

In Taiwan and Hong Kong – Traditional Chinese is used but in Taiwan, Mandarin is spoken, in Hong Kong, Cantonese is spoken.
When was Chineasy established?

Chineasy was founded in 2010
Who founded Chineasy?

Shao Lan Hsueh, born in Taipei, Taiwan.
Can I download a Chineasy app?
Is Chineasy good for advanced learners?

No, Chineasy is much better for beginners. Advanced users will get no benefit from using Chineasy.
Want more from LTL?
If you wish to hear more from LTL Mandarin School why not join our mailing list.
Fancy learning Chinese Online? You're in the right place!
We give plenty of handy information on learning Chinese, useful apps to learn the language and everything going on at our LTL schools! Sign up below and become part of our ever growing community!