What is Weibo International 💻 Why You Need It (in 2023)
Just What Exactly is Weibo? // All Your Questions, Answered
The quick lowdown: Weibo is a popular social media website in China with over 500 million active users. It's pretty similar to any regular social media platform – but there are some key differences.
Plus… there isn't just one 'Weibo'.
What is Weibo? Why the should English-friendly Chinese Social Network site be your best friend on your Chinese language learning journey?
We all know that China is home to some pretty snazzy apps and websites and yet for many Chinese language learners, we avoid them.
A social networking site in another language can be pretty daunting at first glance, especially if textbooks are the majority of your exposure.
But for that real-level immersion (outside of our immersive programs and language conversation Flexi Classes), Weibo International should be a tool in your language learning toolbox.
If you're wondering "What is Weibo (international)", don't worry and read our comprehensive outline below.
---
Weibo Key Stats
| | |
| --- | --- |
| Name | Sina Weibo 新浪微博 |
| Date Since | August 2009 |
| Active Users | 582 million active monthly users (2022) |
| Social Media Type | Micro-blogging (similar to Facebook & Twitter) |
| Verification Policy? | Yes. |
Sina Weibo Key Facts
What is Weibo?
Sina Weibo was launched in 2009 by the Chinese technology company Sina Corporation (新浪).
Weibo literally translates to microblog and is primarily a microblogging social network. We often compare it to Twitter or Facebook.
DID YOU KNOW – Weibo in Chinese characters is 微博
As well as active users, the site hosts over 400 million business pages, news outlets and many non-Chinese speaking celebrities use the page to reach out to their Chinese fanbase.
At the end of 2019, Weibo had over 516 million monthly active users, which makes it the second biggest social media platform in China.
If you're interested in Chinese pop culture, current affairs or improving your Chinese by seeing it being used naturally outside of a textbook, you can't afford not to be on Weibo.
Without competition from Western giants such as Facebook, Twitter and Youtube, Weibo comes second only to WeChat.
The lack of international users is clear from the useful debriefs sites like Whats on Weibo and Twitter accounts like Trending Weibo give up, translating and debriefing on the biggest issues.
Arguably, it's first in its field due to the stark differences between the two.
With 50% of the population currently registered to the site, you know it must be good.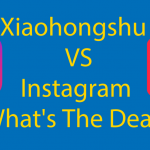 Xiaohongshu Vs Instagram 🥊 What is RED and How Can It Compete with Instagram?
Xiaohongshu Vs Instagram is an intriguing comparison. Do you know what are the main differences between the two? Discover them with our complete guide.
Weibo's Key Features
Most of the key features are what you would expect to see on any mainstream social network.
Access to trending topics and hashtags

Post scheduling

A cap on photos per post (18)

Visual temporary stories

Message followers

Opportunity to share your opinions publicly to everyone
Additionally:
It's effectively a launchpad for potentially viral content.
Home to Key Opinion Leader (online influencers) with large followings.
2000-character limit (visually limited to 140 with a "see more" option).
Live streaming – initially only for influencers. Also, the option to buy during a stream.
Videos – also given preferential treatment from the algorithm.
Partnership with Taobao allowing users to link stores and featured products combining a social network and e-commerce.
Article posts, much like WeChat (although not as popular).
Quirky reward system – options to earn medals for a variety of reasons.
It's pretty interchangeable with your usual social networking sites, with the added bonus that it's all in Chinese!
Isn't It All In Chinese? How Do I Use Weibo?
Previously, Weibo was fairly inaccessible for non-Chinese speakers, but times are changing.
In the past, the only accessible method for users who can not speak Chinese was to use the desktop version on Google Chrome.
The automatic page translation option allows anyone who speaks English to navigate through the site. However, computer-based apps are impractical.
A better – albeit average option – became to download the Sina Weibo app (in Chinese) which more recently allows the option to switch the local language of the app into English from the sign-up page (on in your settings).
Whilst this is simple and good for cultural purposes, it's fairly pointless for language acquisition.
Translations are not always accurate and if you're reading it in English first, you don't challenge yourself to read the Chinese in context.
Our suggestion is to download the Sina Weibo International app for non-Chinese speakers. Released in 2017, this app is super user-friendly and easy to navigate around. You can first read the posts in Chinese, then 'translate' them underneath to fully understand the messages.
What Do I Need To Know?
China implemented real name verification online in 2017, following laws put in place by the Cyberspace Administration of China.
This simply means unlike modern Western apps, you cannot remain anonymous.
The benefits include reduced trolling and scamming risks averted. However it's important you keep your account updated if you change your number, otherwise, you could lose the account altogether.
Weibo is open, fast and visible, which makes it great for making Chinese friends, language exchange partners or even long-term, loyal followings.
Certain topics and areas of discussion do not comply with the Great Firewall and are taken down by censors when found.
Be conscious of the topics you choose to discuss and engage in online. It is always best to avoid any potential problems.
Is Sina Weibo The Only Weibo?
Nope, great observation!
Sina Weibo and Sina Weibo International are not alone – remember, 'weibo' just means microblog.
Tencent Weibo:
Launched in April 2010, a year after Sina Weibo, Tencent Weibo wasn't that different in its purpose or users, however it was directly liked to QQ. This restricted membership to users with a QQ account. Although not it's only disadvantage (given that Sina Weibo offers accessibility to anyone), the app was shut down in September 2020.
FreeWeibo: (自由微博 – it translates literally.)
FreeWeibo is similar to Weibo in everything other than content. Posts from Sina Weibo that are removed under the Great Firewall will be added onto this blog instead and remain accessible. The homepage highlights most recent topic areas of deletion on the main blog.
Is Weibo International For Me?
Weibo International can only be used once you've registered through the original Sina Weibo.
This is quick and easy to do; you can register through your phone number (international numbers are accepted) and even have the option to link your Facebook account.
Academic studies into acquiring second languages literally highlight the benefits of extended exposure to the language you're learning through leisure.
Social networking sites allow immersion and exposure whilst challenging you.
With Weibo International, you have the opportunity to see the language, think about it and then translate.
You're more likely to remember the characters too when you're seeing them frequently (ie. Reading up on a certain trend or topic).
The app is available on both the Google Play Store (3.7 🌟 rating) and the Apple Store (3.4 🌟 rating).
A common issue is losing your account. When members are automatically logged out, if they forgot to update their account details to include their current phone numbers, they can not retrieve the account.
Remember to keep your account updated. Once it's lost, it's hard to get back.
You must be over 17 to create an account and the written languages available are simplified Chinese, traditional Chinese and English.
As of June 2020, Weibo recorded 523 million active monthly users!
Are you ready to become one and be as happy as existing Weibo International users?
Any questions about what Weibo is all about? Let us know in the comments below.
What Is Weibo – FAQs
What is Weibo?

A microblogging social networking site based in China and operating in Chinese.
What is Weibo in Chinese?

The Chinese characters for Weibo are 微博.
Which western network is most similar to Weibo?

Weibo would compare most similar to Twitter when looking at mainstream western social networks.
Can I use Weibo International if I'm outside of China?

Absolutely, Weibo is accessible for most countries outside of China.
Do I need a Chinese number to register?

No, your local number is fine.
Is Sina Weibo the same as Tencent Weibo?

No. Both were established as microblogs but by different companies.
Want More From Us?
If you wish to hear more from LTL Mandarin School why not join our mailing list.
We give plenty of handy information on learning Chinese, useful apps to learn the language and everything going on at our LTL schools!
READY TO START LEARNING CHINESE? Check out our online Chinese classes here.
Sign up below and become part of our ever growing community!