HSK Online Review | Our Guide to the HSK App
HSK Online Review | Is It Really Worth It?
Today we're going to look at HSK Online, an app dedicated to helping you learn everything related to the HSK Exam and passing it.
Before we get started, if you don't know what the HSK or HSK Exam are, we recommend you take a look at our guide.
OK now you are familiar with the HSK Exam, you are ready to go.
HSK Online is geared to helping you pass the exam itself but actually it's a lot more than that.
If you are studying Chinese and want an app to help you, but have zero intention of taking the HSK, don't disregard this app.
From personal experience I've found it hugely useful and I've never taken an official HSK test.
Let's take a look at the app and what you can find inside and whether you should download it.
If I Want to Pass the HSK Exam, Should I Download This App?
There's probably not many better apps out there if you are driven to passing your HSK.
HSK Online covers all bases and goes even deeper if you sign up to their lifetime membership which sets you back just 29GBP / 36USD / 250CNY (roughly).
The lifetime membership gives you access to everything inside the app and having used both versions, we believe the one-off upgrade fee is well worth it, especially if you are serious about taking a HSK exam.
For the more casual learner, perhaps you can get away with the free version.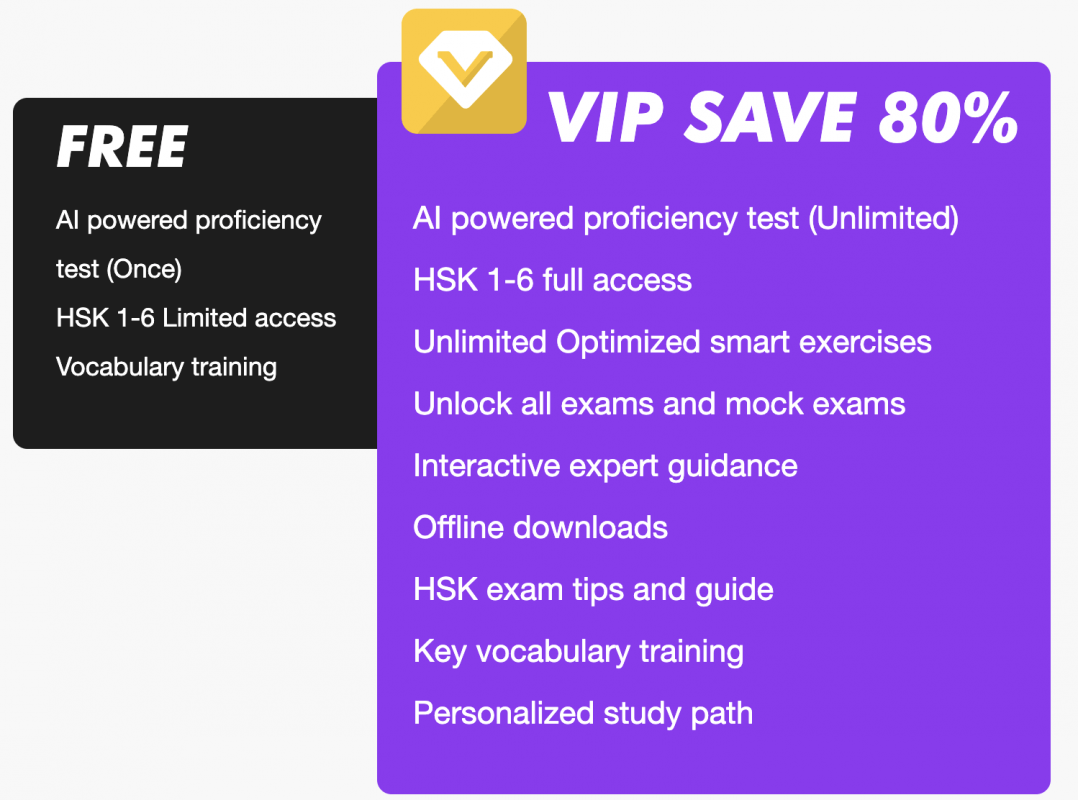 The key part to the upgrade in our opinion is the access to all exams and mock exams.
These are crucial in getting you acclimatised to what a HSK Exam is all about. By practising these, as with any test, you are one step ahead already and can be relatively well prepared for what may face you.
Having an actual teacher dedicated to helping you pass the HSK is probably the most important factor to passing the HSK, but we'd rate this as a great way to help you if finances or time do not allow it.
How do I Use HSK Online?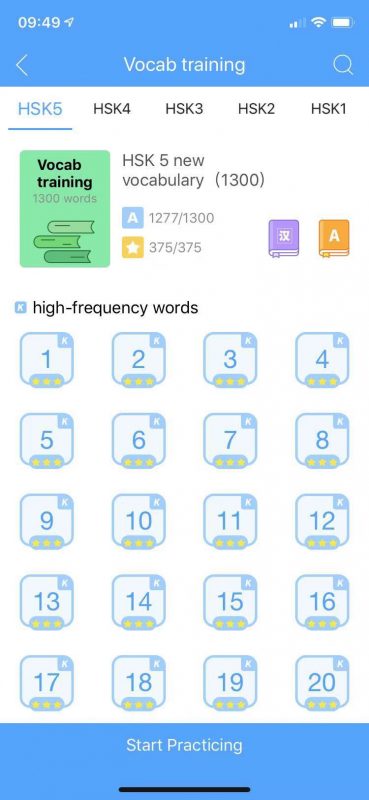 HSK Online is easy to use and has a smart interface. You can focus on each of the following directly from the home screen after setting up your preferences:
Listening
Reading
Writing (only for HSK 3 and higher)
Vocab Training
Past Exams
Mock Exams
Incorrect Answers
In the HSK Exam itself you will focus on your listening, reading and writing (from HSK 3 onwards).
The Vocab training section allows you to practice every single character of the HSK level you are studying.
Every character is also applied to a sentence so you can build some context around the character and get to understand how it's used.
When setting up the app you will have the chance to take a quick test which aims to define your level. If you are a beginner, or have basic knowledge, we would advise just starting from HSK 1.
You can interchange between levels if you so wish. If you pick up at HSK 3 for example, and you find it too easy, you can change to HSK 4 by just selecting the level at the top as you'll see on the screenshot.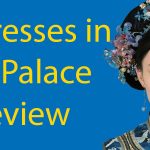 Empresses in the Palace Review (2011)
Empresses in the Palace Review | There are 76 Episodes, each lasts about 45 minutes. The TV show is available on Netflix in most countries.
Using Past Papers and Mock Exams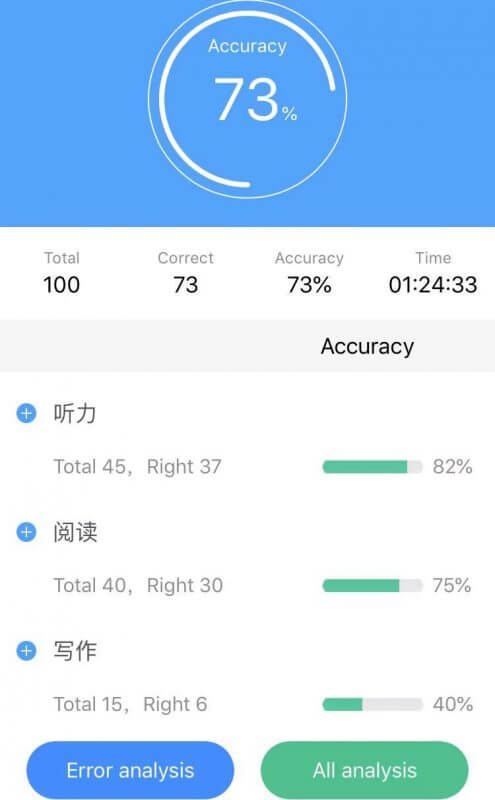 The key sections for us are Past Papers and Mock Exams. Both do the same thing, but Past Papers are official, previous HSK Exams whereas Mock Exams are just practice papers. They will each test your ability and give you a detailed, broken down score at the end.
This analysis section is actually incredibly useful because a big part of the HSK is knowing your strengths and weaknesses.
As you'll see in this screenshot this is the analysis for a HSK test taken on the app.
Out of a total of a 100, the score was 73. This is a pass (anything from 60 counts as a pass).
However, we can see clear differences in the 3 sections:
听力 (listening) – 37/45 or 82%
阅读 (reading) – 30/40 or 75%
写作 (writing) – 6/15 or 40%
We can see the section in which this user struggled at, writing.
This is where HSK Online really excels. The user knows to focus on their writing because they have no real concerns with listening or reading at this level.
What's more, you can actually click on ALL ANALYSIS and you get to see every single question of the exam.
They will be highlighted in Green or Red (right or wrong respectively) and you can see exactly where you stumbled and why.
This is invaluable knowledge for you to take in and allows you to perfect your weaknesses which is incredibly important when taking any exam.
Video Review
HSK Online is an extensive app with lots of great features, we wanted to give you a proper look into them rather than just use pictures so we did a review live from our HQ in Beijing.
We hope you find it useful.
Should I download HSK Online?
We genuinely believe this is a great app to practice your Chinese whether you are studying from the HSK or not:
If you are a HSK Student – sign up to the premium and take advantage of the huge set of past papers and the post-exam analysis to help improve your weaker areas.
If you have no intention of taking a HSK Exam – use the app to enhance your vocabulary and improve your grammar skills. Because the app covers every HSK character you can learn all the vocabulary you need to use in day to day life and how they are applied.
Therefore, we genuinely believe this is a great tool to use for any Mandarin language student.
Got any questions about the HSK Online app? Comment below and we'll be here to help.
Want to take a tailored HSK Course?
Then you are in the right place!
Being an established Mandarin school, and also an accredited HSK Test Centre, taking a tailored HSK course with LTL Online School is a great way to get yourself ahead.
We have 5 types of HSK course in total. Contact us if you have further questions, and we'll be happy to answer your questions.
More Apps to Download
Did you know that we teach other Asian languages besides Mandarin Chinese?
Not only do we teach Vietnamese, Japanese and Korean, but we also have a blog for each language. We do!
Check out more Apps to Learn Vietnamese, and the Best Apps to Learn Korean.
HSK Online – FAQ's
Can I download HSK Online for my iPhone?

Yes the app is available on the Apple App Store for free download.
Can I download HSK Online for my Android?
Can I get a tailored HSK Course?

We actually provide our very own tailored HSK courses, five in total, which are aimed at helping you pass your HSK test.
Is HSK Online free?

Yes the app is free with limited functionality.

You can upgrade by paying a one-off VIP fee which we believe is well worth it
Does HSK Online cover all levels?

Yes HSK Online covers every level and every character of the HSK.
What are the HSK Exam dates?
Want more from LTL?
If you wish to hear more from LTL Mandarin School why not join our mailing list.
We give plenty of handy information on learning Chinese, useful apps to learn the language and everything going on at our LTL schools!
Sign up below and become part of our ever growing community!