Japanese Reading Practice // Resources for Starting to Read in Japanese
Discover the Best Resources for Starting to Read in Japanese
Japanese reading practice is essential for beginners and intermediate students of Japanese. That's where our focus lies today.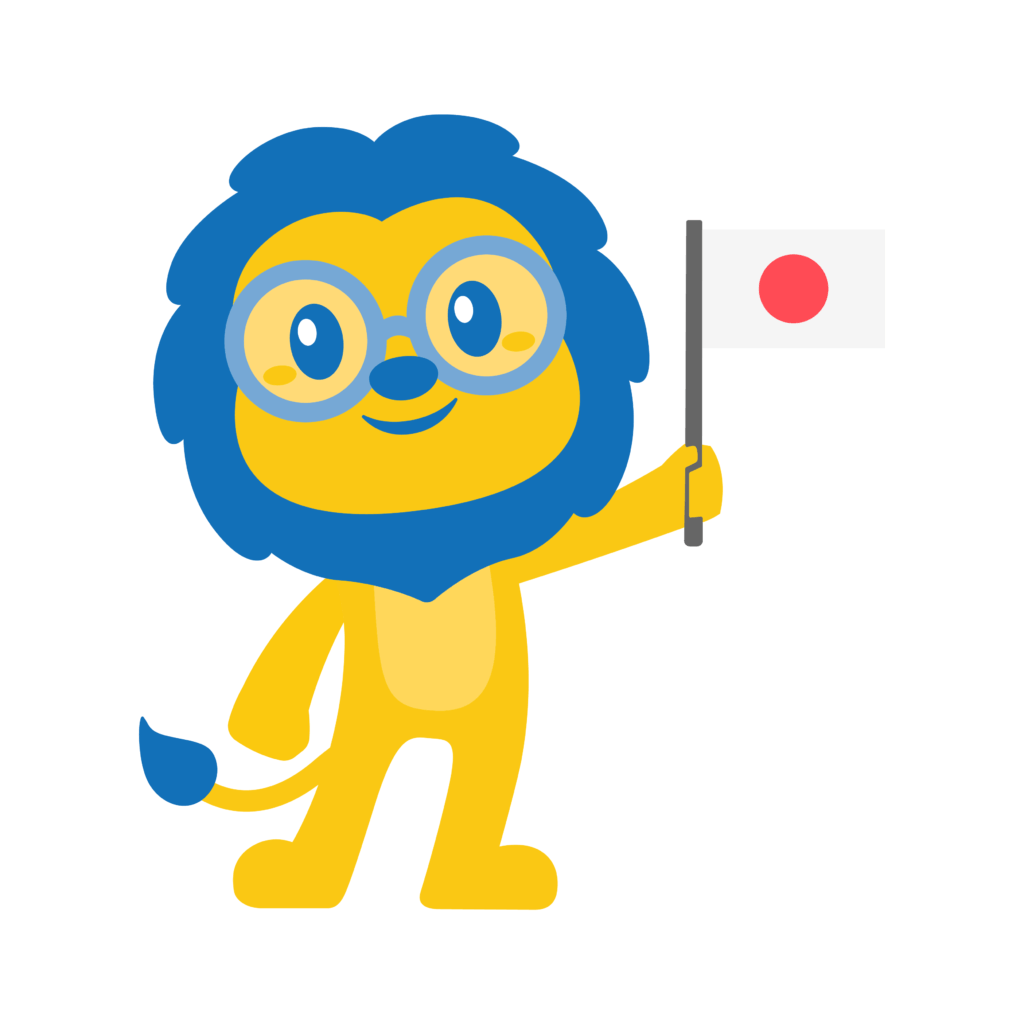 We assume you've been learning Japanese for a little while now. Perhaps you're working towards a JLPT N5 or N4 level, and you want to know about resources for starting to read in Japanese.
Congrats – you're in the right place!
Learning to read in Japanese isn't easy, but it can be very fun and rewarding when you read things that are geared towards your level!
This post will discuss some resources for starting to read in Japanese, including their advantages, disadvantages, and the level I'd recommend you be at to use them.
So what are the resources? Let's go find out…
Resources for Reading Japanese #1 | Tadoku Graded Readers

Resources for Reading Japanese #2 | NHK News Web Easy

Resources for Reading Japanese #3 | Satori Reader

Resources for Reading Japanese #4 | Natively

Resources for Reading Japanese #5 | WaniKani Book Club

Japanese Reading Practice | FAQ's
Japanese Reading Practice // Tadoku Graded Readers
Recommended Level: N5 (complete beginner to upper beginner)
So, first things first – what is a graded reader?
A graded reader is a book meant for learners of a foreign language, which typically has multiple levels available, from absolute beginner to lower intermediate. (After you reach a lower intermediate stage in a language, you generally move on to manga or other native media.)
Why use a graded reader instead of manga?
If you've only just begun your Japanese studies, manga will likely be out of reach for a while, as they contain more difficult grammar and more varied vocabulary.
On the other hand, graded readers can be picked up almost immediately.
They're a great way to get started with parsing sentences, so that you can get used to how particles and vocabulary work together to form sentences and ideas.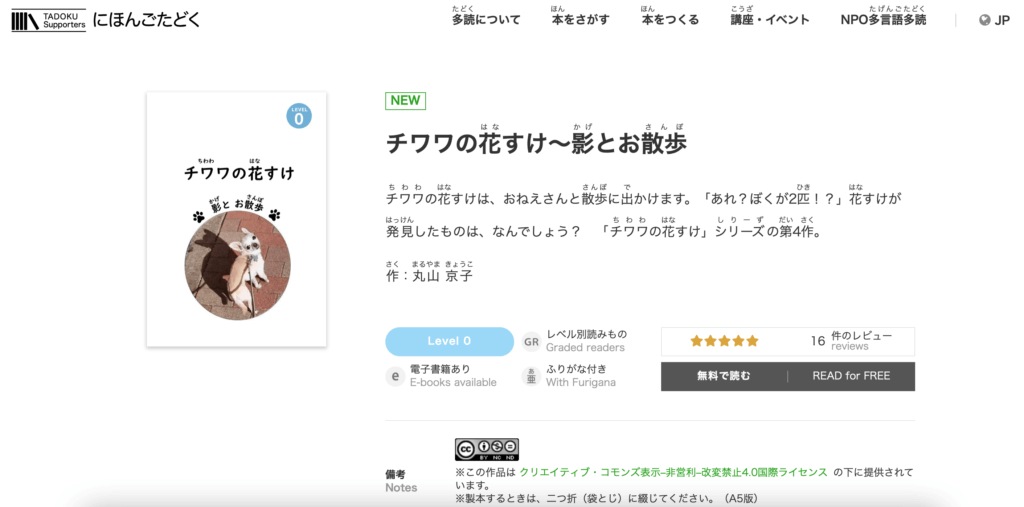 Graded readers give learners a sense of accomplishment and reinforce their reasons for learning the language, which is great!
Now, on to the fun stuff – where to find these graded readers and get reading?
I highly recommend the Tadoku Graded Readers.
While they do have fancier paid books, they also have a bunch of free graded readers available on their website, from level 0 to level 5.
There's more material available for the lower levels.
Advantages
Disadvantages
Great for N5 level, but less content for N4 learners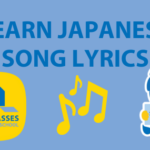 HOW TO – Learn Japanese Lyrics 🎶 The Ultimate Guide
Learning Japanese through Music? You can genuinely learn Japanese by studying Japanese lyrics?! It can be done, and we explain how, step-by-step
Japanese Reading Practice // NHK News Web Easy
Recommended Level: N5-N4 (Beginner)
NHK News Web Easy is a website run by Japan's NHK News.
They publish easy versions of their articles for Japanese learners here.
It's a great site for those who want to follow Japanese news whilst practicing their Japanese!
You can listen to the articles and toggle furigana on and off.
New articles are published every day, and best of all, it's all free!
Advantages
Lots of content
Updated daily
Audio available
Can toggle Kanji and furigana on and off
Nice change of pace for learners who want news rather than storybooks
Disadvantages
Translations not available
Japanese Reading Practice // Satori Reader
Recommended Level: N4 (upper beginner to lower intermediate)
Satori Reader is a fantastic resource for getting used to reading in Japanese, especially if you've already made your way through the Tadoku Graded Readers and want more of a challenge!
Priced at $9/month and $89/year, Satori Reader is a website which features a large catalog of content made for Japanese learners who want more reading practice before moving on to native media.
All of their stories are available with audio, clickable translations of words and sentences, the ability to toggle furigana (Kanji readings), and more!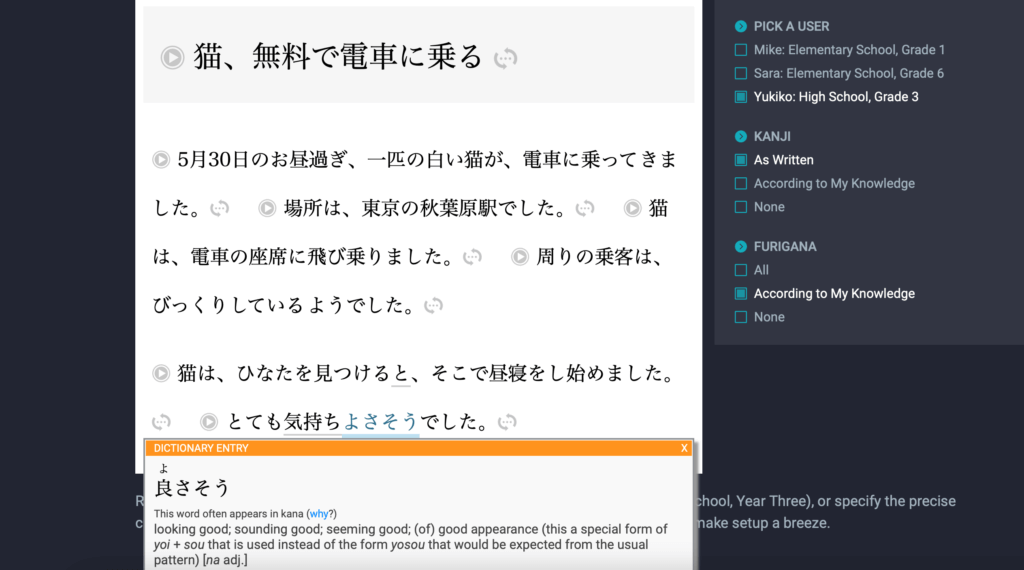 Its best feature are the grammar explanations, which are an invaluable tool for understanding how specific sentences actually fit together.
Advantages
Sleek and smooth user interface
Can toggle Kanji and furigana on and off
Grammar explanations
Sentence translations available
Disadvantages
Paid
Better suited to upper beginners rather than complete beginners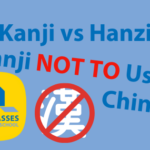 Hanzi vs Kanji // Japanese Kanji NOT To Use in Chinese
Hanzi vs Kanji // Japanese and Chinese have a long history of sharing characters with each other, but it's not always as simple as that. Find out why…
Japanese Reading Practice // Natively
Recommended Level: N5-N1 (complete beginner to advanced)
Unlike the other resources, Natively is not a place to read, but a place to find what to read.
It's a very useful site for readers who want to transition from Satori Reader to manga.
It's similar to Goodreads but for Japanese learners, who can rate books by their difficulty and entertainment levels.
On the site, you can filter books by level (for example – N5, N4) and type (for example – graded reader, manga, light novel), so you can find books right at your level.
Yotsubato! is a very popular choice among beginner Japanese learners who want to dip a toe into the world of Japanese manga.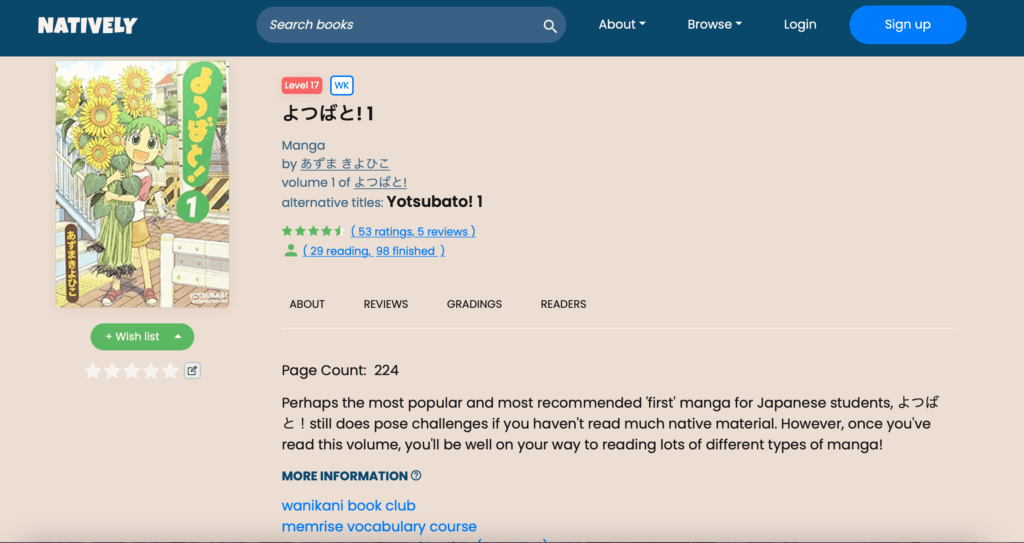 Advantages
Helpful for gauging the level you need to read a graded reader, manga or novel
Free
Easy to use
Has links to where to buy the books, view related resources, etc.
Disadvantages
Newer website, so less popular books will have less reviews/ratings
Japanese Reading Practice // WaniKani Book Clubs
Recommended Level: N5-N1 (complete beginner to advanced)
The WaniKani Book Clubs (master list available here) are a feature of the WaniKani forums that is available for free as long as you register for an account with the site.
The book clubs range from beginner to advanced, with new books and manga chosen regularly.
Why use them? They often feature vocabulary lists, which can save on lookup times.
Additionally, each chapter of a book will have a dedicated thread, or an area of the forum, where fellow readers can ask questions about specific sentences, grammar points, and cultural references.
Furthermore, the clubs are useful even if the book has technically been finished, as you can still go back and read other people's questions and comments, which may be similar to or the same as your own.
Finally, reading with other people is a great way to keep up motivation and finish the book!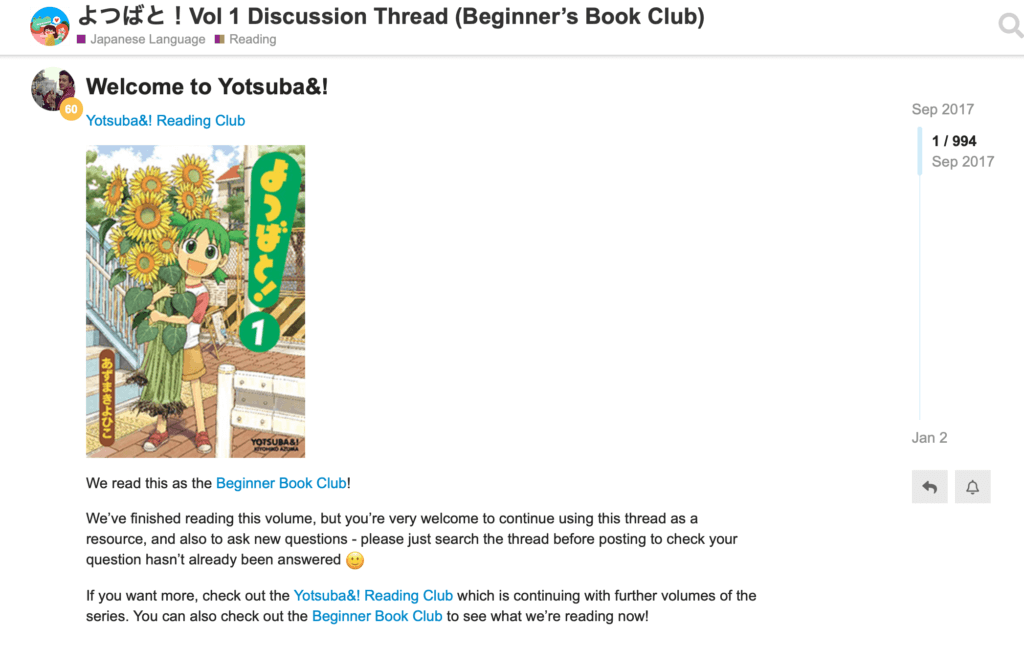 Advantages
Great for motivation
Helpful for understanding confusing parts of what you're reading
Vocabulary lists
Disadvantages
You do still have to buy the book on your own, although sometimes the clubs read free books/manga
There we have it. 5 great resources for your Japanese reading practice!
We hope you found this list of Japanese reading resources useful.
---

Don't forget, if you want to study Japanese with native speaking teachers, we are here for you!
Flexi Classes gives you the ability to speak with live teachers, 24/7, no matter where you are in the world.
No awkward time zones, no difficult planning – complete flexibility. We are 5 star rated online and can't wait to welcome you along.
Reading in Japanese // FAQs
What resources are available to start reading in Japanese?

Graded readers, book clubs, and Satori Reader are all great choices to start your Japanese reading journey!
How much Japanese do I need to know to start reading?

It's best to have at least a little bit of grammar and vocabulary knowledge.

Often, learners will start reading after finishing learning the N5 grammar.
Do I need to know Kanji to start reading in Japanese?

It depends!

Many of the Tadoku Graded Readers, for example, only use furigana and are accessible to learners who know very few, if any, Kanji.

Other resources, like Satori Reader, are customisable based on your Kanji knowledge.

However, if you would like to read manga, you will need to learn some Kanji.
How many Kanji do I need to know to read manga in Japanese?

Many manga for children or young adults (who will not have learned all of the Kanji in school yet) have furigana, or Kanji readings, on top of a word's Kanji in small font.

This is a very useful feature for learners, who can look up vocabulary much more easily!

So technically, perhaps very few Kanji. However, manga still contain grammar that can be tricky.
When should I start reading in Japanese?

Once you know a bit of grammar and vocabulary!

The N5 level is a great place to start.
Is Yotsubato! a good choice?

Yes!

As a very popular manga for beginners, it has a fun story and relatively easy grammar and vocabulary, as well as furigana over all of the Kanji.

There is a WaniKani Book Club dedicated to it, and there are vocabulary lists available to reference as you read.

Check it out!
What are good manga for beginners?

Many people start with Yotsubato!, レンタルおにいちゃん (Big Brother Rental), or ふらいんぐうぃっち (Flying Witch). They all use beginner-friendly grammar and are slice of life, although Flying Witch also has some magic. Check them out!
Want More From LTL?
WANT TO LEARN JAPANESE? Check out our online Japanese courses here.
We offer a 7 day free trial to all new students where you can study 24/7.
What about studying Japanese in Japan instead? We've got your back. Our Japanese courses in Tokyo can either be taken in small groups of no more than 5 students or individually for a more tailored experience.
We even offer incredible homestay experiences in Tokyo as well.
The language experiences don't end there either, in fact we also teach:
Come and be a part of this amazing community!