A Basic Guide to Japanese Makeup (+ New Vocabulary & Flashcards)
A Guide to Japanese Makeup || How Japanese People Wear Makeup
If you want to learn how to wear makeup like Japanese people, let's learn the basics of Japanese makeup, current trends, and some useful vocabulary today!
DID YOU KNOW || Makeup in Japanese is メイク (me i ku) or 化粧 (ke sho u), and cosmetics is 化粧品 (ke sho u hin).
If you want to say "wear makeup," you can put する/します or other verb forms depending on the tense after メイク or 化粧.
Now we've learnt our first couple of words in Japanese, let's take a deeper look into Japanese makeup.
Skip to the section you wish below.
Japanese Makeup || Vocabulary for Facial Features

Japanese Makeup || Seasonal Looks

Japanese Makeup || Vocabulary for Makeup Products and Looks

Japanese Makeup || Personal Colour

Japanese Makeup || Department Cosmetics and Drugstore Cosmetics

Japanese Makeup || FAQs
Vocabulary || Facial Features in Japanese
First and foremost, let's learn Japanese for facial features.
English
Japanese
Hiragana
Romaji
Face
顔
かお
kao
Forehead
おでこ
額
おでこ
ひたい
odeko
hitai
Eyebrow
眉毛
まゆげ
mayuge
Eyelash
まつ毛
まつげ
matsuge
Eye
目
め
me
Eyelid
まぶた
まぶた
mabuta
Nose
鼻
はな
hana
Lip
唇
くちびる
kuchibiru
Cheeks
頬
ほっぺた
ほほ
ほっぺた
hoho
hoppeta
Chin
顎
あご
ago
Japanese Makeup || Seasonal Looks
One of the fun characteristics of Japanese makeup culture is that the makeup styles change with the seasons.
As we have four distinct seasons, wearing makeup that gives a sense of the season is very common.
Let's take a look at the common trends of each seasonal makeup.
Spring / 春 (はる)
In spring, makeup styles express the warmth and comfort of the season.
For point makeup, light and gentle spring colours are preferred, along with sheer textures, instead of wearing makeup products that give you a strong sparkle look.
Natural tones like pink or orange are popular colours since they create a soft and bright look.
As cherry blossoms (桜 sakura) are in full bloom in the spring months, makeup products that feature them are released as limited editions every year.
For the base makeup, an effortless and clean look is preferred to give a naturally light impression.
BB creams are popular products that are used during the spring season since they provide natural coverage without being too heavy.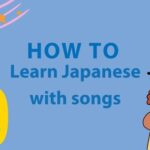 A Complete Guide to Learn Japanese with Songs (+ List of Best Songs)
Just like with movies and TV shows, you can learn Japanese with songs! Check out our step by step guide and a list of the best songs to listen.
Summer / 夏 (なつ)
The most important part of summer makeup is base makeup, as summer in Japan is very humid and hot.
In recent years, it's more important as we still wear face masks.
Sunscreen (日焼け止め hiyakedome) and blotting paper (あぶらとり紙 a bu ra to ri ga mi) are must-have items.
In order to maintain our makeup throughout the day, blotting paper is used to remove excess sebum from the skin, while sunscreen can be reapplied several times a day to protect our skin from sun damage.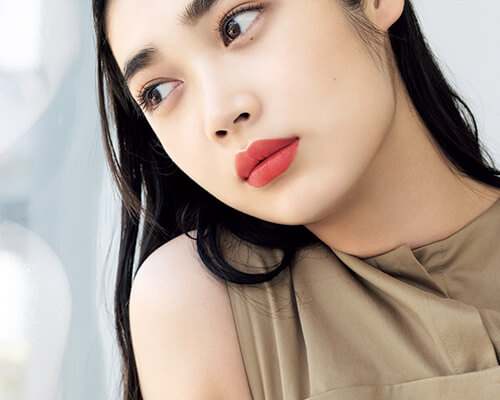 So Japanese women usually have these two items inside their bags.
The popular colours for point makeup are orange, brown, or beige since these colours are neutral and blend well with the skin, as well as produce a natural shading effect.
We usually avoid large grains of glitter since they would be too glaring under the summer sun.
Instead, bold colours such as glossy orange or red are preferred for lipstick.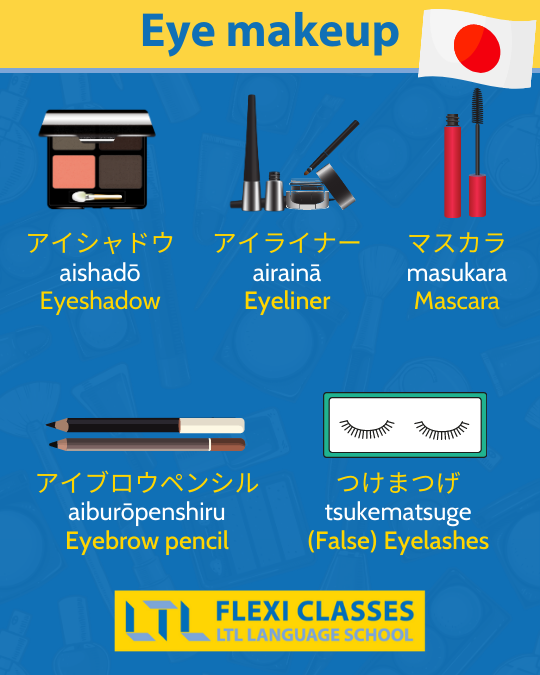 Autumn or Fall / 秋 (あき)
Handsome and stylish makeup looks were a trend in the fall of 2022. In the past few seasons, feminine makeup had been popular, but last fall, a look that showed coolness and not a flirtatious look was trending.
Earth-coloured eyeshadow such as khaki, brown, or bordeaux often sells well in fall.
In this fall foliage season, it is still a tradition to go in nature and view the leaves change colour (紅葉 kou you).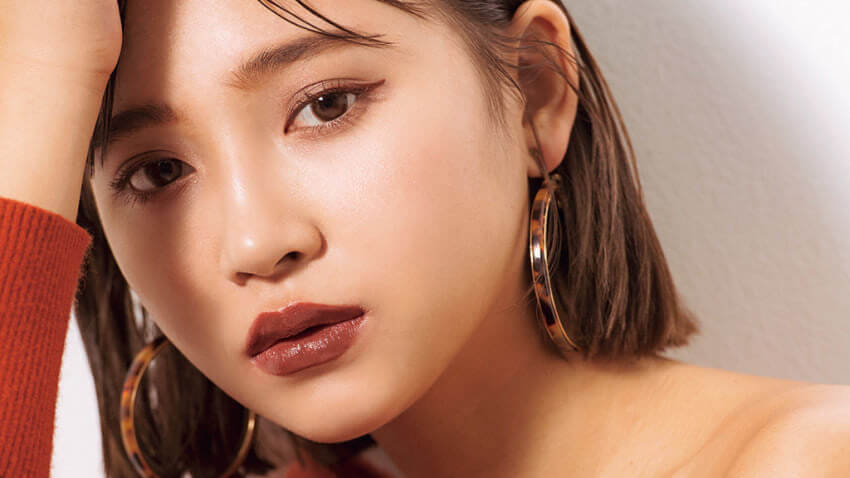 This is why earth colours are preferred.
Deep colours, such as bordeaux, terracotta, or nude colours like beige, are popular colours for blush since they give you a more mature look.
Last fall, matching these colours of blush and lipstick was trending, so more brown-coloured lipsticks were preferred for fall makeup.
Will this trend continue this fall? Time will tell!
BONUS CONTENT || Discover about the history of Japanese beauty standards – and how they are today.
Winter / 冬 (ふゆ)
Winter in Japan is full of events, such as Christmas, gatherings at Year-end and New Year, and Valentine's Day. On these occasions, glamorous makeup with glitter is a popular choice.
Vivid colours with glitter eyes look great in outdoor winter illuminations which are go-to winter date spots.
We use glitter on the under-eye area and the centre of the eyelid to achieve this look. Mascara with glitter was popular in winter 2022 too.
DID YOU KNOW || Under-eye/eye-bags is called 涙袋(なみだぶくろ namidabukuro). Unlike the Western makeup, Japanese makeup emphasize the size and puffiness of eye-bags.
Some people don't have eye-bags at all, so they make it by using concealer or glitters.
Also, red lipsticks are preferred since they go well with winter clothes and make you look tighter. Lip gloss can be applied to the lips for extra shine.
Base makeup products with moisturising effects and containing pearls are well sold during winter to make the skin more gorgeous.
Vocabulary for Makeup Products and Looks
You'll have seen some flashcards above which show some useful vocabulary for makeup in Japanese.
Feel free to download and save those for your own use.
Here though, let's learn some more vocabulary for makeup products.
As most of words related to makeup are loan words, so katakana is often used.
English
Japanese
Hiragana
Romaji
Primer
下地
したじ
shitaji
Foundation
ファンデーション
ファンデ
ふぁんでーしょん
ふぁんで
fuandeshon
fuande
Concealer
コンシーラー
こんしーらー
konshira
Eyelash curler
ビューラー
びゅーらー
byura
Mascara
マスカラ
ますから
masukara
Eyeshadow
アイシャドウ
あいしゃどう
aishadou
Eyeliner
アイライナー
あいらいなー
airaina
Blush
チーク
ちーく
chiku
Lipstick
リップ
口紅
りっぷ
くちべに
rippu
kuchibeni
Lip gloss
リップグロス
グロス
りっぷぐろす
ぐろす
rippugurosu
gurosu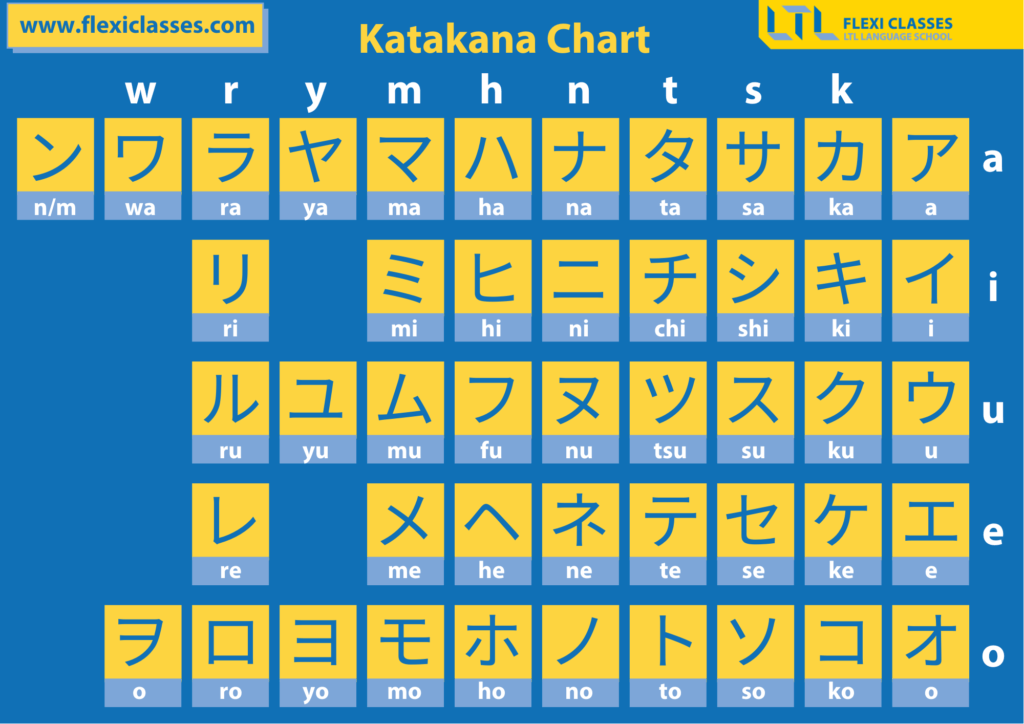 Habeni (歯紅 はべに) is used when someone accidentally has lipstick on their teeth. 歯 (ha) means teeth and 紅 is kanji for lipstick.
These words are commonly used to describe makeup looks. They are also often used in advertisements for cosmetics.
| English | Japanese | Hiragana | Romaji |
| --- | --- | --- | --- |
| Look that gives a sense of the season | 季節感 | きせつかん | kisetsukan |
| Effortless and natural look | 抜け感 | ぬけかん | nukekan |
| Clear and pure look | 透明感 | とうめいかん | toumeihada |
| Glowy skin | ツヤ肌 | つやはだ | tsuyahada |
| Matte skin | マット肌 | まっとはだ | mattohada |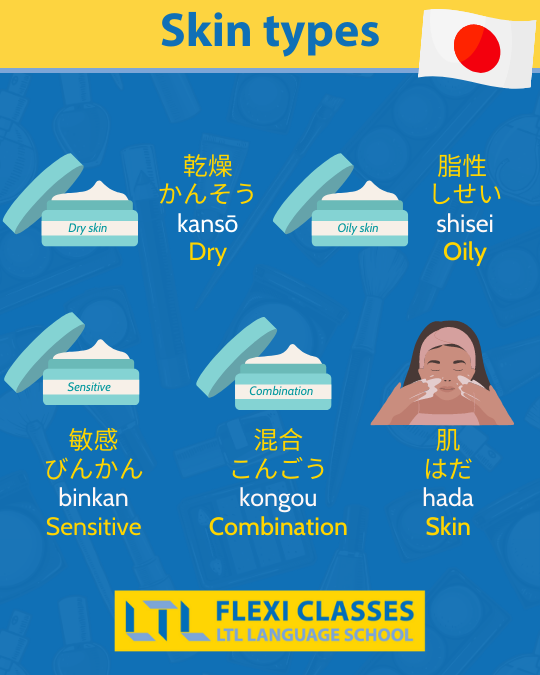 Japanese Makeup || Personal Colour
Personal colour (=パーソナルカラー) refers to colours that naturally match a person's natural hair, eyes, and skin colour.
In recent years, personal colour has become an essential factor in Japanese makeup trend.
It has become common to choose the makeup products or clothes, and hair colours depending on your own personal colour.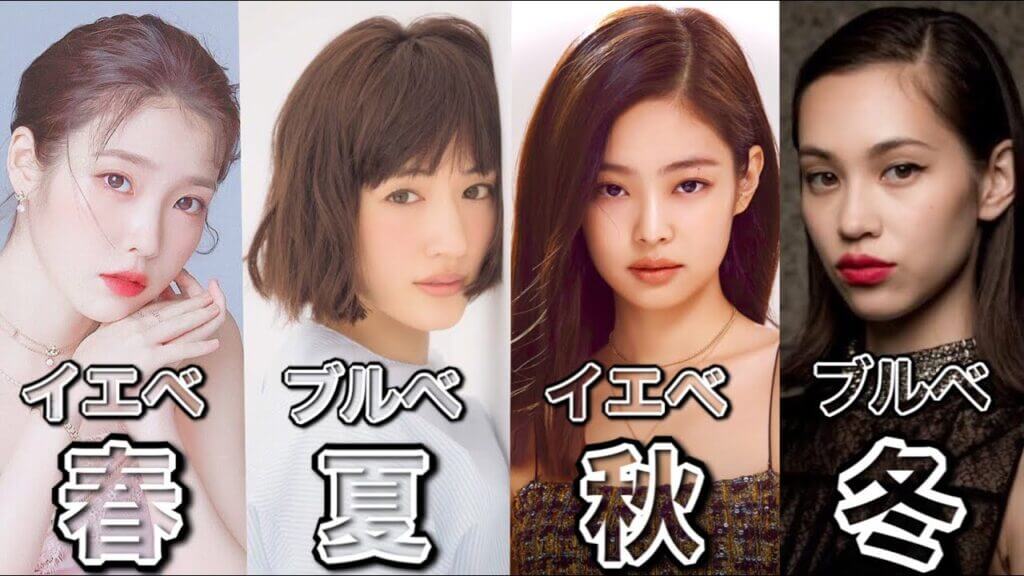 It is popular to watch makeup tutorial videos or swatch videos by YouTubers who have the same personal colour too.
The concept of personal colour is based on the idea that wearing the colours that match your skin tone and hair colour makes you look the most attractive.
These colours are divided into four types based on saturation and lightness, not by the skin tones.
Yellow base (イエベ iebe) is divided into spring and fall types
Blue base (ブルベ buru be) into summer and winter types.
Green base (グリべ guribe) is a neutral personal colour type who have features from both yellow and blue bases.
| Personal Colour | Impression | Recommended Colour |
| --- | --- | --- |
| イエベ春 (Yellow base spring) | Fresh, pure, cute | Camel, yellow, coral pink |
| イエべ秋 (Yellow base fall) | Healthy, gorgeous | Gold, brown, khaki |
| ブルベ夏 (Blue base summer) | Natural, soft, elegant | Light blue, purple, white |
| ブルベ冬 (Blue base winter) | Cool, modern, sharp | Black, royal blue, grey |
Japanese Makeup || Department/Drugstore Cosmetics
ドラコス (dorakosu) is the abbreviation form of ドラッグストアコスメ, and its meaning is the cosmetics sold in drug stores.
On the other hand, デパコス (depakosu), is the abbreviated form of デパートメントコスメ and it means the cosmetics sold in departments store.
Department cosmetics have a reputation for high-quality products, but drugstore cosmetics have the same popularity as there are some drugstore cosmetics that go on viral as the dupes of department cosmetics.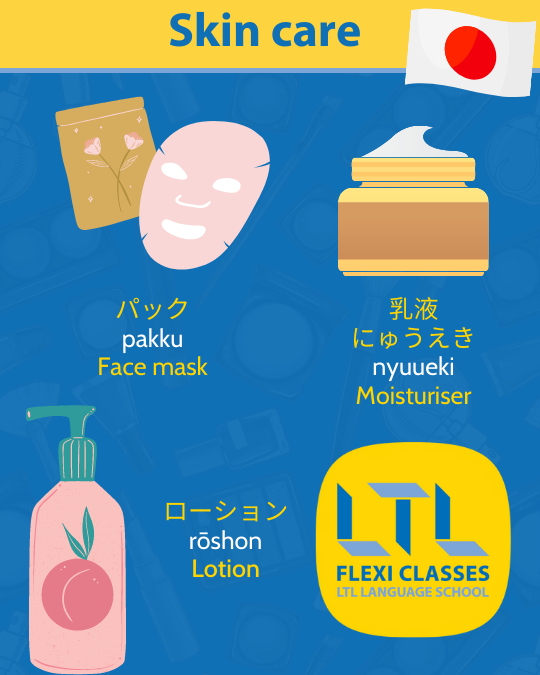 Famous Japanese brands for drugstore cosmetics are キャンメイク (CANMAKE), セザンヌ (CEZANNE), and ちふれ (CHIFURE).
They are also popular for makeup beginners. You can buy their products from ¥300 to ¥1000.
There are some affiliated drugstore cosmetics brands with department cosmetics brands too.
For department cosmetics, 資生堂 (SHISEIDO), イプサ (IPSA), and スリー (THREE) are popular brands.
You can find them in the department stores in major stations in Tokyo and they always have beauty advisers.
The price is usually from ¥5,000 to ¥10,000.
---
That concludes our look into Japanese makeup. We hope you learnt something new today.
If you have any questions or comments about Japanese makeup or this article, drop us a comment below.
BONUS || If you enjoy studying makeup trends from around the world, why not check out our guides to makeup in Chinese, Korean and Chinese beauty standards + how Chinese makeup compares to American.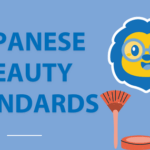 Japanese Beauty Standards || Discover the History and Evolution of Aesthetics
Japanese beauty standards have uniquely evolved throughout history, shaped by a unique combination of traditional cultural values and modern influences.
Japanese Makeup || FAQs
How do you say makeup in Japanese?

Makeup in Japanese is メイク (me i ku) or 化粧 (ke sho u).
How do you say cosmetics in Japanese?

Cosmetics in Japanese is 化粧品 (ke sho u hin).
What are the must-have makeup items in summer?

Blotting paper and sunscreen are the essential items for base makeup as summer in Japan is very hot and humid.
Which brands are popular for ドラコス (dorakosu)?

キャンメイク (CANMAKE), セザンヌ (CEZANNE), and ちふれ (CHIFURE) are major brands.
Which brands are popular for デパコス (depakosu)?

資生堂 (SHISEIDO), イプサ (IPSA), and スリー (THREE) are popular brands.
How do I know my personal colour?

If you type "パーソナルカラー 診断" (personal colour self-check) on the Internet, you'll find plenty of websites that offer you free personal colour self-check.

If you are currently in Japan, you can book an appointment with an expert for more accurate result.
Want More From LTL?
WANT TO LEARN JAPANESE? Check out our online Japanese courses here.
We offer a 7 day free trial to all new students where you can study 24/7.
What about studying Japanese in Japan instead? We've got your back. Our Japanese courses in Tokyo can either be taken in small groups of no more than 5 students or individually for a more tailored experience.
We even offer incredible homestay experiences in Tokyo as well.
The language experiences don't end there either, in fact we also teach:
Come and be a part of this amazing community!