Best Coffee Shops to Visit in Vietnam // PLUS Bonus Food & Drink to Discover
Coffee Shops in Vietnam // Your Complete Guide by the Locals
Did you know coffee culture in Vietnam is BIG. That's exactly why we are giving you the ultimate guide to the best Coffee Shops in Vietnam today.
In Vietnam, taking a cup of coffee is a perfect way to top up your energy and keep the body awake.
No matter what the type of coffee, hot or iced, traditional or modified, drinking coffee has long been a part of Vietnamese culture in which people not only enjoy the drink but also enjoy the atmosphere and mood around it.
This is the reason why several types of attractive coffee shops have emerged which can charm the most ardent coffee lovers in an instant.
When visiting Vietnam, coffee shops are fascinating destinations you should not miss.
In this blog we provide a list of coffee shops across Vietnam with truthful feedback and reviews, written by local people.
Coffee Shops in Vietnam | Hanoi

Coffee Shops in Vietnam | Ho Chi Minh City

Coffee Shops in Vietnam | Hoi An

Coffee Shops in Vietnam | Sapa

BONUS | Coffee House Review Apps

Coffee Shops in Vietnam | FAQ's
Must Visit Coffee Shops in Hanoi
You can have awesome coffee anywhere in the country, but the most enjoyable coffee shops in Vietnam are in Hanoi.
Through a local coffee shop, you may see a slower paced Hanoi, where people of all ages enjoy fusion drinks originated from the local dark drip stuff – Cà phê phin.
If you're going to visit Hanoi, then here is a list of coffee houses to perk up your palate (and your social media feed).
Egg Coffee – Cà Phê Trứng
Cà phê trứng is also known as the signature drink of Hanoi which is made from dense dark coffee topped with a creamy-soft yolk foam.
This specialty originated from Hanoi and is best enjoyed during the winter. It'll keep your body warm for the whole day.
My favourite coffee shops to enjoy this local treat are:
Cafe Giảng and Đinh Cafe are the oldest and most famous coffees shop that serve egg coffee as the shop's specialty drink.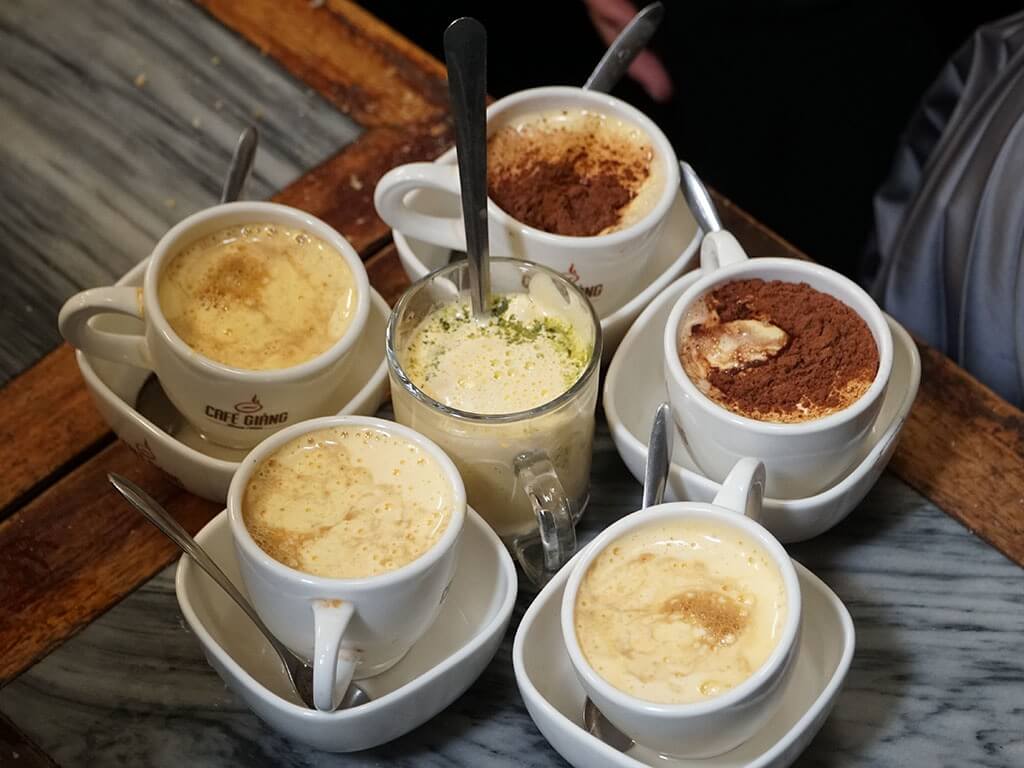 Aside from these two, you can also visit the following spots for a tasty cup of cà phê trứng.
Vintage Style Coffee Shops
Vintage coffee houses have become a popular theme that takes you back to Hanoi in the 1980s and 1990s.
The yellow antique walls are hugely popular with those who like an Instagram post!
The vintage coffee houses are often designed to serve local people, therefore, you may find yourself enjoying "proper" Vietnam in one of these.
This concept of coffee shops usually has open areas with lots of greenery, so remember to bring your mosquito repellents to enjoy your experience there.
Here's a list of vintage-style coffeehouses you can visit in Hanoi:
That's not all, we also like these spots too:
Backyard Coffee Shop & Bar
Another great coffee shop in Hanoi we love is…
THE BACKYARD RESTAURANT & BAR – 17 Phan Chu Trinh, Hoan Kiem.
The backyard restaurant and bar is definitely a perfect place for you to enjoy a coffee with elegant and luxurious scenery here.
The shop is located in a beautiful white villa right on the big street serving European dishes and drinks in a tranquil ambiance.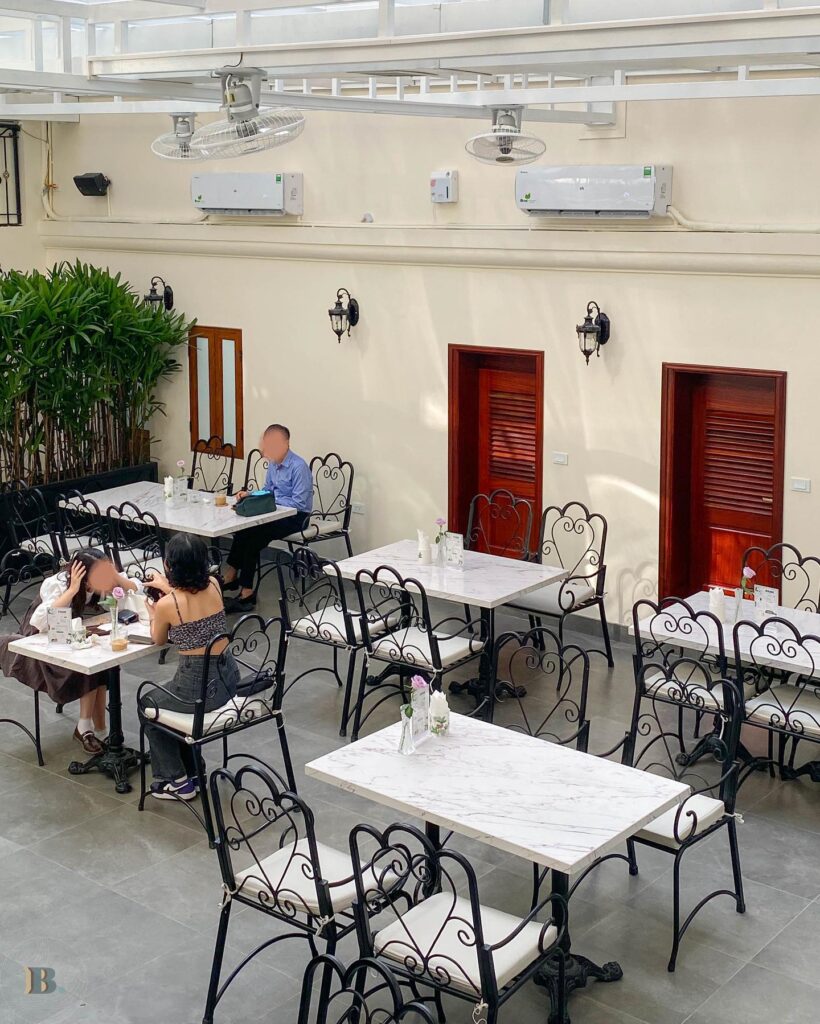 There's plenty more as well. If you like a bit of greenery with your coffee why not check out these excellent spots too: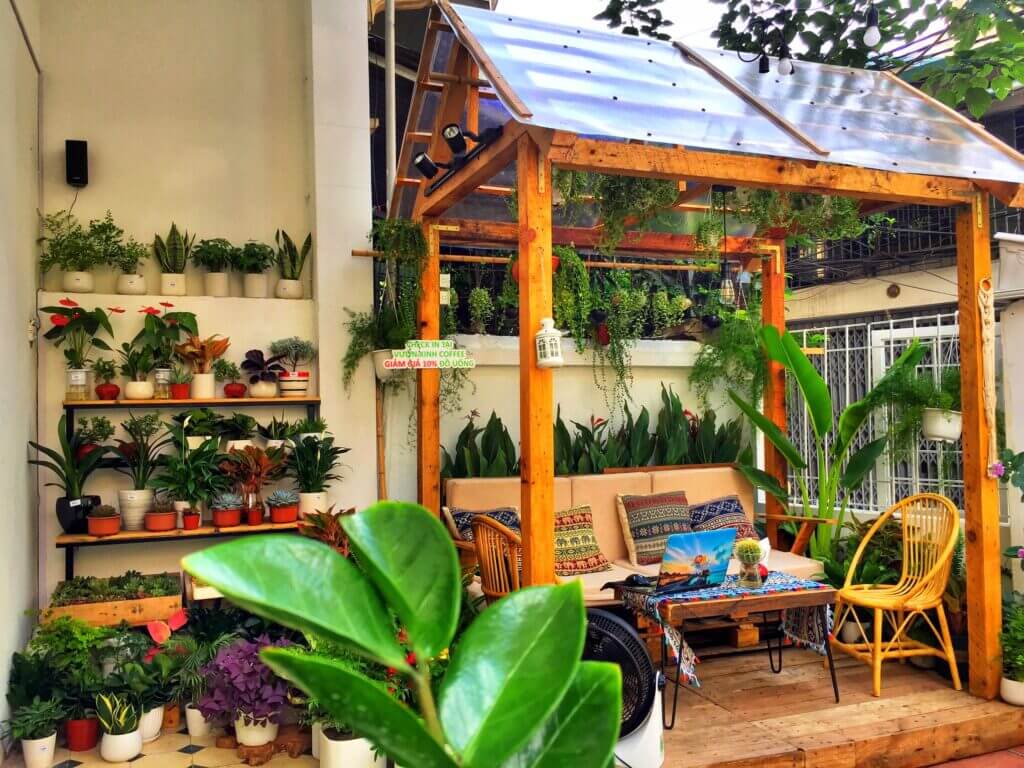 Must Visit Coffee Shops in Ho Chi Minh City
From sidewalks on the street with plastic stools to luxurious spaces with attractive decor and dazzling art, the coffee culture in Ho Chi Minh City has it all.
No matter what you want, or whatever the budget, there's always a place for you in HCMC. Here are the best coffee shops in our opinion.
Coffee Houses for Ambience
First up is Padma de Fleur – 55/6 Le Thi Hong Gam, Phuong Nguyen Thai Binh, District 1, Ho Chi Minh City.
Padma de Fleur is located in the centre of Ho Chi Minh City.
A fusion of florists and coffee creates a peaceful and relaxing atmosphere here.
More interestingly, the food and drink is tasty and served in an artistic and fashionable style.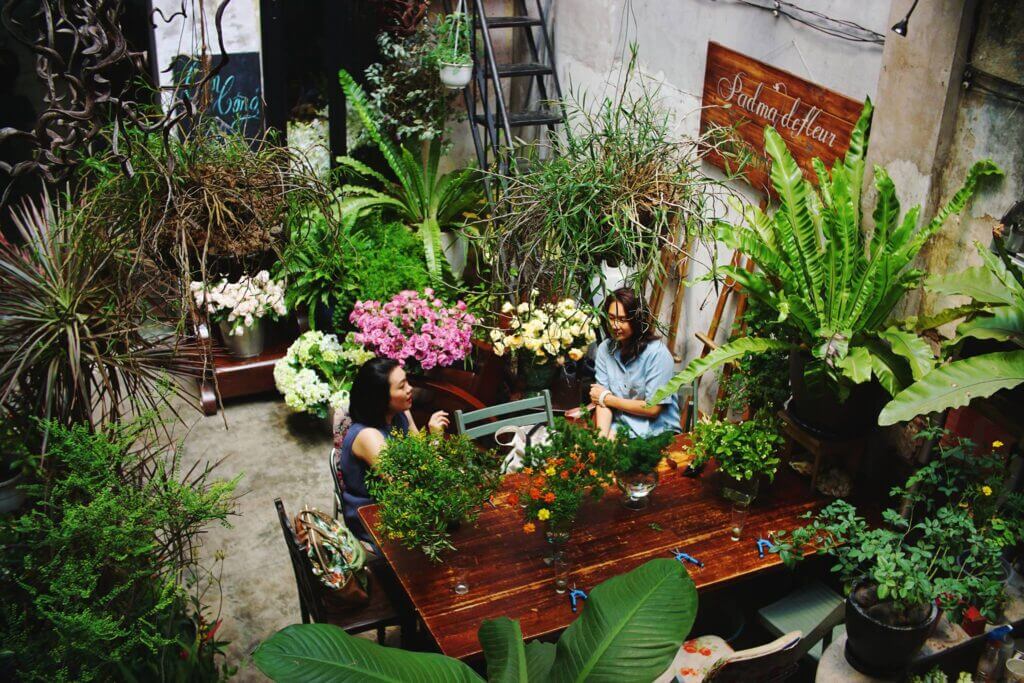 Next on the list is Khóm Coffee & Tea – 5 Tran Quy Khoach, Tan Đinh, District 1, Ho Chi Minh City.
Khóm Coffee and Tea is located a bit further from the central area of the city, but it's worth visiting for its lovely and bright spaces with pretty flowers lining the entrance.
The wicker furniture is really easy on the eye as well.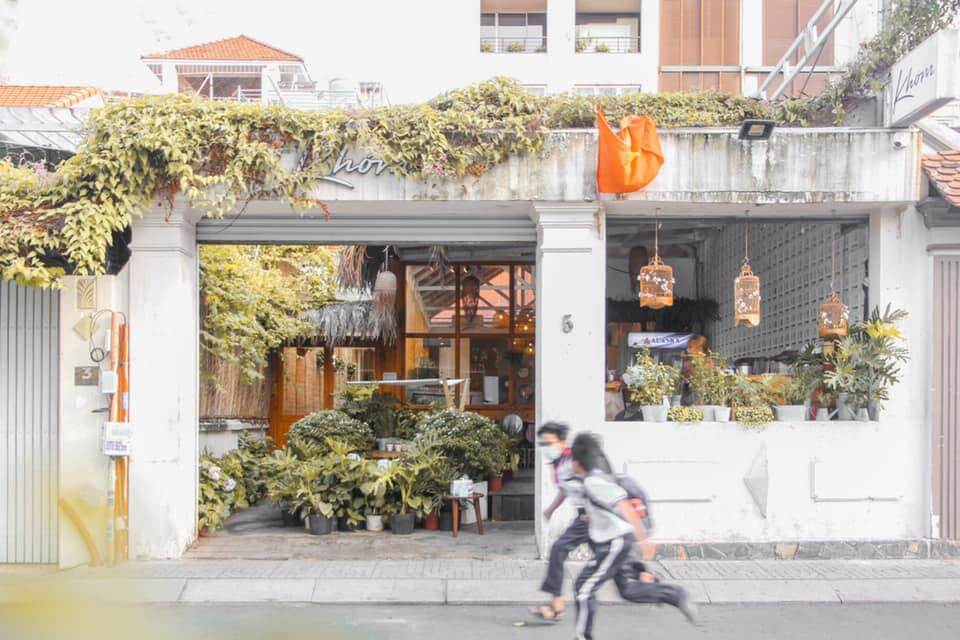 There's plenty more to choose from as well. If you are in HCMC why not check these spots out also: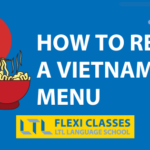 How to Read a Vietnamese Menu // Your Complete Guide (By Native Speakers)
Our native speaking Vietnamese teachers show you how to become a pro when reading a Vietnamese menu. Download our free cheat sheets also.
Coffee Workshops for Coffee Connoisseurs
If you are looking for places serving high-quality coffee, the following coffee houses are for you.
First up is Babros Coffee Roaster – 15B/100 Le Thanh Ton, District 1, Ho Chi Minh City 70000.
Babros Coffee Roaster is designed like a coffee laboratory where you can see the process of how a cup of coffee is made from green coffee beans.
Most of the drinks here are made from fresh Lang Biang Honey and Lang Biang washed coffee beans which are selectively chosen in the most famous coffee-growing areas of Vietnam.
You can even buy roasted coffee beans and take them back home as a present from Vietnam.

Another great option is Saigon Coffee Roastery – 151/5 Dong Khoi St ( 1st floor ), District 1, Ho Chi Minh City.
The founder of Saigon Coffee Roastery is a well-known and skilful Barista, with his love for coffee beans and passion for serving coffee to the locals and tourists alike.
In addition to coffee, you can also find and buy equipment such as gooseneck kettles, Moka pots, cups and airtight jars.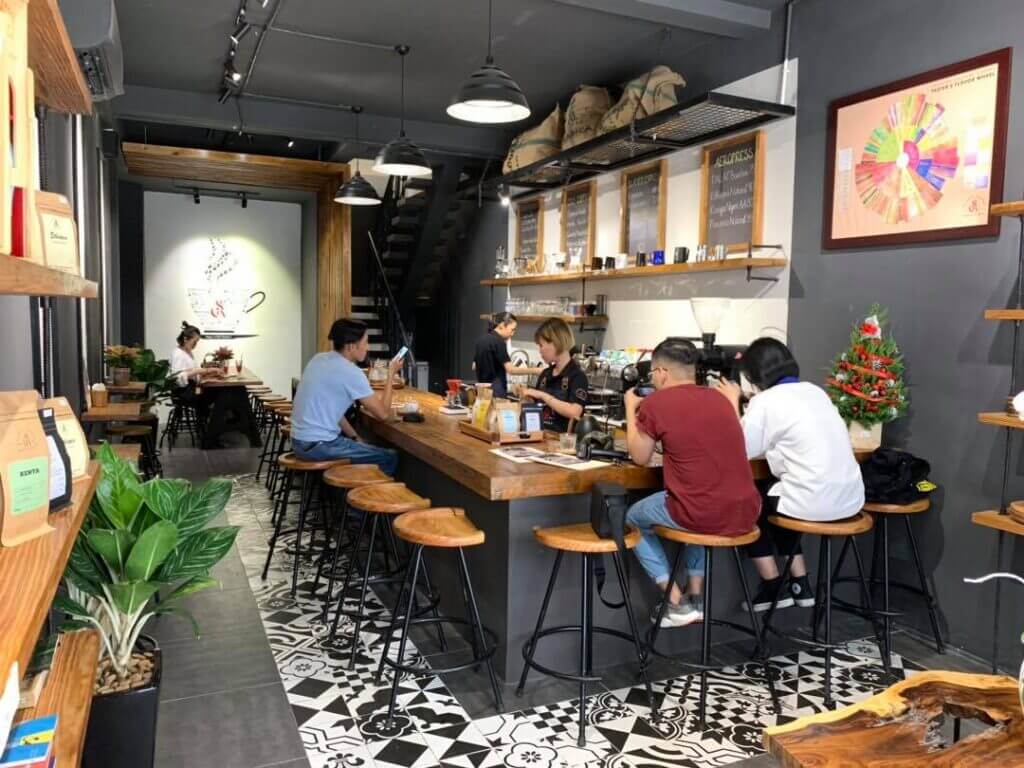 Next on our list from Saigon is Bosgaurus Coffee – 92 Nguyen Huu Canh, No. 1D5, Sai Gon Pearl Villa, Ward 22, Binh Thanh District
Arabica iced coffee with milk is the signature drink here. Bosgaurus stands out from other workshops with its decorative style.
Every drink here is like a work of art.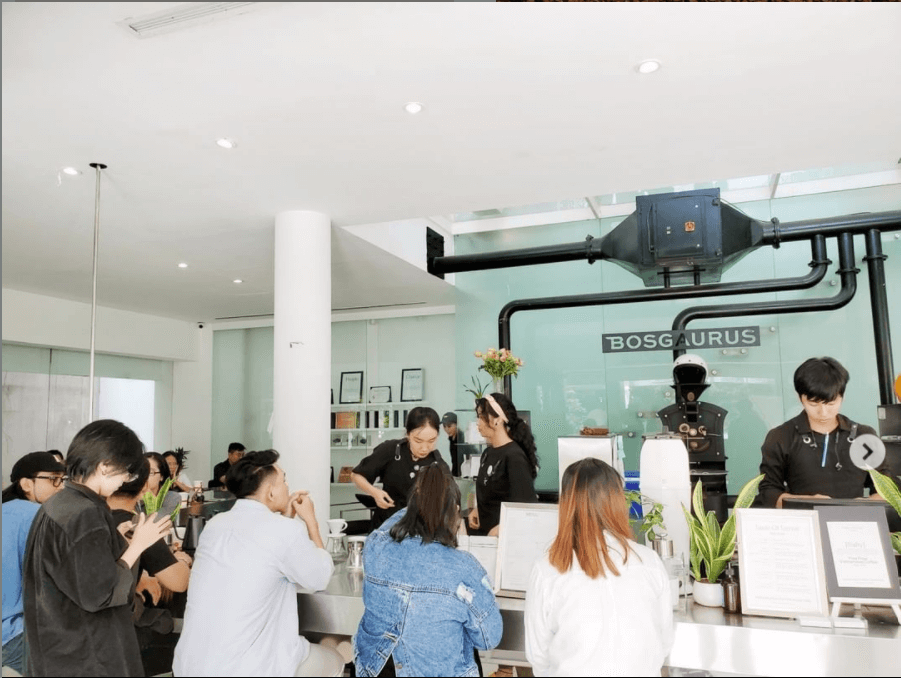 There are also other outstanding coffee workshops in Saigon you can visit such as:
Vietnamese Dialects // North or South?
North vs South? Vietnamese dialects can vary quite significantly. This is one of the very early questions a Vietnamese learner asks themselves.
Must Visit Coffee Shops in Hoi An
Hoi An, not just the home for history and folklore with picturesque architecture, but it also boasts some fascinating coffee houses which can satisfy all kinds coffee lovers.
Let's continue with our look at the best coffee shops in Vietnam starting with…
Faifo Coffee
You can find Faifo Coffee here – 130 Tran Phu, Hoi An.
Faifo coffee attracts the largest number of check-in posts here by visitors and it's easy to see why.
The coffee shop is on the rooftop of an antique house in the Central Street where you can enjoy a peaceful view of Hoi An from above.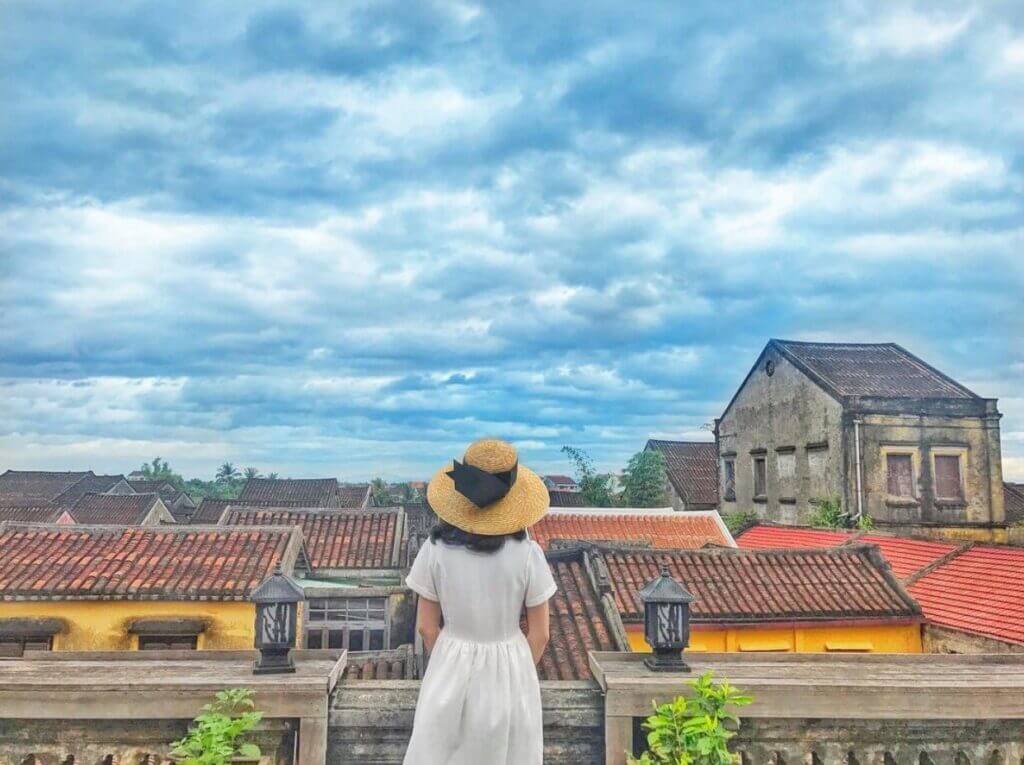 Mót Hội An
We love Mót Hội An! You can find it here – 150 Tran Phu, Hoi An.
Mót Hội An is not just a coffee shop. It serves herbal tea in lime and lemongrass cups making it unique in its own right.
The space for seats and tables is very small so you'll need to be lucky getting a seat. You may have to take your cup away.
Maybe try visiting outside of peak hours.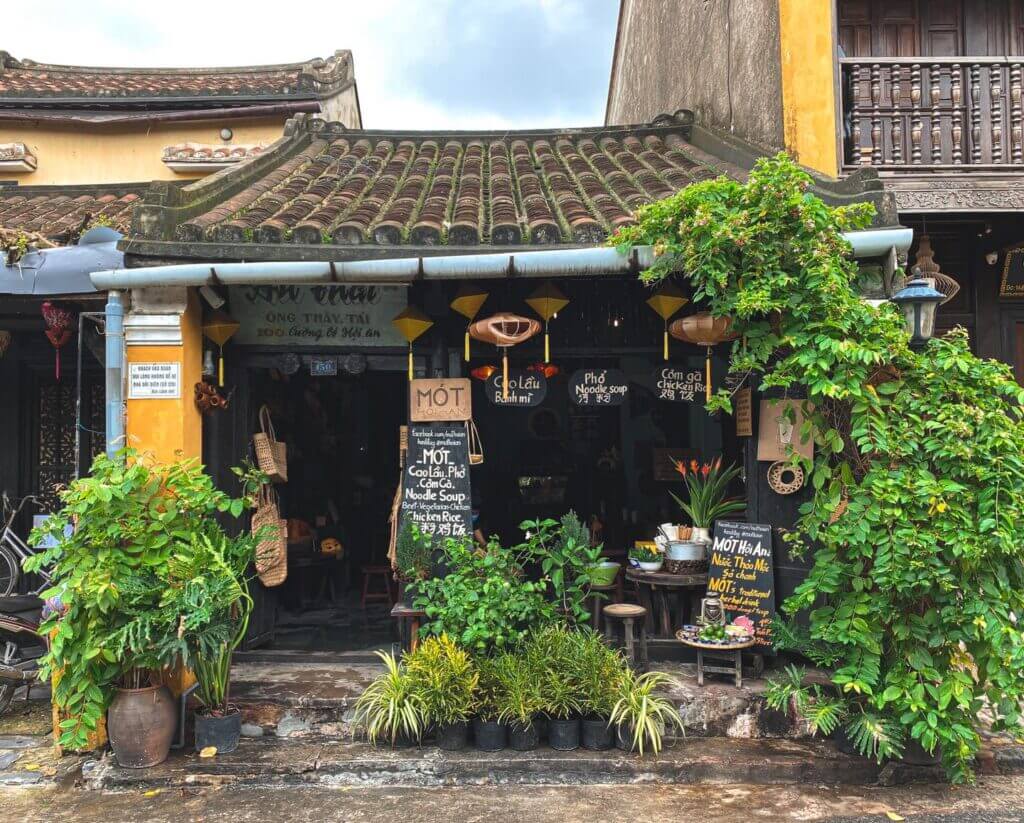 CocoBox
CocoBox is located here – 94 Le Loi, Hoi An.
Cocobox is a juice bar, producing all kinds of smoothies from local fruits in the middle of Hoi An's beautiful ancient town.
Of course coffee is on the menu as well.
Seating is once again at a premium so do bear that in mind when visiting.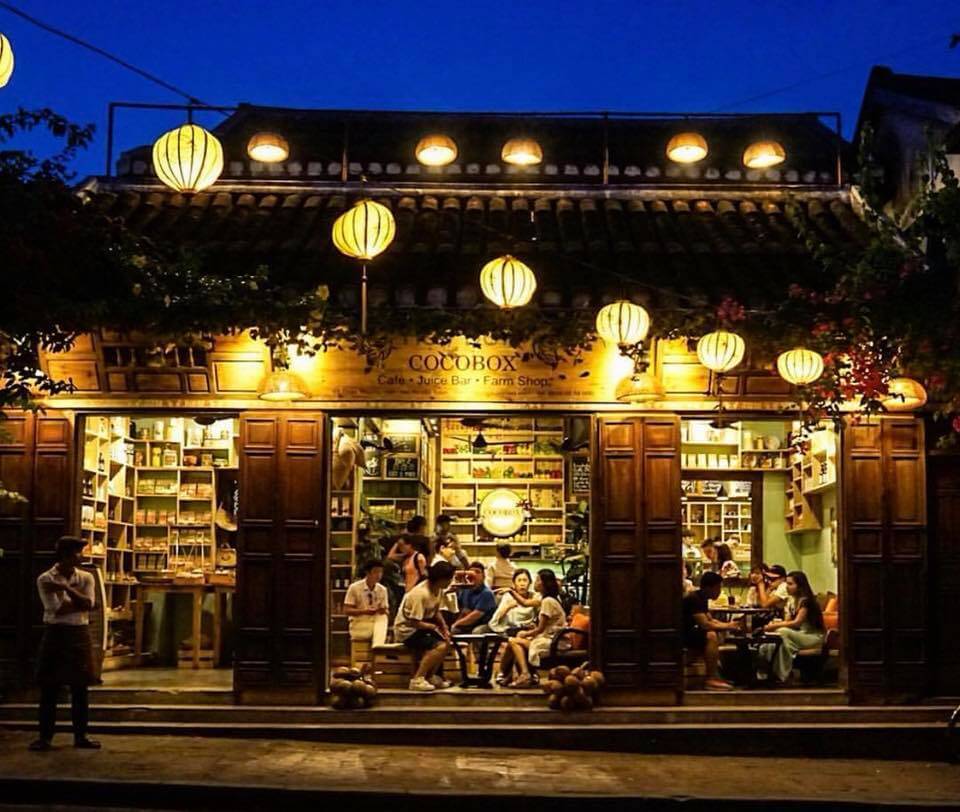 There's plenty more to choose from in Hoi An, such as these:
Must Visit Coffee Shops in Sa Pa
Taking a seat on the veranda of a hillside with a warm cup of coffee in hand whilst enjoying mountainous views. What could be better?
What makes coffee shops in Sapa so special is that they are located on the hillside where customers can watch fluffy clouds slowly engulf between the mountains.
Pretty special, trust us.
Coóng Coffee Homestay
The Coóng Coffee Homestay is here – Subquarter 8, Sa Pa District, (on the way to Cat Cat village) Sa Pa, Lao Cai.
Located in the pine forest, this coffee house in Vietnam offers you private areas to relax and enjoy drinks.
From the treehouses, you can view the rice paddy fields on the mountain sides and take a rest in this cool atmosphere.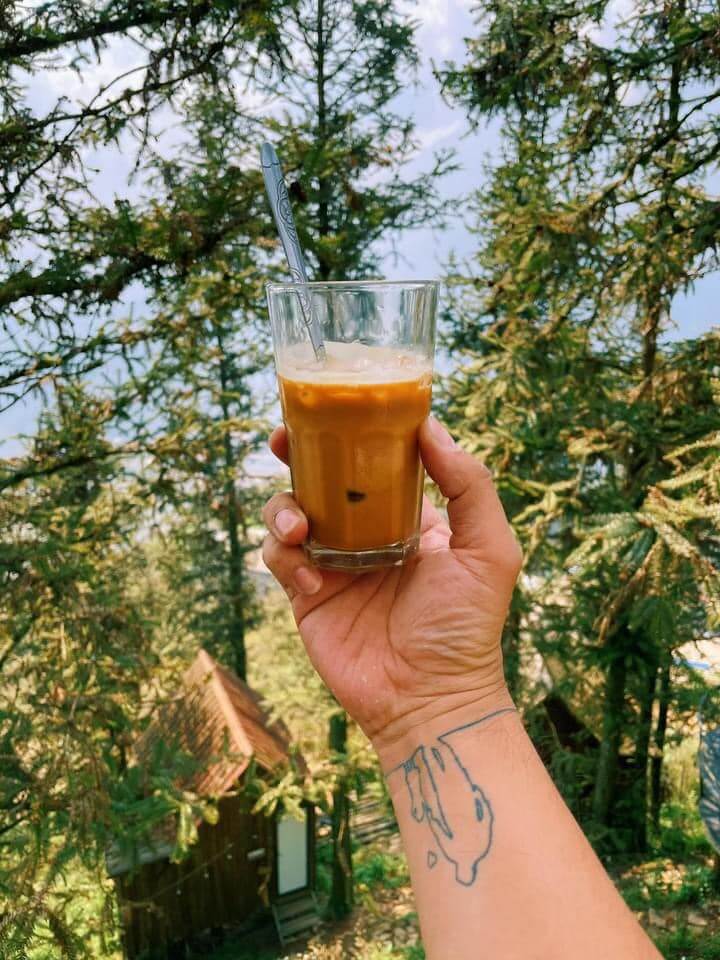 Fansipan Terrace Café
Fansipan Terrace Café can be found here – 67 Fansipan, Str Sa Pa, Lao Cai 0214.
Offering a stunning view of Fansipan mountain, this coffee shop also looks over Sapa and Cat Cat village.
The drinks here are served Western-style, with an espresso machine, plus local Vietnamese dip brews which provides a superb experience.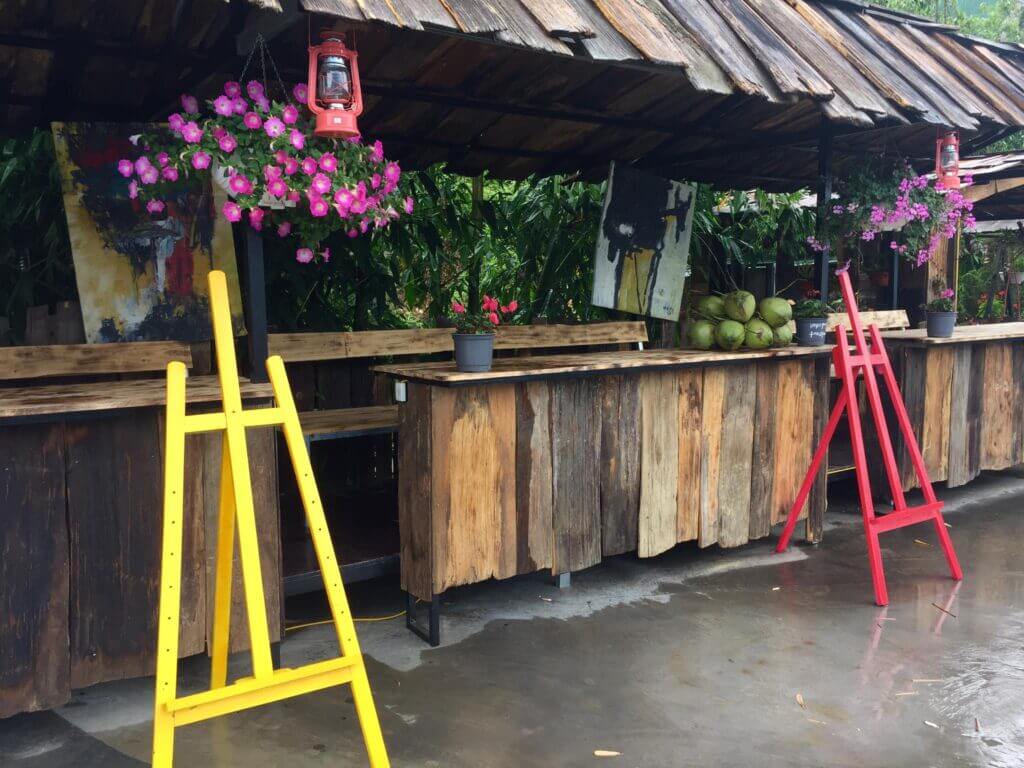 Lá Dao Spa Tavan
Lá Dao Spa Tavan is located here – Ta Van village, Sapa, Lao Cai
This is a perfect place for those who enjoy looking at the paddy fields from a distance.
The ideal season to visit Lá Dao Spa Tavan is in August, September and October to view and smell the breathtakingly beautiful golden rice fields.
And to finish off, here's a few more:
BONUS | Food Review Apps
Don't take our word for it? No worries because you can grab the opinion of others before taking the plunge.
How?
Online communities of course!
Food and drink review apps and websites have become a common theme all around the world. Vietnam is no different.
You'll find many apps and websites offering you useful feedback from locals about coffee shops and restaurants.
Here are some of the ones we recommend if you wish to check them out.
#1 Foody
Foody is a community in which people can post feedback and reviews about food and drink from restaurants, cafes, bakeries and travel spots across Vietnam.
Foody is available both on website and mobile (for IOS and Android versions).
Website: foody.vn

App for Android: Foody – Find Reserve Delivery

App for Apple: Foody – Find Reserve Delivery
#2 Be My Coffee
Facebook: Be My Coffee
Be My Coffee is a Facebook fan page for coffeeholics where you can find reviews and feedback about coffee shops across Vietnam, by the locals.
The information provided by Be My Coffee is detailed and relatively reliable since most of the reviewers are not paid for their posts.
CHALLENGE | All the review posts of the fan page are in Vietnamese. Maybe a good chance to take some beginner Vietnamese lessons with us?!
#3 Hội Review đồ ăn có tâm
Facebook: Hội review đồ ăn có tâm
"Hội review đồ ăn có tâm" literally means "The group of people who review foods truthfully".
The group boasts more than 700,000 members including locals and foreigners.
Joining the group will allow you to discover food and drink a plenty, with both negative and positive feedbacks.
Similarly to Be My Coffee, most of the review posts are in Vietnamese, so translation apps or websites may be helpful for you.
---
There we have it, all the information you need about Coffee shops in Vietnam.
We hope you found it useful.
Have you been had a coffee in Vietnam before? Where did you go? Comment below where you went and what you think. We'd love to hear from you
Coffee Shops in Vietnam // FAQ's
Are there coffee shops in Vietnam?

Of course, in fact there is a huge number.

Coffee culture and Vietnam go hand in hand so it's time to step away from Starbucks, Costa and all of those western brands and take in some of the local coffee joints.
Where can I enjoy a coffee in Hanoi?
Where are some good coffee shops in Ho Chi Minh City?

They are everywhere but we recommend these as a starting point:

Oromia Coffee & Lounge – 193A/D3 Nam Ky Khoi Nghia, Ward 7, District 3, Ho Chi Minh City

The Hidden Elephant Books & Coffee – 2nd Floor, 35 Phan Chu Trinh, Ben Thanh Ward, District 1, Ho Chi Minh City

Heritage Concept Chill Hub – 190 Vo Van Kiet, Cau Ong Lanh, District 1, Ho Chi Minh City

Cafe Runam D'or –3 Paris Commune, Ben Nghe, District 1, Ho Chi Minh City
What is Cà phê trứng and where can I get it?

Cà phê trứng is also known as the signature drink of Hanoi which is made from dense dark coffee topped with a creamy-soft yolk foam.

This specialty originated from Hanoi and is best enjoyed during the winter when the wind blows gently since the caffeine from the coffee beans and protein from eggs come alive.

It'll keep your body warm for the whole day.

My favourite coffee shops to enjoy this local treat are:

Cafe Giản: 39 Nguyen Huu Huan, Hoan Kiem

Đinh Cafe: 13 Dinh Tien Hoang, Hoan Kiem
Want More From LTL?
FANCY LEARNING VIETNAMESE? We know you'll love our top-rated online Vietnamese courses. We offer a 7 day free trial to all new online students where you can study 24/7.
What's more – we even offer Vietnamese courses in Vietnam too. Check out our small group classes for Vietnamese or our individual programs.
Interested in other languages too?
In fact, we teach Mandarin, Japanese, Korean, Taiwanese and Shanghainese as well!
Come and be a part of our amazing community!