The Best Vietnamese Podcasts You Need To Know About (for 2021)
Vietnamese Podcasts That Will Help Propel Your Language Learning Skills (for 2021)
Even though I live in Vietnam, my working environment is in English, so my contact hours with Vietnamese are really dependent on the number of hours I decide to devote to Vietnamese. This is where Vietnamese Podcasts come in!
SKIP AHEAD
If I'm not conscious of it, I can easily go a whole weekend binging American shows on Netflix and hanging out with other expats with minimal contact with Vietnamese.
I try my best to attend events where I can use Vietnamese, but since more than 40 hours of my week are in an English-speaking environment, I try to supplement my environment by listening to Vietnamese podcasts.
I love podcasts. The first thing I do in the morning, before I even swipe through notifications that have accumulated overnight, is put on a podcast.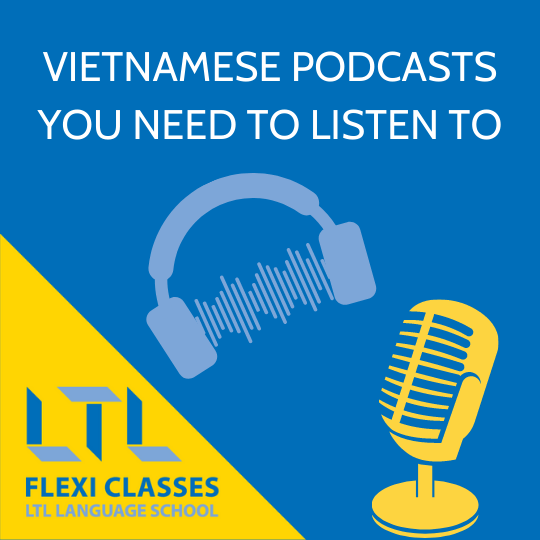 I listen to Vietnamese podcasts while making my bed, eating my breakfast, and brushing my teeth.
Usually by then, the podcast is finished, and I have to put a new one for my fifteen minute walk to work.
During lunch, I listen to a podcast as well. And of course, I listen to one on my walk home.
Honestly, I don't always listen to Vietnamese podcasts! Sometimes I listen to ones in other languages I'm working on like Cantonese and Taiwanese.
I also listen to a lot of English podcasts, too. In general, though, I try to listen to at least one Vietnamese podcast a day.
It's an exciting movement for Vietnamese podcasts right now. I'm part of a Facebook group called Cộng đồng "chơi" Podcast ở Việt Nam, which is a for Vietnamese podcasters to interact.
It feels like every single week there's a brand new Vietnamese language podcast coming out. That variety means that there's always something new, and I find that it's difficult to get bored with the number of choices out there.
In this article, I want to do two things. The first is to share some of the Vietnamese podcasts that I particularly like. The second, is to share how I use them to improve my Vietnamese. I've included links to the podcasts. I usually listen on Spotify, but most of these should be on most podcast hosting apps.
Vietnamese Podcasts – Our List
Vietnamese Podcasts for Learners
I'm picky about podcasts designed for learners.
My own personal preference is for the podcast to be in Vietnamese entirely. As far as I know, there aren't many podcasts for Vietnamese learners out there yet. Here are my favourites though.
Learn Vietnamese with Annie Podcast
Link to Podcast – Click here
There is a series of podcasts by the Vietnamese teacher Youtuber Learn Vietnamese with Annie.
It's subscription based, and I personally don't like them, but some learners might like the style.
The podcast relies on grammar translation as a teaching tool. My time is precious, and if I'm going to spend time learning Vietnamese, I want to hear as much Vietnamese as possible.
That being said, some learners like English explanations and translations, so if that's what you like, this podcast is for you. They do have podcasts for all levels, which is a bonus.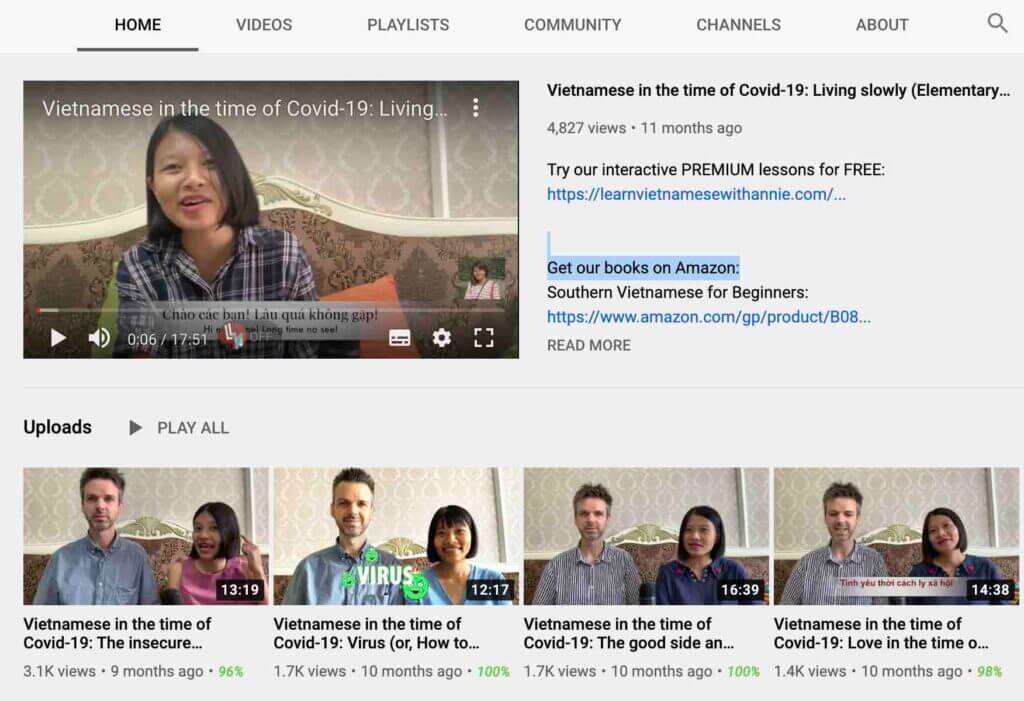 Your Vietnamese Tutor
Link to Podcast – Click here
For me, this podcast really gets what I'm looking for as a learner.
The podcasts are entirely in Vietnamese, and best of all, they have a transcript.
The conversations can feel a little contrived at times, but I think they're perfect for a high beginner or an intermediate learner.
The topics are relevant to life in Vietnam, like Tết của anh thế nào? (How was your Tết?) and Ở chợ (cửa hàng thịt), At the Market (the meat stall).
The speed is reasonably slow, and they are pretty short, so it's easy to listen a few times.
Vietnamese Podcasts for Studying Abroad
A lot of Vietnamese high school and college students study abroad.
From what I've observed, most people seem to go to Western countries, but that isn't always the case.
There are a few really great study abroad podcasts out there. I particularly like them because the podcast hosts all have international experience.
This means that they also understand what makes their own country unique.
In their discussions, they talk about issues in their host countries as well as issues at home. They have invaluable cultural insights that I constantly learn from.
Ta Đi Tây
Link to Podcast – Click here
This podcast is interview-based and features talks with the host and various people studying abroad all over the world.
A lot of the interviews are with people in the US or Australia, but they also have talked to people in Taiwan.
Part of their goal is to provide an honest portrayal about the study abroad experience, ranging from exciting successes to experiences of failure and homesickness.
Du Và Học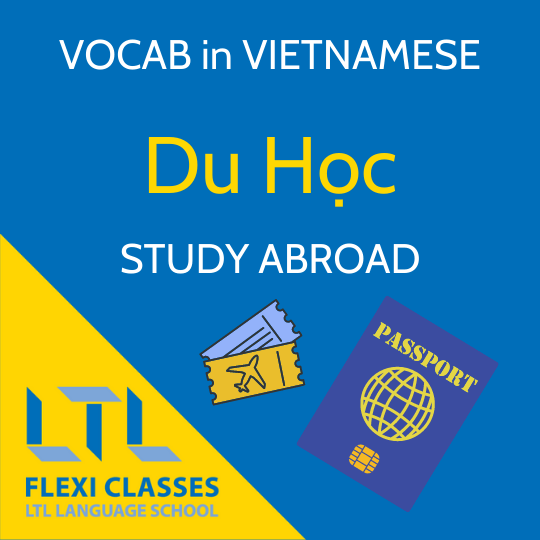 Link to Podcast – Click here
This is my favorite of the study abroad podcasts I listen to.
The topics are always interesting and topical.
They have episodes ranging from reverse culture shock to living together before marriage.
They've also been around for a few years, so there's a good backlog of episodes to binge.
I appreciate how this podcast doesn't romanticize the study abroad experience and tries to dig into some of the more difficult aspects of living abroad, like homesickness.
The Brunch Talk
Link to Podcast – Click here
The Brunch Talk is a fairly new podcast from two high school students studying at a boarding school in the US.
Since both of the hosts are young, they also focus on topics concerning young people.
They have episodes on sexuality and racism in the US. They also cover lighter topics like what you should bring to study abroad in the US.
Other Vietnamese Podcasts
Nhịp Sống Đài Loan
Link to Podcast – Click here
I'm interested in Taiwanese-Vietnamese relations. There are many Vietnamese people that go to Taiwan to work or study.
This podcast features interviews with Vietnamese people in Taiwan or Taiwanese people knowledgeable about Vietnam.
For me, it's an interesting way to compare the two countries.
It was through this podcast that I learned about The Good Daughter, a stunning documentary about a Vietnamese woman who marries a Taiwanese man.
Radio Taiwan International (RTI), who makes the podcast, has a few other Vietnamese language programs worth checking out as well.
Letters That I Never Send
Link to Podcast – Click here
The title of this podcast says it all.
It's the host reading out letters to various people that she never intends on sending.
The concept is great, and the letters are fascinating. They can be sweet and also sad sometimes. I like the host's voice as well.
SexEdu by Trang – Chăn Chuối Show
Link to Podcast – Click here
Like the name implies, this is a podcast about sex.
The host, Trang, gives talks on all sorts of things, like facts about HIV. The topics are approached in a serious but light manner.
Since these are topics one might not talk with a stranger about, I find it's a great resource to learn some "dirty" Vietnamese.
Trang also has a YouTube channel and does speaking engagements in Ho Chi Minh City and around Vietnam.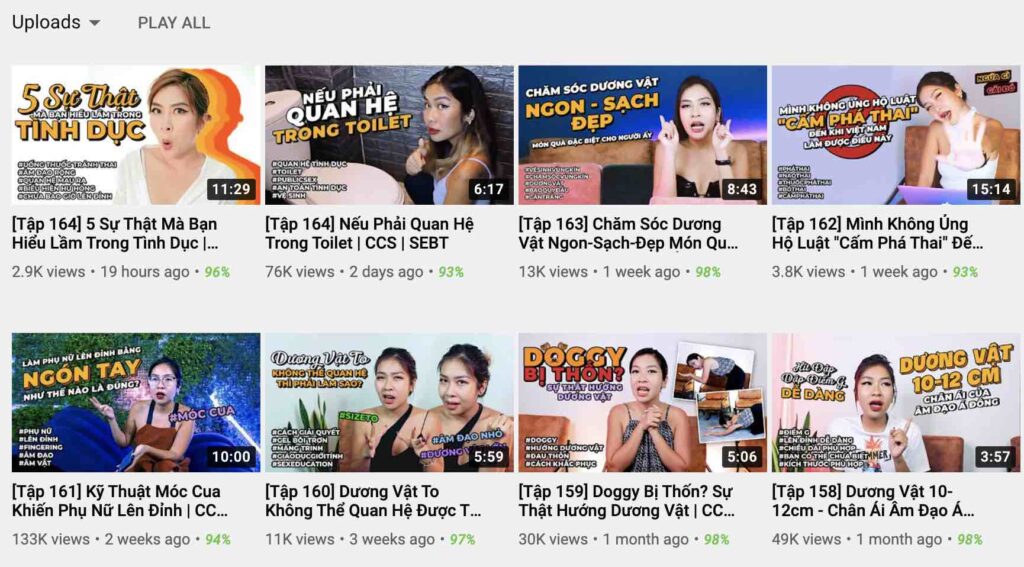 The Blue Expat
Link to Podcast – Click here
This podcast has episodes in both English and Vietnamese and it's one of the earliest podcasts out of Vietnam.
The host actually lives in Cyprus right now. She conducts interviews with Vietnamese expats and expats in Vietnam.
I especially like the podcast because it challenges the idea of what an "expat" is.
There hasn't been a new episode for a few months right now, but since the podcast has been around for a while there are lots of episodes to listen to.
Vietceterra | Bít Tất
Link to Podcast – Click Here
This is one of two Vietcettera podcast I listen to.
Vietcettera is a website that caters to Vietnamese youth, and I find their podcast content really interesting.
The topics are pretty varied. In one episode I listened to, the hosts compared the live music industry in Vietnam with that of Europe.
In another episode, the hosts discussed praying to ancestors and how their relationship with the practice has changed as they've aged.
This podcasts is a great place to get contemporary information on Vietnamese culture with traditional elements still present.
Vietceterra | Have a Sip
Link to Podcast – Click here
This is my absolute favorite podcast.
I'm really interested in pop culture and internet celebrities. Have a Sip is a podcast where Thùy Minh, a famous Vietnamese MC, interviews various influencers from Vietnam.
It's a great introduction to the Vietnamese internet. There's even an episode where she interviews Trang from the sex-education podcast above.
Thùy Minh is also an excellent interviewer. She effortlessly jumps between serious questions to more playful ones.
It's a long podcast with most episodes being at least an hour, so I normally listen in pieces.
How I Use Podcasts To Improve My Vietnamese
Background Noise
Sometimes I put them on podcasts just as background noise.
If I'm cooking dinner or doing something where I can't focus too much, I usually throw on a random Vietnamese radio station or podcast.
I might catch a few phrases or a bit of the news. If I don't understand anything, I don't get too worried.
Supplementary Listening For Class Materials
Back when I was taking Vietnamese classes, I never felt like the two hours of class a week were enough.
I never felt like it allowed me to get deep enough into the topics I wanted.
What I would do then is look up different class topics on different podcast apps.
For example, let's say my class topic was "Đầu Tư" (Investment).
In class, I would have already learned some words on the topic, but for me I need to hear or read a word a ton of times to actually remember it.
After (or sometimes even before) class, I would look up đầu tư on Google Podcast and immediately a bunch of episodes with that keyword appear.
Usually I would just pick a random episode and listen for words I learned in my lessons and also see if there were any new supplementary words I could get from the podcast.
Active Listening
For me, I tend to do most of my language learning around topics I find fun and interesting. So for the investment example, I personally wouldn't find that very interesting.
Instead I typically just listen to podcasts I like and find interesting.
When I have time to devote to sitting down and just listening, I will listen and look up words in the dictionary that I don't know.
If a word really trips me up (Vietnamese is sometimes hard to spell for me), I'll note down the time stamp of the word and ask a friend later.
I also shadow sometimes while listening to practice speaking at a normal speaking speed.
Noting Down Topics To Talk To People About
The other, and perhaps most important, use of podcasts for me is learning about what's in the zeitgeist for Vietnamese youth.
Most of the podcasts I listen to are by millennials. I make mental notes about what the podcasters care about and what they're talking about.
If they mention a celebrity or some part of Vietnamese culture that's new to me, I note it down too. That way, I can be informed on Vietnamese pop culture and contribute to conversations with Vietnamese people I meet in my daily life.
For me, I have found listening to podcasts as one of the best ways to study a language. It's a way for me to control my own language environment.
Even though I don't get to practice output when listening to podcasts, I find that podcasts prepare me for when I interact with real people.
Through listening to them, I get to learn how different Vietnamese think and express themselves.
They bring me constant entertainment, and I can't recommend listening to them enough.
---
So there you have it. 10 top Vietnamese podcasts to absorb and some learning tips to boot.
Did you find this post useful? Are there any Vietnamese podcasts you are currently listening to that you'd recommend? Comment below and share your story!
If you wish to learn Vietnamese online we're here to help because we've got some excellent teachers ready to help propel your Vietnamese language levels!
You can study any time 24/7 with our Vietnamese Flexi Classes, or if you prefer a fixed schedule check out our Vietnamese small group classes or individual courses.
Vietnamese Podcasts – FAQ's
How do you say Podcast in Vietnamese?

For podcast, in Vietnamese you can actually also just use "podcast".

Tệp âm thanh means "audio file" and is a possible translation, but podcast suffices.
Can I learn Vietnamese with podcasts?

Absolutely! Not just for Vietnamese, but with any language.

"For me, I have found listening to podcasts as one of the best ways to study a language. It's a way for me to control my own language environment."
What is a popular learning Vietnamese podcast I can listen to?

"Learn Vietnamese with Annie" has a website, YouTube channel and podcast.

This is one of the more popular ones online.
Want More From LTL?
FANCY LEARNING VIETNAMESE? We know you'll love our top-rated online Vietnamese courses. We offer a 7 day free trial to all new online students where you can study 24/7.
What's more – we even offer Vietnamese courses in Vietnam too. Check out our small group classes for Vietnamese or our individual programs.
Interested in other languages too?
In fact, we teach Mandarin, Japanese, Korean, Taiwanese and Shanghainese as well!
Come and be a part of our amazing community!