A Guide to the Japanese Islands // Including Some Hidden Gems
Japanese Islands // All You Need To Know About The Geography of Japan
There are a lot more Japanese Islands than you think!
FUN FACT to get us started – Japan is made up of 6,852 islands!
Bet you didn't know that one right? There's plenty more where that came from!
Whilst we don't quite have the brain power to cover every one of the 6,852 islands (!!) in this article, we will be giving you a guide to the ones you really need to know about!
There are four Japanese islands that will cover the main part of this article, these are what make up the majority of Japan.
They are called:
Hokkaido
Honshu
Shikoku
Kyushu
That list is written from north to south.
Heading even further down, we have Okinawa, a chain of tropical islands at the southern end of the country.
The northern islands are known for snowy winters, cooler summers, forests, hot springs, and breath-taking views.
Down south, the islands are tropical, with calm, blue waters and warm temperatures.
Today, we will introduce you to the beauty of Japan and the geography of the Japanese islands.
Japanese Islands | Hokkaido 北海道

Japanese Islands | Honshu 本土

Japanese Islands | Shikoku 四国

Japanese Islands | Kyushu 九州

Japanese Islands | Okinawa 冲縄

Japanese Islands | FAQ's
Japanese Islands | Hokkaido 北海道
Welcome to the most northern of all the Japanese islands.
This is beautiful Hokkaido 北海道!
With its distinct climate, you can expect cool summers and freezing winters.
Don't take the winter in Hokkaido lightly either by the way! It's very cold indeed!
The island's total area of 83,453 square kilometres has a mountainous centre, which spreads out to coastal plains.
Hokkaido is famous for Japan's winter sports scene with ski resorts like the one at Niseko. The tall mountains and cold weather are perfect for it, and the snowy scenery is also incredibly beautiful.
Hokkaido's largest city and capital is Sapporo, which is said to mean "important river flowing through a plain" in the indigenous Ainu language.
Sapporo hosted the 1972 Olympic Winter Games and has since gained global popularity for its ramen with 4 different bases, eponymous beer, and the annual Sapporo Snow Festival.
The city's popularity has made it the 5th most populated city in Japan!
If visiting Hokkaido one of the must visit locations are the beautiful sculptures showcased in famous Sapporo snow festival!
27 Country Names in Japanese 🌍 Your Complete Guide
Countries in Japanese – Interested in learning some country names in Japanese? Some actually translate and sound very similar to English, come and see!
MUST VISIT IN HOKKAIDO
As already mentioned the Sapporo Snow Festival is a must if you can handle the cold!
Otaru | Hokkaido's beautiful port city.
If you like skiing and snowboarding, you'll be in heaven throughout the island!
Discover Ainu Village.
Japanese Islands | Honshu 本土
The largest island in the Land of the Rising Sun is Honshu, with a total area of 227,962 square kilometres.
DID YOU KNOW | Honshu is also the 7th largest island in the world!
Honshu is home to the major cities like the current capital, Tokyo and former capital, Kyoto, Mount Fuji, Disneyland, and most of the other famous attractions and destinations that people have heard of.
Mt. Fuji stands 3,776 meters tall, inviting many tourists to hike up the snow-capped beautiful mountain!
As the centre of Japan, Honshu connects to other primary islands through bridges, undersea tunnels, and underground railways.
To take a break from the busy metropolis, just catch the next train to outer towns for several famous onsen, beaches, swimming and snorkelling facilities!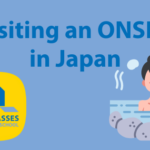 Visiting an Onsen in Japan // Which Onsen & What Should I Know
Visiting an onsen in Japan is an absolute must. Onsens are the natural hot springs in Japan and a big part of Japanese culture but what should you know?
MUST VISIT IN HONSHU
Where do we even start with Honshu!
Most likely you'll be landing in Tokyo and this unique city absolutely needs 3 days absolute minimum. Check out the bizarre Robot Restaurant and enjoy gorgeous midnight Ramen and teppanyaki at Teppan Baby.
Visit Mount Fuji | It needs no introduction.
Discover Hakone National Park.
Visit Nikko for hiking, natural hot springs, waterfalls, and wildlife.
We haven't even mentioned the beauty of Kyoto and Osaka yet either!
Japanese Islands | Shikoku 四国
There's no better place to enjoy cherry blossoms than Shikoku island!
As the smallest of Japan's major islands, most people overlook the charms that Shikoku has to offer.
With 18,800 square kilometres spread over 4 prefectures, the Shikoku landscape varies in each cardinal direction.
Shikoku is full of nature and culture! You can feel Japanese tradition emanating off almost anything.
Mountains undulate in the south while lowland plains stretch along the pacific coast, perfect for agricultural practices.
In Shikoku, you can rest assured that you'll be eating food made from the freshest ingredients!
Shikoku is perhaps best known as home to several haiku masters and for its many Buddhist temples.
In fact, you can embark on one of the world's oldest Buddhist pilgrimages on Shikoku island.
There is a tradition on Shikoku island which involves pilgrimages to the 88 temples on the island, known as the Shikoku Henro. It has a 1,200-kilometre pilgrimage route. 
To learn more about Japan and Buddhist rituals, you can also take part in these pilgrimages.
They won't cost you a single Yen, either!
MUST VISIT IN SHIKOKU
Wander the gorgeous Ritsurin Garden.
Discover Matsuyama Castle.
Take in the wide array of colours at the Kochi Makino Botanical Garden.
Visit the arty island of Naoshima.
Japanese Islands | Kyushu 九州
If you're into exploring the great outdoors, Kyushu has the perfect environment for you!
This is Japan's 3rd largest island with an area of 35,640 square kilometres spanning over 7 prefectures.
Kyushu is extensively mountainous with the volcanic terrain of the Kuju mountain range.
Japan's most active volcano, Mt. Aso, is also on this island.
Since volcanic activity in the region is substantial, you can expect a lot of onsen towns! The most famous is probably the steaming town of Beppu, where you can find the ornamental "Hells of Beppu" hot springs.
Sounds exciting doesn't it?! Trust me, once you've tried them, you won't want to leave so try to make the most of your time there!
With shopping centres, Japanese markets, views of the Genkai Sea, noodles by Hakata Bay, and Japanese tea ceremonies, you certainly won't be getting bored here.
You can also learn more about Japanese culture and history in the museums and at local monuments.

MUST VISIT IN KYUSHU
Check out the area of Tenjin in Fukuoka, the biggest city of Kyushu.
Splurge on Ramen whilst you are there, it's widely regarded as having some of the best in Japan.
Visit Arita town, the birthplace of Japanese porcelain.
Reflect on events of the past at Peace Park in Nagasaki.
And of course, as already mentioned above, do not miss Beppu Onsen, Japan's most popular hot spring resort.
Japanese Islands | Okinawa 冲縄
Okinawa is not listed as one of Japan's main four islands but of course we have to mention this quite stunning region of Japan!
Okinawa 冲縄 is Japan's premier destination for relaxing on the beach, snorkelling and hiking!
Okinawa isn't actually one singular island though, in fact they make up a group of islands which are genuinely perfect beach destinations year-round. 
DID YOU KNOW | Before Okinawa became part of Japan in 1872, it was an independent country known as the Ryukyu Kingdom!
Ryukyu culture is still alive and well and is one of the reasons Okinawa is so distinctive.
Okinawa has a fascinating blend of Japanese and native island culture, with plenty of sun and unique local cuisine.
You'll also find Japan's largest reef in the prefecture. Even beginners can get in on the action on a beach dive off Okinawa Island!
You can spot everything from manta rays in Ishigaki to underwater caves near Miyako and hammerhead sharks off Yonaguni.
MUST VISIT IN OKINAWA
Trek through the jungle and head to Iriomote.
Dive at the underwater ruins of Yonaguni.
Go whale watching.
Visit the gorgeous Shuri Castle.
Explore the local villages on Taketomi.
---
Surely that's whet your appetite to visit this quite unique country, so diverse from the cold north of Hokkaido all the way to the tropical islands of Okinawa, and everything in between!
Now what are you waiting for?
Let's plan a nice and long trip to explore the beauty offered by Japan!
Japanese Islands // FAQ's
How many islands make up Japan?

Probably a lot more than you think. Japan is made up of 6,852 islands! 
What is the biggest island of Japan?

Honshu is the largest island in the Land of the Rising Sun, with a total area of 227,962 square kilometres. 

Honshu is also the 7th biggest island in the entire world!
Is Okinawa one island?

Okinawa isn't actually one singular island, in fact they a group of islands which are genuinely perfect beach destinations year-round. 
What is Kyushu in Japanese Kanji?
What is the Japanese Kanji for the four main islands of Japan?

Hokkaido is 北海道

Honshu is 本土

Shikoku is 四国

Kyushu is 九州
Want More From LTL?
WANT TO LEARN JAPANESE? Check out our online Japanese courses here.
We offer a 7 day free trial to all new students where you can study 24/7.
What about studying Japanese in Japan instead? We've got your back. Our Japanese courses in Tokyo can either be taken in small groups of no more than 5 students or individually for a more tailored experience.
We even offer incredible homestay experiences in Tokyo as well.
The language experiences don't end there either, in fact we also teach:
Come and be a part of this amazing community!