Vietnamese Youtube Channels 🎥 6 Must Follow Channels For Learning Vietnamese
Learn Vietnamese YouTube // 6 Channels You Need To Follow
It is undoubtedly difficult to learn Vietnamese on your own.
But don't worry, because in this post we are going to introduce you to the 6 most interesting and informative Learn Vietnamese Youtube channels where you can learn the language and more about Vietnamese culture at the same time.
Youtube is a super place to enhance your language skills, not just for Vietnamese but also Chinese, Korean and Japanese… amongst many more!
Today's post focuses on 6 Vietnamese Youtube channels that will allow you to learn Vietnamese from the comfort of your own home.
Learn Vietnamese YouTube – Hàng xóm Tây

Learn Vietnamese YouTube – Vietglish Fun

Learn Vietnamese YouTube – Tieng Viet Oi | Vietnamese Lessons

Learn Vietnamese YouTube – Vietnamese Pod 101

Learn Vietnamese YouTube – Vietnam Meets Dustin

Learn Vietnamese YouTube – Learn Vietnamese with Annie

Learn Vietnamese YouTube – FAQ's

Vietnamese Youtube Channels – Hàng xóm Tây
CHANNEL – Follow Here
We will begin with Hàng xóm Tây, a Vietnamese Youtube channel created by a group of foreigners who have been living in Vietnam for a long time.
They have a good command of Vietnamese and are super creative in creating new videos – attractive to both foreigners and Vietnamese people.
Their channel does not solely focus on learning Vietnamese but also talks about their lives in Vietnam, the challenges faced every day, and how they cope with the cultural differences to enjoy themselves.
If you are about to travel to Vietnam, don't forget to subscribe to this channel! It's a good one that covers many aspects of life in Vietnam.
Vietnamese Youtube Channels – Vietglish Fun
CHANNEL – Follow Here
Kayla is a Vietnamese comedian, film producer, actress, and musician living in Southern California.
Her Youtube channel is a great platform to learn Vietnamese in a really fun way with English subtitles.
She is most popular for her Vietnamese versions of English pop songs such as:
She also compiled some fun videos to teach foreigners Vietnamese basics such as the alphabet, the numbers, fruits and many more.
Her channel is a great way to learn Vietnamese on Youtube!
You can also follow Kayla on Instagram too.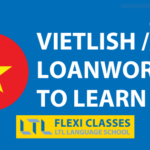 31 Examples of Vietlish // A Simple Equation
Vietlish = Vietnamese + English. You might be intimidated by learning Vietnamese but there's no need with these 33 loanwords in Vietnamese.
Vietnamese Youtube Channels – Tieng Viet Oi
CHANNEL – Follow Here
Let's switch to a couple of more genuine language learning focused Vietnamese Youtube channels.
Tieng Viet Oi aims at providing fun and practical Vietnamese lessons to anyone interested in learning the language.
They focus on spoken language, helping foreigners sound as fluent and natural as possible, rather than strictly sticking with grammar books.
As a result, there are a lot of activities, games and sometimes excursions in the lessons.
For the last few years, they have helped so many foreigners working and living in Vietnam with their Vietnamese, but now they want to reach out further to people who are unable to take lessons directly with them.
That's why they make Vietnamese learning videos, hoping that people who are struggling to learn our challenging but interesting language will find some help here.
Definitely worth a follow!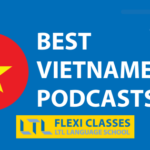 The Best Vietnamese Podcasts You Need To Know About (for 2021)
Podcasts are a super way to learn. With that being said we have prepared a list of the top 10 Vietnamese podcasts to help improve your language skills.
Vietnamese Youtube Channels – VietnamesePod101
CHANNEL – Follow Here
If you study languages on Youtube then you will for sure be aware of the Pod 101 series.We've discussed the Mandarin version, ChineseClass101 before if you want to read more in-depth about what they do.
Vietnamese is no different with the VietnamesePod101.com channel.
VietnamesePod101.com is an online Vietnamese language learning channel. Their videos can be quite long in some circumstances – just like a live lesson you may have at a Vietnamese Centre.
Get ready to "wow" your friends, family, teachers, and colleagues with the Vietnamese you learn with VietnamesePod101.
Vietnamese Youtube Channels – Vietnam Meets Dustin
CHANNEL – Follow Here
Dustin Cheverier is probably one of the most interesting foreigners living in Vietnam.
He graduated with a degree in Nutrition Science from the University of California. After this he decided to travel around South East Asia with just a bike and later worked as a medical volunteer in Nha Trang, Vietnam.
At that time, Dustin was already an Emergency Medical Technician (EMT) and held advanced certifications in life support.
Originally Dustin planned to become a physician assistant, he left that behind to stay in Vietnam.
He got more involved with Television and now is the host of one of the most popular shows for the TV network VTV7 based in Ha Noi, Vietnam.
Dustin has always had an immense love for nature and learning new skill sets, especially from locals in Vietnam.
He has quite a good command of Vietnamese. His channel is great for those who plan to travel and live in Vietnam as it accurately shows the living culture and standards in Vietnam.
His channel is based in the countryside and wilderness of Vietnam through the eyes of a foreigner learning skills through the locals.
Vietnamese Youtube Channels – Learn Vietnamese with Annie
CHANNEL – Follow Here
Let's end this article with Learn Vietnamese with Annie.
Annie (or Anh) is a Vietnamese native speaker with a love for teaching her mother tongue to international friends.
She created the channel out of boredom, but it gradually became her passion and now she is a language teacher.
Apart from managing her Vietnamese language school in Saigon, she devotes a lot of her time to developing materials for learning Vietnamese, such as online lessons and comics.
She hasn't uploaded many videos lately but her content is timeless and some of her most popular videos are already 7-8 years old.
Still very relevant and very much worth a subscribe.
---
There we have it. Six of the very best Vietnamese Youtube Channels. What do you think of them? Which is your favourite?
Why not tell us in the comments below?
We love discovering more Learn Vietnamese Youtube channels as well so feel free to inform us of others to add to this list 🙂
WANT MORE? Check out our post about the best Vietnamese Slang and discover what Vietlish really is!
Vietnamese Youtube Channels – FAQ's
What are some great Learn Vietnamese Youtube channels?

There are plenty out there to choose from.

We really like Learn Vietnamese with Annie, VietnamesePod101 and Tieng Viet Oi.
Can I learn Vietnamese on Youtube?

Absolutely!

Youtube is a superb resource to learn languages these days and there is plenty of content out there to help you.
Does LTL teach Vietnamese?

Yes we do!

Check out our 24/7 Vietnamese courses here where you can choose your lesson, teacher and time no matter where you are in the world.
Want More From LTL?
FANCY LEARNING VIETNAMESE? We've got a great set of online Vietnamese courses for you to enjoy. You can study Vietnamese 24/7 online with LTL!
Guess what, we also have more!
In fact, we teach Mandarin, Japanese, Korean, Taiwanese and Shanghainese as well!
Why not get involved in Flexi Classes and become part of this amazing community!