HiNative Review (2023) – Connect and Learn with Natives
An Honest HiNative Review; The Best (and only?!) Language Q&A App?
HiNative Review: 7.5/10
HiNative is a language app that allows you to ask questions to native speakers on the language/country you're interested in. Voice features allow for pronunciation correction and seeing everyone else's questions is a great way to learn, too!
Update: 2023
If you've never heard about HiNative, you've clearly missed something!
But don't worry, we'll explain everything and you'll quickly catch up on this amazing Q&A style app for language learners.
Learning Chinese with apps is great and we usually use the kind of apps like Duolingo, LingoDeer or Du Chinese, but…
What if I have a question I need to ask a native?
What if I need my pronunciation corrected?
What if I need more details about sentence structure?
Standard language learning apps don't provide answers to these kinds of questions, but that's where HiNative comes in handy.
HiNative Review #1 // Key Info

HiNative Review #2 // Pros & Cons

HiNative Review #3 // Price

HiNative Review #4 // Introduction

HiNative Review #5 // Getting Started

HiNative Review #6 // How to Use the App (5 Sections Run-Through)

HiNative Review #7 // Premium Subscription (worth it?)

HiNative Review #8 // Conclusion

HiNative Review #9 // Where to Download

HiNative Review #10 // FAQs
Let's start with the app review, you'll want to download it right away!
---
#1 HiNative Review // Key Info
| | |
| --- | --- |
| Name | HiNative |
| Description | "HiNative is a global Q&A platform for language learners. Ask and answer questions about language and culture with native speakers around the world." (HiNative) |
| Website | https://hinative.com/ |
| No. of Languages Offered | 110+ |
| Price | Free / $7 per month |
HiNative Key Stats
#2 HiNative Review // Pros & Cons
| HiNative Pros | HiNative Cons |
| --- | --- |
| 1. Nothing like any other language learning app. | 1. Won't actually teach you anything in the language, simply a platform. But there is so much more potential here for learning guides etc. |
| 2. Great opportunity for quick fixes with native speakers. | 2. Overwhelming/ messy-looking home page, with no chronological order which can be a bit confusing at first. |
| 3. Over 110 languages on offer. | 3. Would be great to be able to engage with the community by using some kind of chat service. Again, lots of potential. But HiNative seems like they want to stick with the limited uses they have at the moment. |
HiNative Review (2023)
#3 HiNative Review // Price
| HiNative Premium Subscription | COST (USD) |
| --- | --- |
| Monthly | $9.99 |
| Annually | $83.99 |
HiNative Premium Costs
#4 HiNative Review // Introduction
HiNative is nothing like the other language apps we are used to reviewing. It's a nice change!
To put it simply, HiNative is a community app, where you can ask questions to native speakers and answer ones in return about your native language.
Use the pre-established question templates, ask for your pronunciation, a sentence to be corrected or for a quick translation, get suggestions from native speakers and so much more.
The app was made for both language learners and people interested in foreign cultures and travel. You can ask questions about anything related to a language or a country!
HiNative supports over 110 languages with a community of five million people worldwide, so you are sure to find what you are looking for!
#5 HiNative App Review // Getting started
Getting started on HiNative is super easy. Log in with Google, Facebook, Twitter or an email address and embark on a new adventure!
After logging in you will need to fill in several categories to create your profile.
You will be asked your native language and languages of interest, and add your actual level for each language. It is also required to add a country or region you know well, and your countries or regions of interest.
All of this will help personalise the app for your own specific interests and knowledge you can share with other users.
Find yourself a username, and that's it!
You are ready to ask questions and help those who need it in your native language.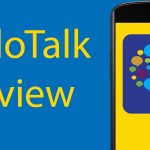 HelloTalk Review | How to Learn Chinese with HelloTalk
HelloTalk Review – HelloTalk is a fantastic resource for learning Chinese (or any language). The users of HelloTalk are the teachers and the students.
#6 HiNative Review // How to Use the App
The app might seem a bit overwhelming at first because there is a lot of information and things going on in the screen. But once we break all of the categories down, everything will make a lot of sense.
The bottom bar of your screen offers access to the 5 sections of the app:
Home – Find other users' questions divided into languages and countries.
Search – Look for keywords or previously answered questions.
Ask – Ask questions to native speakers.
Notifications – See who answers your question, or comments and liked your answers.
Profile – Check points earned, statistics, and change your settings.

The app menu is well structured but now let's break down and explain each section.
HOME
Check the top of your screen. You'll have several tabs to choose from depending on your native language and country as well as languages and countries of interest.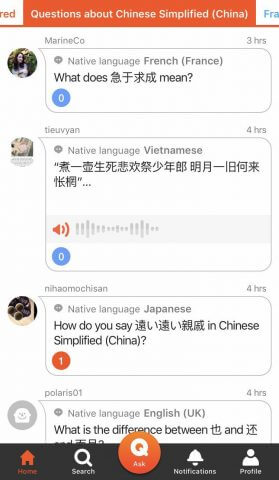 I am a native French speaker, and am interested in Simplified Chinese. So I have tabs about the French and Chinese languages, as well as France and China.
In the French and France tabs, I will be able to answer other users' questions. In the Chinese and China tabs, I will be able to see other users' questions about these topics and be able to answer them as well if I want to.
Two other tabs are available on the top of the screen: Premium and Unanswered.
Premium is where you can make your questions a priority compared to others so they appear first in the feed. Unanswered is is the tab where you can find all the questions that didn't receive an answer yet.
SEARCH
This section is language specific.
Search for meanings and translations previously answered by the community.
You'll be able to choose between your selected languages and scroll through the list of answers till you find what you are looking for.
If not, it's time to ask a question using the main button of the bottom bar.
ASK
The main section of the app. Ask questions to native speakers.
In this section, you can ask many different questions about a language or a country, using question templates or asking freely.
There are five question formats to ask about grammar and vocabulary such as "how do you say this", "please show me example sentences with..", two formats about pronunciation such as "how's my pronunciation", and another two for free questions.
Choose the right template depending on the question you want to ask or choose the option "ask freely" if it doesn't fit into the offered templates.
Click on a template, fill in the blanks with what you want to ask or record yourself, hit publish and your question will appear in the HOME section under the corresponding language/country tab.
NOTIFICATIONS
Answers, comments and likes from other users appear in this section. You can also see here when you gain points.
Points? What's with these points?
Answering other users' questions allows you to receive points, adding a bit of competition between users.
The faster you answer a question right after it was published, the more points you receive. They are called "Quick Points".
Likewise, if another native user "likes" one of your answers about your native language, you receive more points. They are called "Quality Points".
Of course, you can also check in this section when you received an answer to one of your questions asked.
PROFILE
Check your points and change your settings here.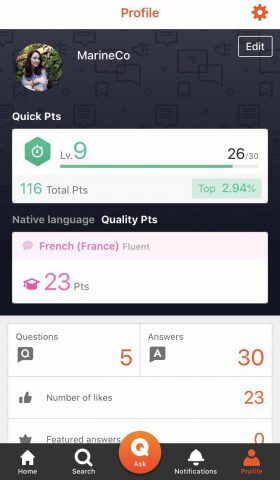 The more points you get, the higher your questions appear amongst the others so it is easier for you to get answers.
In your Profile, you can check how many points you have, how many questions you've asked, how many answers you've sent etc.
That's also where you can add and delete languages and countries of interest and write a short self-introduction for other users to know you better.
Click the settings button on the top right corner to edit your notifications and account, get a premium membership and more.
Now that you know everything about how to use the app, sign up today and start asking and answering away!
Which App are you using now to learn Chinese? Leave us a comment below.
#7 HiNative Review // Premium
What about the premium version of the app, you might ask?
HiNative is a free app you can use both on mobile and desktop, with a premium version to allow you access to more features.
The benefits of the Premium version of HiNative are many:
Gain access to other users' audio/video answers posted on others' questions to hear natives speak.
Receive 10 tickets/month to make your questions top priority in the list.
All ads removed.
Unlimited access to search results (free users get limited results).
Get notifications for other users' questions you are interested in without answering it.
Collect bookmarks and organise them in a simple list that you can then use to study and review.
Unlimited post translation with Google translate (free users can only translate 4 times a day).
The app offers a 1-week free trial and if you like it you can then purchase a premium membership for $83,99 a year, or $9,99 a month.
#8 HiNative Review // Conclusion
I personally love this app as I haven't found anything like it elsewhere, even if HelloTalk is a bit similar in the sense you can connect with native speakers.
The question and answer system is quick and easy, giving some structure to the app, allowing the more introverted of us to connect with other people and feel free to ask questions without having to have a full awkward conversation with a native speaker when our level is not that high.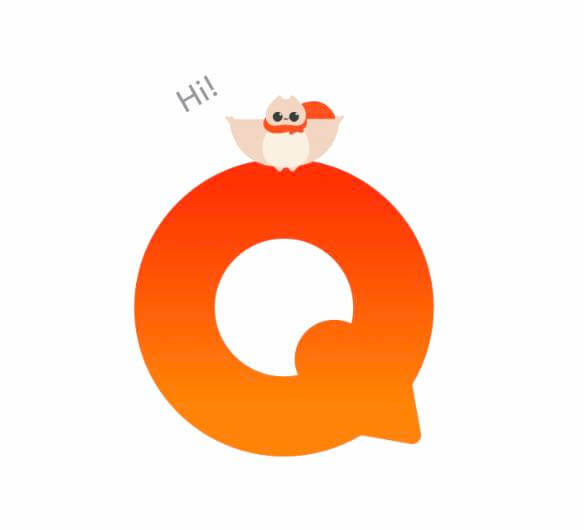 I would say the free version is enough if you are just starting with the app and with the Chinese language.
BUT if you are going to spend more time on it, frequently ask questions/give answers and use it as your main companion app, then you might consider the premium version.
The downsides of the app would be the messy-looking home page, with no chronological order which can be a bit confusing at first.

It would have been nice to have the questions listed from recent to old, which makes more sense.
It would also have been nice to be able to actually engage with and message other users, with an in-app messaging service, but I guess then it would have turned into a whole other different kind of app!
HiNative can seem a bit limited to language learners as it does not offer lessons and exercises as other language learning apps do, but that's their take.
You should maybe download apps such as Duolingo or Super Chinese if you are looking for Chinese lessons and vocabulary exercises.
If you are studying on your own, without a teacher and looking for native speakers' insights and guidance, this app is ideal for what you're looking for.
Even if you do attend Chinese classes with a native Chinese teacher, the app is great to keep practising after school and to help other fellow language learners improve their skills!
HiNative Score – 7.5/10
#9 HiNative Review // Where Can I Download HiNative?
HiNative is available on Apple Store and Google Play Store as well as on desktop.
For even more content check out our list of Best Apps To Learn Chinese, Korean & Vietnamese.
---
HiNative Review // FAQs
Is HiNative free?

Yes, HiNative is a free application and like many others, has a Premium version allowing you access to more features.
What is HiNative and how to use it?

HiNative is a Q&A style language app available for over 110 languages in a community of 5 million members.

Ask questions to native speakers and help other users in need of guidance in studying your native language. Ask members for a quick translation, to correct your pronunciation, to help read a text and more!

It has never been this easy to connect with native speakers of your target language.
Can HiNative help me improve my Chinese skills?

HiNative is a great companion tool to learn Chinese as you are able to connect with native speakers and ask all sort of questions about the grammar, vocabulary, pronunciation etc.

It can not, however, be considered a standalone course but is a great way to join a community of fellow language learners and Mandarin Chinese speakers.
Where to download HiNative?
Want more from LTL?
We offer a 7 day free trial to all new online students where you can study Mandarin 24/7. Come and check it out free of charge and see what you think!
If you wish to hear more from LTL Language School, why not join our mailing list.
Sign up below and become part of our ever growing community!