LingoDeer+ Review (2022) – More Games, More Progress
LingoDeer+ Review (2022)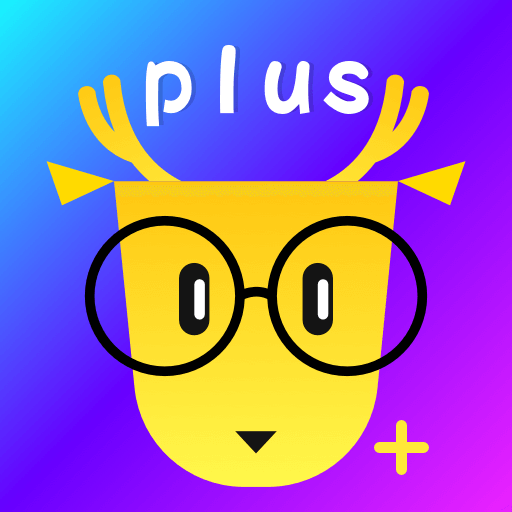 Hello again, deer readers.
(It will never get old)
If you are an avid reader of our blog or are in a constant quest to find the best learning app to accompany you in your language journey, you've probably already heard about LingoDeer.
"What if I haven't?"
Well, that's not a problem of course! But you should definitely check our LingoDeer review, it's a good one!
LingoDeer+ (mind the '+'), is LingoDeer's companion app that focuses on games to help you review your target language's vocabulary and grammar.
Game-based apps to learn foreign languages already exist on the market, such as LinGo Play or Drops, so how is LingoDeer+ any different?
Let's dive right in 👇
LingoDeer Review (2022) – One of the Most Complete Chinese Learning Apps
LingoDeer App Review (2022) LingoDeer App Review (2021) Hello deer readers, welcome to another app review by LTL Mandarin School! (See what I did there?) Today we will talk about LingoDeer, an app used daily by some of our LTL…
#1 LingoDeer+ Review – Introduction
LingoDeer+ is a game based app recently launched after the success of the developer's first app: LingoDeer.
It is also a free app, offering courses for 6 languages at the time of writing. It would not be surprising to see more languages in the future, considering the huge success of the first app.
The interface
Unlike other apps that offer you several sections on a bar at the bottom of the screen, everything on LingoDeer+ happens on the same page, so no need to look further.
On the screen are different game categories: vocabulary, grammar, phrases and 'integrated', under which you'll find games.
On the top left corner of the screen, tap on the deer icon to change the language you wish to practice.
On the top right corner you'll find three icons:
Crown icon – Subscribe to the premium version of LingoDeer+
Calendar icon – Play daily challenges and obtain achievement medals
Profile icon – Change your settings or click here to play offline
And that's it! Not too much going on, right?
How to log in?
It couldn't be easier! After opening the app, you will arrive directly on LingoDeer+ homepage with all the games category.
You don't to have register and log in if you don't want to, but doing so allows you to save your progress, play offline, register your achievements and have access to more settings.
Go to the profile icon on the top right corner of your screen, click on the first option to log in through Facebook, Google or using an email address.
Now that you are all set up, let's see how the games do in the next chapter.
Duolingo Chinese Review – Can I Learn Chinese with Duo?
Duolingo Chinese Review – Duolingo is a huge name in the educational sector but is it a good tool for learning Chinese? Find out first with LTL.
#2 LingoDeer+ Review – The Games
As mentioned before you will have 4 game categories, each including several sections of their own, as follow:
Vocabulary – Word Express; Memory Castle; Drifting Letters
Grammar – Grammar Tunes; Space of Counters
Phrases – Phrasal Construction; Stream of Phrases
Integrated – Speed Reply; Match to Advance
I will introduce a few games in more detail so you know exactly what you are getting into, but not all of them so you'll be able to keep a bit of mystery and discover the rest yourself!
TOP TIP – On the screen displaying all the levels before starting a game, click on the shortcuts shown with a KEY icon, to test your level and actually SKIP levels!

Best for more advanced learners! PREMIUM option
🎮 Word Express
The first game of the first category.
Basically, you have to help the little deer mascot deliver as many packages as possible, one package meaning one word.
It doesn't make a lot of sense in writing, I know, so check out our image gallery to see how it looks!
Before the game starts, the app shows you a list of vocabulary specific to a topic (fruits, family etc) so you know what the level is about.
You are then given a word in Chinese with its pinyin, and need to choose the right answer amongst the three options given. The more correct answers you get, the better the results at the end of the game.
🎮 Phrasal Construction
The first game of the PHRASE category.
Help Lingodeer's mascot build a wall by building sentences.
As for the other game, you are given a list of the vocabulary that will be used for the game so you can review it beforehand.
Afterwards, you are given a list of words and you need to use some of them to build a sentence to match the translation displayed.
This game is ideal to understand Chinese sentence structure and how to build phrases, all whilst having fun doing so.
🎮 Speed Reply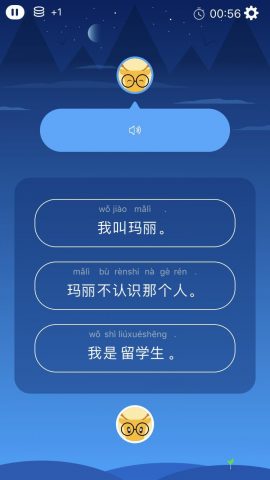 The first game of the INTEGRATED category.
Listen to the question asked in Chinese and choose the most fitting answer amongst three options given.
For every correct answer a tree is planted in the background, so watch your screen bloom as you go!
A very nice game to practice one's listening skills.
The speaker asks questions in a normal speed, so you'll be able to get used to how native speakers actually speak on a daily basis.
GOOD TO KNOW – There is a few things you can do during the games to help you have a better user experience.
On the top left corner of your screen, click on the pause ⏸ button to pause the game, restart or quit. Pretty useful when some games have a time limit!
On the top right corner of your screen, click on the settings button to select your favourite display: Characters only, Pinyin only or both.
I'll stop here and let you discover the other games by yourself!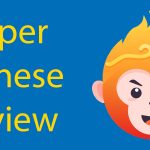 Super Chinese Review (for 2022) | Learn Chinese with AI
Super Chinese App Review (for 2022) It is time for another app blog, and today we talk present to you, our Super Chinese Review. Super Chinese is a very eye catching app when you browse through all of the options…
#3 LingoDeer+ Review – Premium
What are the benefits of the premium version then?
The first one that should be mentioned is that the free version of LingoDeer+ gives you access to a limited number of levels you can achieve, while the premium version gives you unlimited access to all of them.
As seen on the app, other benefits of the premium version includes:
Unlimited languages
Cross-device usage
Offline mode
Priority support
Alright, and the prices?
With an actual 50% off discount at the time of writing, you should definitely make the leap soon if you are considering a premium subscription.
LingoDeer+ Premium pricing goes as follow:
Monthly: 9,99€
Quarterly: 19,49€
Annual: 77,99€ OR 38,99€ with the actual 50% OFF
Are you considering subscribing to the Premium version? Let us know in the comments!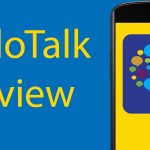 HelloTalk Review | How to Learn Chinese with HelloTalk
HelloTalk Review – HelloTalk is a fantastic resource for learning Chinese (or any language). The users of HelloTalk are the teachers and the students.
#4 LingoDeer+ Review – Conclusion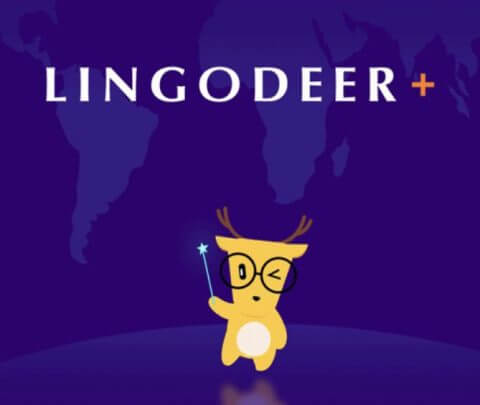 LingoDeer+ convinced me to be a fan as one of the more convenient, easiest and cutest language game apps.
To be honest, the design made me think a lot of Drops with bold colours and animated illustrations, but what Drops doesn't have is a deer mascot and a game story line, which I absolutely LOVE and makes the games even more engaging, interesting and fun to play.
(LingoDeer staff if you are reading this please please send one of your deer plushes/teddies to LTL Beijing I'll take good care of him 🙏).
Downsides are few and far between in truth.
I'd like more levels available in the free version of course, but who wouldn't?
I also think the lessons go too fast and complete very quickly, it would have been nice to see words several times during a game as repetition is a key component of the Chinese language learning process.
The app is ideal for beginners and even more wonderful if you actually use LingoDeer for Chinese lessons. Advanced learners will also like this app, as you can actually SKIP levels by testing your level and using shortcuts.
Here you go, you now know how big a fan I am of the brand! Download the app today and let me know what you think in the comments 💬💬💬
LingoDeer+ Score: 9/10
Where to download LingoDeer+?
You will find LingoDeer+ on both Apple Store and Google Play Store:
---
Lingodeer+ Review – FAQ's
Is LingoDeer+ a free app?

YES!

LingoDeer+ is a free application and offers a premium subscription to access more features, game levels and more.
Why play games to learn Chinese?

Playing games is just a fun way to review and learn vocabulary.

Some will prefer to write lines again and again on a notebook to try to integrate characters into memory, but others will prefer a more visually engaging way to review.

If you have never tried it before, you definitely should. Who knows? You might remember Chinese better this way!
Can LingoDeer+ help me speak fluent Chinese?

LingoDeer+ is ideal if you are looking to review some vocabulary, grammar and phrases structures and strengthen your knowledge but I am afraid it won't be enough to achieve Chinese fluency.

LingoDeer+ is LingoDeer's companion app, which offer Chinese lessons so you should definitely download it as well if you'd like to start learning Chinese.

Apps usually don't cover every aspect of the language so make sure to use several, or attend Chinese classes with a native Chinese teacher to get better guidance and learning structure.
Where to download LingoDeer+?
Where to find more apps to learn Chinese?
Want more from LTL?
If you wish to hear more from LTL Mandarin School why not join our mailing list.
We give plenty of handy information on learning Chinese, useful apps to learn the language and everything going on at our LTL schools!
Sign up below and become part of our ever growing community!