Busuu Review (2023 Update) Learn Chinese with a Personalised Study Plan
Busuu Review; How Much Chinese Can I Really Learn Using Busuu?
Busuu Review: 9/10
A really nicely laid out all-round Chinese learning app that matches up to the CERF framework to help you assess your level. Get a personalised study plan and learn with native speakers as you work through the lessons. (Premium allows for 13 languages!)
Updated for 2023.
You may have stumbled upon Busuu before when looking for European languages, but did you know they also teach Mandarin Chinese?
You are correct, here we go for another Chinese learning app review!
Busuu is a language learning platform teaching vocabulary and grammar with smart lessons and exercises.
In addition to that, the app also allows you to connect to native speakers, to get help in your target language or help them with theirs.
The app is kind of a mix between Duolingo and HelloTalk, but even better.
#1 Busuu Review // Pros & Cons

#2 Busuu Review // Subscription / Fees / App Comparisons

#3 Busuu Review // Introduction (+ Key Stats)

#4 Busuu Review // Free vs. Paid (worth it?)

#5 Busuu Review // Getting Started

#6 Busuu Review // The Interface

#7 Busuu Review // Lessons & Exercises

#8 Busuu Review // Languages Available on Busuu

#9 Busuu Review // Room for Improvements

#10 Busuu Review // Conclusion

#11 Busuu Review // Where to Download?

#12 Busuu Review // FAQs
---
#1 Busuu Review // Pros & Cons
| BUSUU PROS | BUSUU CONS |
| --- | --- |
| 1. A really nice, fun, and approachable interface. | 1. Only one language is free without a subscription. |
| 2. Speak with native speakers and learn on lessons as you go! | 2. Only a selection of 13 languages offered (much less than other language learning apps) |
| 3. Nice levels matching up with CERF framework so you can test your level. | 3. User-sourced feedback sometimes offers incorrect corrections. |
Busuu Pros & Cons
BOTTOM LINE: Busuu offers an all-round learning experience with very well categorised lessons and very efficient exercises. It covers several aspects of the language at once, but may be limited in its content for more advanced speakers.
#2 Busuu Review // Subscription / Fees / App Comparisons
Busuu Premium
In order to get the most out of Busuu and study more than one language, you'll need a premium subscription. (See below for more info on whether we think it's worth it).
| Busuu Subscription | Price (USD$) |
| --- | --- |
| Monthly | From $9.99 |
| Annual | From $69.96 |
| Lifetime | N/A |
Busuu Subscription Fees
Price Comparisons
(Other popular Chinese language learning apps)
| Language Learning App | Monthly | Annually | Lifetime |
| --- | --- | --- | --- |
| Memrise | $8.49 | $59.99 | $119.99 |
| Mondly | $9.49 | $39.99 | $89.99 |
| Drops App | $14.49 | $142.99 (annually for two years) | $174.99 |
| Italki | N/A (pay per lesson) | N/A (pay per lesson) | N/A (pay per lesson) |
| Duolingo | $7 | $84 | N/A |
| HelloTalk | $6.99 | $45.99 | $175.00 |
| Busuu | from $9.99 | from $69.96 | N/A |
Best Chinese Learning Apps Price Comparison Table (2023)
#3 Busuu Review // Introduction (+ Key Stats)
Busuu Key Stats
| | |
| --- | --- |
| Name | Busuu |
| Description | "Get access to compact lessons from the experts and connect with a community of native speakers to help you master words faster." (Busuu) |
| Website | https://www.busuu.com/ |
| No. of Languages Offered | 13 |
| Price | From $9.99 / $69.96 / N/A |
Busuu Key Stats
Busuu Introduction
Busuu was created in 2008 and quickly became one of the top language learning platforms, winning a lot of recognition in the education industry.
In 2015 they developed a partnership with McGraw-Hill Education and created an official certification you can receive after passing a test on Busuu.
It was made to validate and testify your language level, levels on the certificate referring to the Common European Framework of Reference (CEFR).
Providing courses in 13 languages, Busuu also built a strong online community allowing you to get in touch with native speakers.
Post your exercises and receive corrections as well as comments from a native speaker on your performance.
Add your favourites correctors as friends, invite yours and help others in their language learning journey.
#4 Busuu Review // Free vs. Paid (worth it?)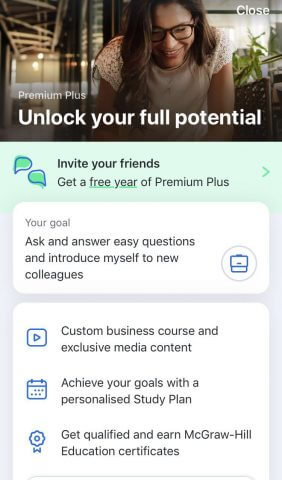 Busuu is a free app with a Premium subscription, the same as most language learning apps.
What are the advantages of a premium subscription, then?
Well, first of all, Busuu offers two different plans, Premium and Premium Plus. Each Premium plan allows for quizzes and more lessons as well as more features.
Let's see in these lists what the benefits are:
Premium Plan:
Offline mode
Grammar lessons
Vocabulary trainer
Practise with native speakers
Premium Plus Plan:
Every Premium feature and:
Personalised Study Plan
Learn up to 13 languages
Official certificate
There is not much difference in the pricing of both plans.
One month: 9,99€ Premium / 10,99€ Premium Plus.
12 months: 5,83€ per month Premium / 6,66€ per month Premium Plus.
24 months: 5,41€ per month Premium / 6,24€ per month Premium Plus.
If you are considering Busuu as your main tool to learn Chinese, you might want to subscribe to a Premium Plus plan, as it offers a personalised study plan that will help you focus on your needs and be consistent in your studies.
#5 Busuu Review // Getting Started
✅ Sign me up now!
Signing up is pretty easy.
After downloading the app, open it, click on "start learning". Select you native and target language to finally create your account by logging in with Facebook, Google, an email address or your phone number.
Busuu will then ask you a few questions to help you create a personalised STUDY PLAN.
This is definitely one of the best features of this app, but you'll have to subscribe to the premium version to benefit from it.
Select your goal in the list offered, what level you wish to achieve, what days and times of the week you'd like to study as well as for how long.
You'll finally receive an estimate of when you will reach your goal.
👉 But then, it is just an estimate from assuming you use the app alone. So don't think too much about it if you are using other learning materials or attend classes with a native Chinese teacher.
After all that is done, Busuu will first introduce its Premium version, and you'll be able to explore the app right afterwards.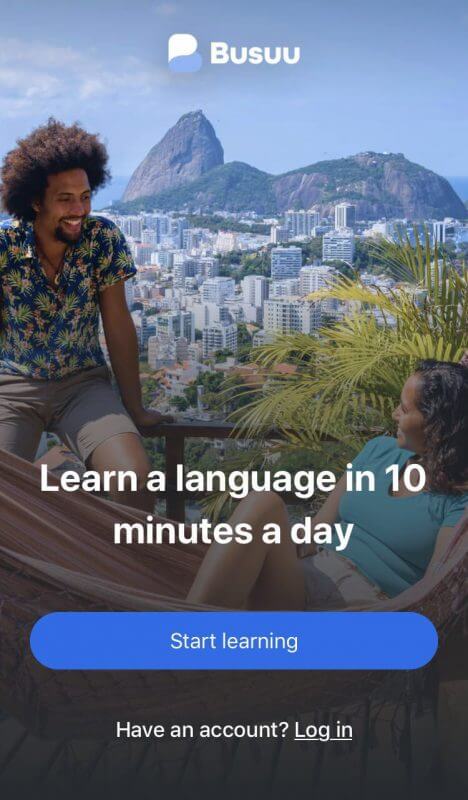 #6 Busuu Review // The Interface
The app is very neat and intuitive, sticking to the blue and white branded colours make it easy on the eye. We are not too overwhelmed by all the information on screen.
It is very easy to navigate through it and understand how it works. I like that the ads suggesting purchasing the premium version are very discreet and not pushy.
Thank you for that, Busuu.
First things first, let's see what we have right after logging in for the first time.
We arrive on the LEARN section of the app, which is one section of the following five we can find on the bottom bar:
LEARN – all lessons and exercises listed here
REVIEW – review exercises here and check on your saved words
SOCIAL – get in touch with native speakers in this section
NOTIFICATIONS – you'll get notified of any changes to your account or new messages
ME – profile section, settings and progress

Let's quickly break them all down so you have a better idea of what you can do in each section.
🎓 LEARN Section
Your home page, basically.
All of the lessons will be listed here so you can check on your progress and what lessons you have to do next.
Lessons are broken down into levels: beginner A1 (20 lessons), elementary A2 (15 lessons), intermediate B1 (12 lessons), upper intermediate B2 (11 lessons).
⚠️ GOOD TO KNOW – You actually don't have to have complete the A1 and A2 courses to start on the B1, for example.

An app for learners of all levels, we LOVE that!
On the top left corner of the screen, click on the flag of your target language to start a course in another one.
On the top right of the screen, click on the circular icon to check on your study plan.
Sometimes a blue pop-up bar will appear at the bottom of your screen to remind you to review weak words and keep practising.
🎓 REVIEW Section
The vocabulary section logs all of the words learned, categorising them by the following: weak words, strong words, medium words.
Click on the "Review new" button at the bottom right of the screen to start reviewing your vocabulary.
You will be given two options: flashcards or writing.
For the first option, a flashcard will randomly appear on screen, you'll have to listen to the word and you can also see its character(s).
Click on "show translation" to check if you knew its meaning.
Choose between "I knew it" and "I didn't know it" to further personalise your next review sessions.
In the second option, the writing review, you'll be asked to translate a word or sentence you hear or read.
To do that, you'll have to use a Chinese keyboard from your smartphone. If you don't have one, make sure to check our blog on the Chinese keyboard.
In this review, you will also have the option to click on "I don't know" and go on with the next word.
In the free version of Busuu, you'll be able to review a few words, but this feature is unlimited with a premium plan.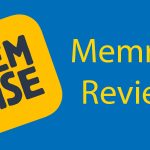 Memrise Review (2023) – Can You Learn Chinese Through Flashcards?
Memrise Review 2023 – Is Memrise For Chinese Learners the App You Need? Memrise Review: 8/10I've used Memrise for over 10 years and over 10 languages. I can't learn languages without it – but it's not the only thing I…
🎓 SOCIAL Section
A very interesting feature of the app, that will be familiar to users of HiNative or HelloTalk.
In this section, you can get in touch with other users and native speakers of your target language.
When you do an exercise you can post it to be reviewed and corrected by native speakers. In return, when you go on this section, you'll be able to correct the exercises of other users studying your native language.
Scroll through the different profiles from right to left and find someone you'd like to help and add them as friends to keep in touch!
🎓 NOTIFICATIONS Section
Not much to say about this section, as the title already says it all.
This is the place where you'll receive news about everything going on about your account, people correcting your exercises or liking your corrections, friend invites etc.
Keep an eye on this section to not miss a thing!
🎓 ME Section
That's your profile and the place where you can check your learning progress and change your settings.
Check on your friends, progress, exercises posted and days learnt by clicking on the dedicated parts.
When you scroll all the way to the end you'll see a "reputation" category.
This is your statistics and numbers on how many corrections you have given, how many thumbs up and best correction 'awards' you've received.
On the top right of your screen, click on the "+" icon to add friends and receive rewards going up to one year of Premium for free.
Right next to it, click on the settings icon to change your languages, information about you, study plan, notifications and other usual settings options.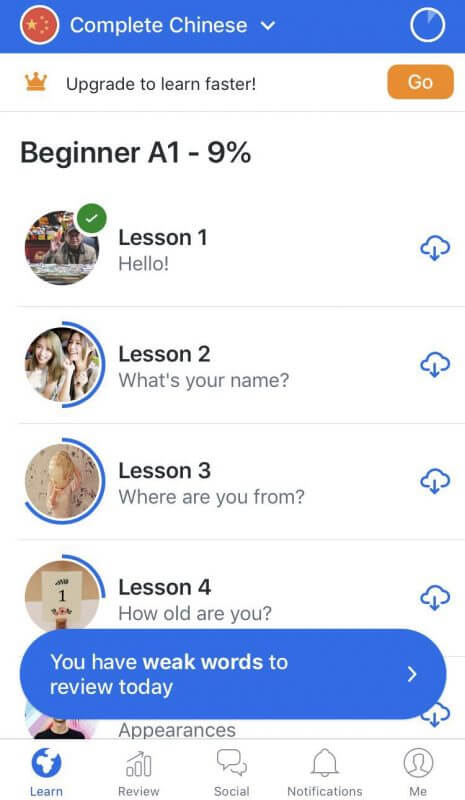 Leave us a comment 👇with which section you like best.
#7 Busuu Review // The Lessons and Exercises
Now that we've explored the app and know everything about each button, let's see how the lessons actually work.
Go back to the LEARN screen and click on any lesson.
Each lesson is divided into different topics, for example, numbers, introduction to pinyin, grammar, what's your name etc.
Click on a topic and you'll see it is also divided into smaller sections, usually vocabulary and quiz.
You'll sometimes have dialogues, discover, develop, and conversation sections depending on the topic.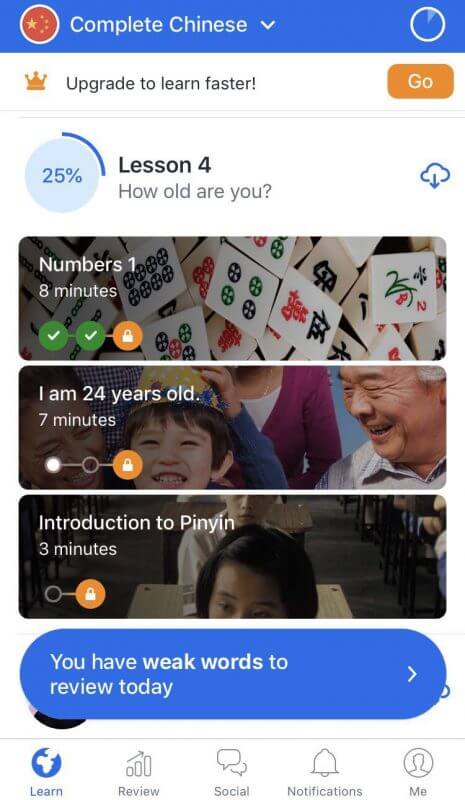 👉 Let's start a lesson to see its structure and how things work.
Every lesson starts with the vocabulary, with exercises to complete whilst learning new words.
Every vocabulary card is shrewdly made.
You'll find the recording of the word that you can replay as many times as you want, the characters, translation and examples of how the word is used in a sentence.
On the top right corner of the screen, click on the character icon to switch between characters and pinyin, so you can choose what fits you best.
Right next to it, click on the light bulb icon to display all the tips, advice and culture details related to the current lesson. A very useful icon you can refer to whenever you wish.
Throughout the lesson you'll have to complete exercises right after seeing new words or at the very end to review them all. Exercises are:
Listen and repeat
Fill in the blanks by choosing among the options given
Select the word you hear
True or False
Match the character to its translation
Put the words in the correct order
…and more
At the end of every lesson you can test your knowledge by doing quizzes, a premium feature that leads me to my next chapter.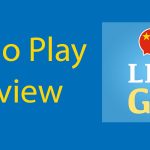 LinGo Play Review // Play Online, Learn Chinese 2023
An Honest LinGo Play Review; Is it For You? Everything You Need To Know in 2023. LinGo Play Review: 7/10LinGo Play is a nice vocabulary app that helps you get ahead in your Chinese classes by learning new words in…
#8 Busuu Review // Languages Available on Busuu
It's not just Mandarin Chinese you can learn on Busuu.
Below is a list of the 13 languages currently available on HelloTalk.
English
Spanish
French
Dutch
German
Italian
Portuguese
Chinese
Russian
Japanese
Arabic
Turkish
Polish
#9 Busuu Review // Room for Improvements
Limited languages. Although this means that Busuu can concentrate on its 13 languages, it also limits the number of languages you can learn. It would be great if Busuu could add some more popular languages!
There are some shortfalls and gaps in some of the language lessons. Busuu should make sure each lesson is complete to make for a more rounded learning journey.
Corrections from user-sourced feedback are sometimes not accurate.
At the moment, Busuu doesn't fit advanced learners. In order to accommodate to more advanced learners, Busuu needs to add more advanced content to its lessons.
#10 Busuu Review // Conclusion
Busuu is a very smart app to learn Chinese, and all lessons are very well categorised, exercises very efficient and covers several aspects of the language at once.
Complete beginners will enjoy starting to learn Chinese on this app, but being able to start any lesson up to B2 level without completing the previous ones is also great for advanced learners.
There is everything: pinyin, vocabulary, grammar, listening and speaking exercises, reading and building sentences etc on a large range of topics, all very useful to daily life.
One downside of the app would be the review section of the free version of the app. It is very limited and only gives a glimpse of what it can do.
No surprise here though, as premium plans work the same in other apps as well.
Speaking of Premium plans, I don't really see the point of having two of them, as the prices and extra features don't differ much.
If you are interested in Busuu as your primary learning app, you should definitely go for the Premium Plus plan as you'll have access to all the feature for just an extra euro per month.
#11 Busuu Review // Where to Download?
Busuu is available on the Apple Store and Google Play Store as well as on desktop. Keep on reading to see if the app fits what you are looking for.
Busuu Score: 9/10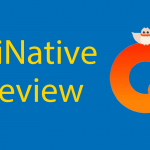 HiNative Review (2023) – Connect and Learn with Natives
This Q&A language learning app is ideal to connect with natives speakers and learn alongside a community of fellow languages learners.
---
Learn Chinese with Apps – FAQs
Is Busuu free?

Busuu is indeed a FREE language learning app, but you'll need a premium plan to have unlimited access to lessons and quizzes as well as being able to learn more languages.
What is Busuu?

Busuu is a language learning app allowing you to connect with native speakers of your target language.

Learn Chinese with vocabulary and grammar lessons, ask questions to native speakers and join a community of language learners from all over the world.
Can Busuu help me improve my Chinese skills?

Busuu is a great app for beginners of the Chinese language, as all the lessons are well categorised and cover speaking, reading and listening aspects of the language.

Advanced learners will also like to learn on Busuu, as the app goes up to B2 level and it is possible to start them without having to complete the first levels first.
Where to download Busuu?
Do you have more apps for me?
Want more from LTL?
We offer a 7 day free trial to all new online students where you can study Mandarin 24/7. Come and check it out free of charge and see what you think!
If you wish to hear more from LTL Language School, why not join our mailing list.
Sign up below and become part of our ever growing community!