BTS Seoul Tour || 22 Places ARMYs Must Visit (in 2023)
22 Places to Visit if You're a BTS Fan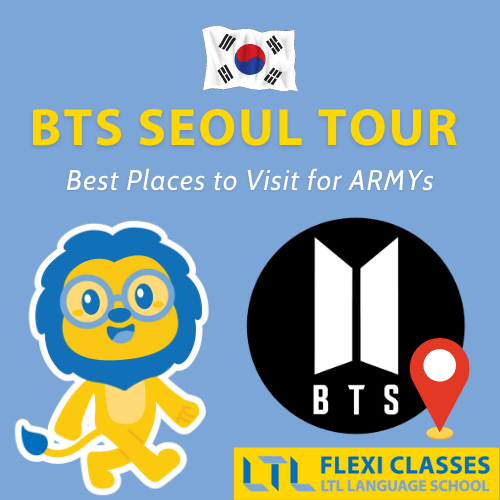 Welcome to BTS Seoul Tour!
We won't be talking about concerts here, but if you are planning to go to Seoul soon, or already are in the city, and are fans of BTS, this list will definitely peak your interest.
BTS left an impressive mark in the world's music industry, and their discography is LONG.
It is impossible in this day and age not to have heard about them!
We tried to compile a list of the best places to visit in Seoul for any BTS fan, to have you walk in their footsteps, feel the hustle of Seoul, create memories for yourself and take memorable pictures to bring back home.
This list is not exhaustive and the group have certainly visited a lot more places, so be sure to let us know in the comments if we should add more, and tag us on Instagram with your own pictures!
NOTE | The famous abandoned swimming pool from The most beautiful moment in life : prologue (HYYH) will not be part of the list, as it no longer exists!
Walk in BTS's Footsteps
Let's start with 3 iconic places to start your BTS Seoul Tour.
HYBE Entertainment Building
Big Hit Entertainment moved to its new headquarters in the district of Yongsan as it became HYBE Entertainment in March 2021.
HYBE is now the headquarters of multiple labels and spans across all 19 floors of the building.
It is not possible to enter the building and the chances are rare for you to meet your idols here, but it is a place to visit absolutely in your BTS Seoul Tour!
Address | Floor Yangjin Plaza 5F, 5 Hakdong-ro 30-gil, Gangnam-gu, Seoul, South Korea
Old Big Hit Entertainment Studio
The Old Big Hit Entertainment Studio has now become a must-visit place for fans of BTS, as this is where it all began.
This building has seen a lot of blood, sweat and tears from the boys, but it produced the massively popular group we know today!
Although the place is not easy to find and will require you to put on your best pair of glasses, once you find it you'll see how iconic this place still is for the fandom.
The walls are filled with written messages from ARMYs, and in a whole lot of languages. People travel far to see the place!
Address | 10-31 Nonhyeon-dong, Gangnam-gu, Seoul, South Korea
BTS' Trainee Days Restaurant – Yoojung Sikdang
Yoojung Sikdang is the best place to get the 'pre-fame' BTS feel.
The group would eat at this restaurant very regularly in their pre-debut days, and even mentioned it later in variety shows.
The restaurant is still open today, and is now filled with BTS merchandise. The group's favourite dishes are still on the menu: Dolsot Bibimbap and Jeju Black Pork.
Address | 14 Dosan-daero 28-gil, Nonhyeon-dong, Gangnam-gu, Seoul, South Korea
Shooting Locations in Seoul
This list will mix photoshoots and filming places. You might recognise a few!
Laundry Pizza
FROM | BTS Love Yourself: Her E, Version Photoshoot
We're not the only one writing lists like this one, but the Laundry Pizza is ALWAYS included.
It is an iconic and highly photogenic place to visit, a great place to take your own pictures.
By the way, this is a real restaurant, and you can eat delicious pizzas there!
Address | 810-13 Yeoksam-dong, Gangnam-gu, Seoul, South Korea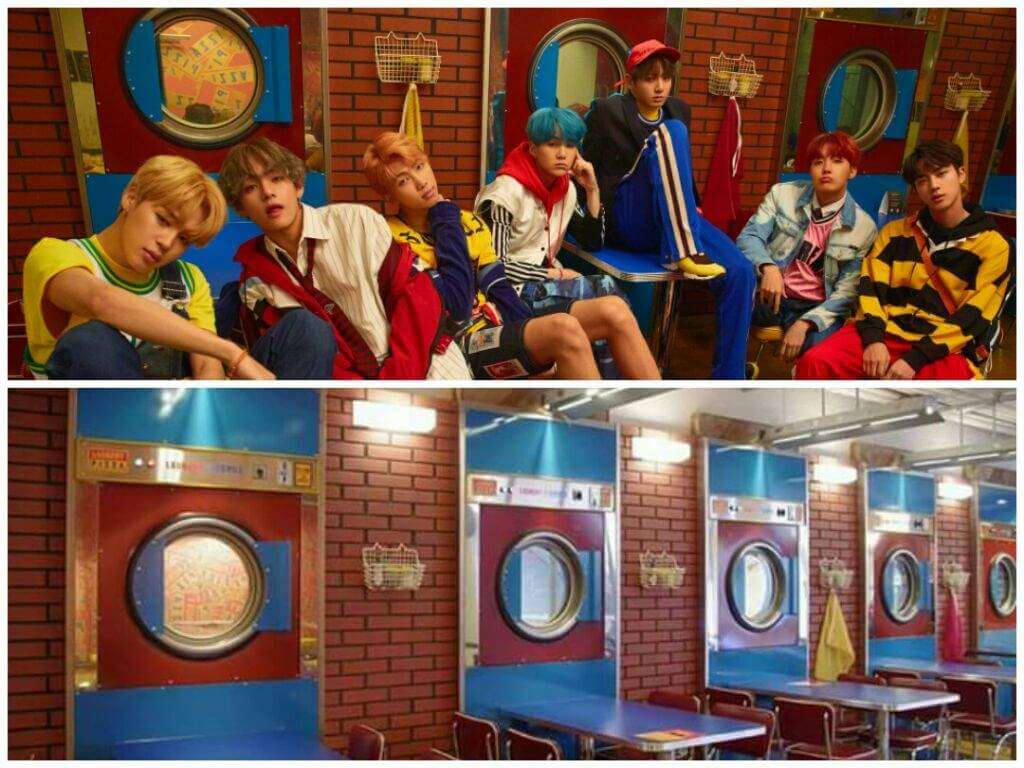 Dongjak Bridge
FROM | Love Yourself trilogy photo teaser with V.
Dongjak Bridge, or Dongjakdaegyo Bridge, must be the most popular bridge in Seoul as a lot of K-dramas were filmed there.
It crosses the Han river and includes a railway in addition to the road.
It is one of the busiest bridges as well, with large numbers of pedestrians using it, so you should probably plan to come early to take nice pictures.
Make sure to always pay attention to the vehicles coming and going, and stay safe.
Address | 386 Ichon-dong, Yongsan-gu, Seoul, South Korea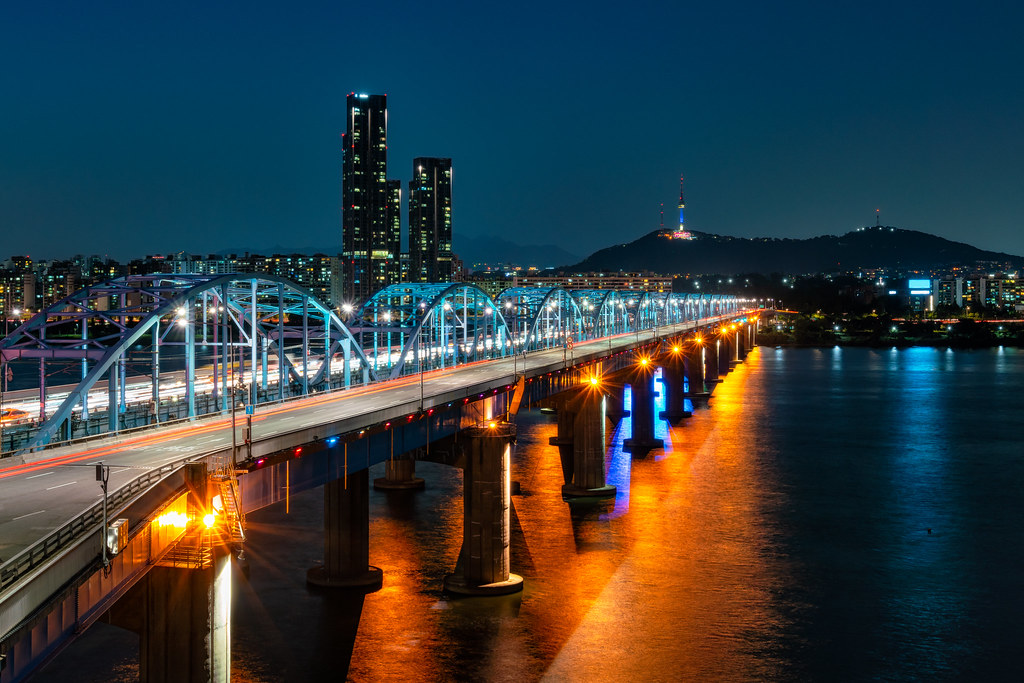 Seoul Forest Woodland Playground
FROM | Love Yourself: Answer Photoshoot with Suga.
Unlike the gloomy tunnel in which Suga looks particularly sad and lonely, the area of the park the photoshoot was done is very lively with children running everywhere!
Seoul Forest is a place where people can ride bikes, walk around and bring their children to playgrounds.
Address | 273 Ttukseom-ro, Seongsu-dong 1(il)-na, Seongdong-gu, Seoul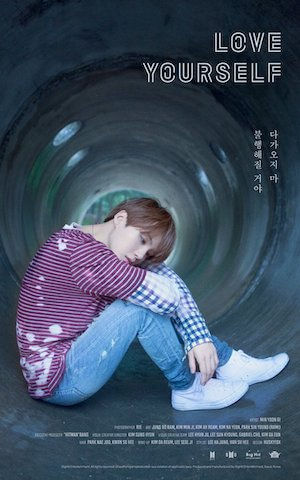 Iryeong station [일영역]
FROM | Spring Day (MV) – Scenes with V
This abandoned train station became hugely popular overnight, after V shot a few scenes of Spring Day there.
You are allowed to visit the scene and take pictures, but even though the station has been discontinued, you should remain careful when crossing the rails.
Address | Yangju-si, Gyeonggi-do, South Korea
You can see the station as soon as the MV starts:
Dongho Bridge
FROM | I Need You (MV) – Scenes with J-Hope
Here's another bridge for you to visit!
Just like Dongjak Bridge above, Dongho also combines road and rails to cross the Han river.
As always, be careful of vehicles when taking pictures of the place.
Address | Oksu-dong, Seongdong-gu, Seoul, South Korea
Shooting Locations NOT in Seoul
Alright, this is a BTS Seoul Tour but we couldn't resist and added 4 more shooting locations for you to see!
If you have time leave Seoul for a bit and visit those?
Yongin Daejanggeum Park
FROM | Daechwita [대취타], Suga's solo video as Agust D.
You probably remember this MV as vividly as me, as the location chosen to film was just magnificent.
It is in fact the largest outdoor film set for historical dramas in South Korea, and has replicas of ancient buildings from the Samguk, Goryeo and Joseon periods.
The most recent K-dramas filmed in this location are:
Haechi (2019)
Extraordinary You (2019)
Rookie Historian Goo Hae-ryung (2019)
My Country (2019)
Mr. Queen (2020)
The site has been open to the public since 2011, so you will be able to enter freely and take pictures yourself.
PS – You might also recognise the place from Stray Kids's MV "Double Knot (English ver.)".
Address | 778-1 Yongcheon-ri, Baegam-myeon, Cheoin-gu, Yongin-si, Gyeonggi-do
Jumunjin Beach Bus Stop
FROM | You Never Walk Alone – Album Cover
The bus stop featuring on the album cover was so popular after the album's release that the city Gangneung in Gangwon Province decided to build a replica with the sole purpose of being a photo spot for BTS' fans.
Address | 8-54 Hyangho-ri, Jumunjin-eup, Gangneung-si, Gangwon-do, South Korea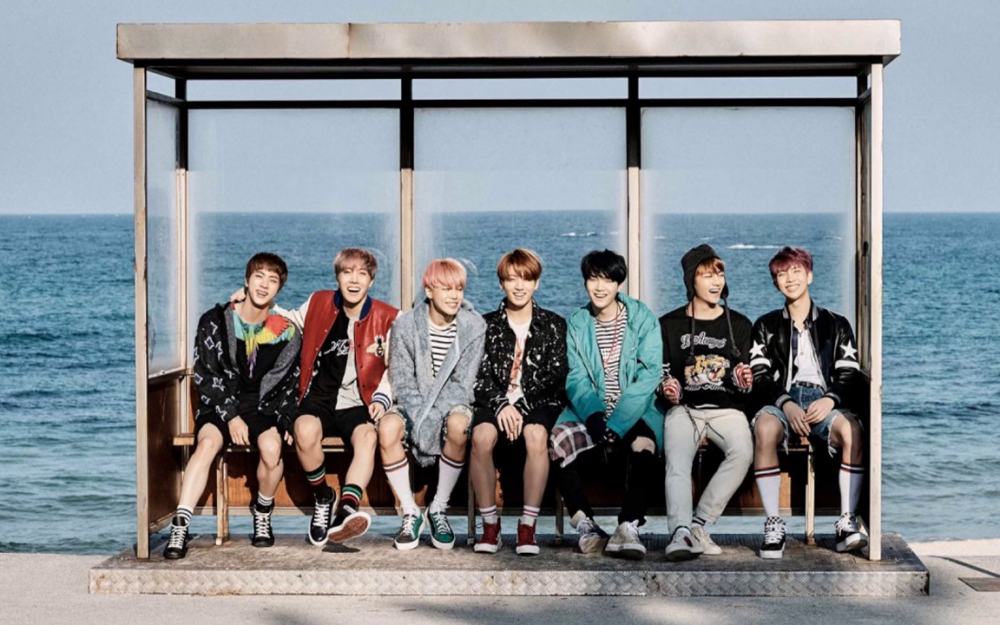 Bomun Tourist Complex
FROM | The most beautiful moment in life pt.1 – Photoshoot
Remember this beautiful photoshoot where the group poses under cherry blossom trees near to a lake?
Yep, it's this one and you can visit this location too!
Bomun Tourist Complex is an immense area filled with leisure and tourist facilities such as shopping malls, golf resorts, palace gardens etc.
Address | Sinpyeong-dong, Gyeongju-si, Gyeongsangbuk-do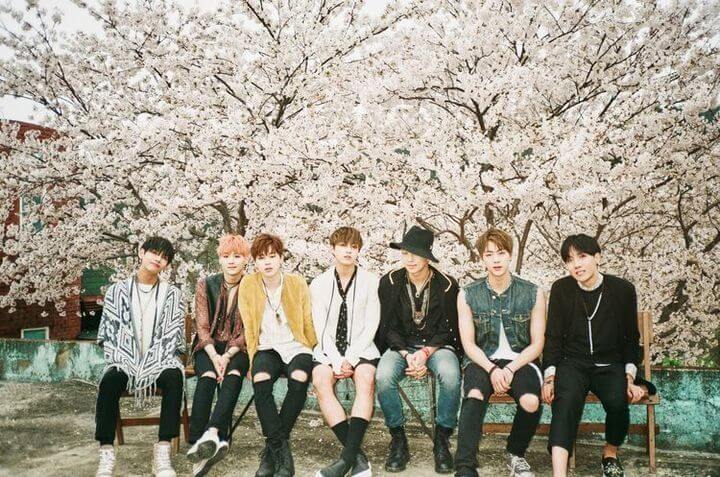 Camellia Hill
FROM | Love yourself trilogy – Photoshoot with Jin
Located on Jeju Island, Camellia Hill is a camellia arboretum created in 1979.
According to this website "The arboretum is home to 6,000 camellia trees of 500 different species including species that are known to produce the world's largest and earliest blossoms."
A beautiful photoshoot was made with Jin in this location.
Address | 166, Byeongak-ro, Seogwipo-si, Jeju-do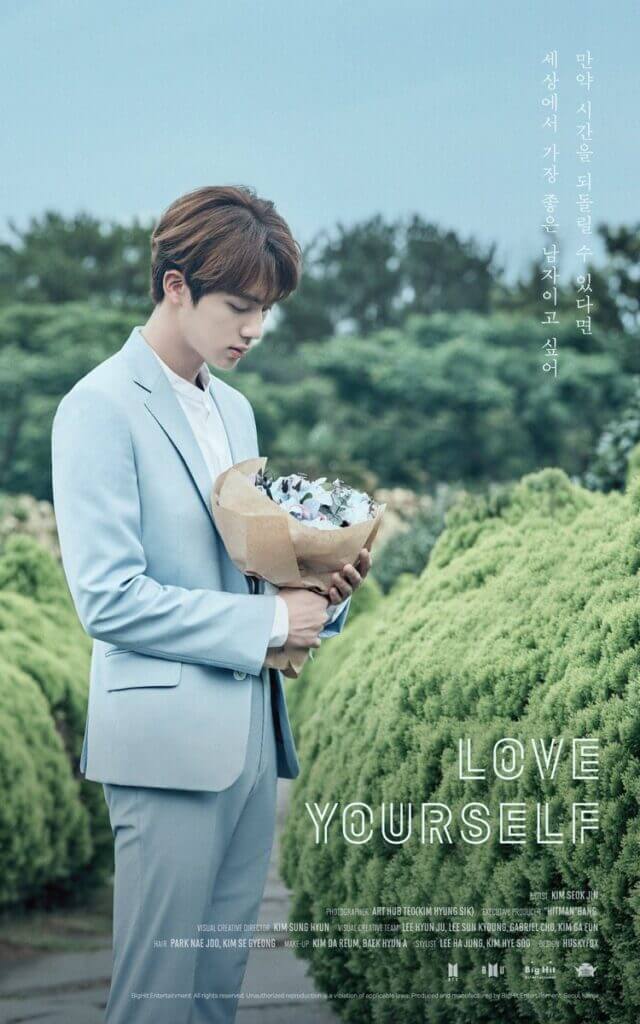 BTS Seoul Tour | Places to Eat
We've seen BTS pre-debut restaurant earlier, but we've got more addresses for you to go check out.
Ossu Seiromushi [오쓰 세이로무시]
In 2018 Jin and his eldest brother opened a Japanese restaurant called Ossu Seiromushi.
They serve traditional Japanese dishes and quickly became a very popular place to dine in.
The restaurant is always full so you'll need to make a reservation beforehand!
Address | 30 Baekjegobun-ro 45-gil, Songpa-gu, Seoul, South Korea
Magnate
This cafe is in Busan but if you happen to be in the area you should go and take a look!
Magnate opened in 2019 and is owned by Jimin's father.
You can drink a cup of coffee and eat delicious pastries, all whilst enjoying the elegant and minimalist interior of the place.
Address | 135 Jinnam-ro, Nam-gu, Busan, South Korea
The Min's [더민스]
The Min's is owned by 2AM's Lee Changmin and you probably already expected to see this one one the list, as it used to be BTS's favourite cafe.
Unfortunately, the cafe permanently closed recently.
BTS Seoul Tour | More Places to Visit
These places are not filming or shooting locations but still have a link to our favourite group, and are all worth checking out.
Banpo Hangang Park
Banpo Hangang Park always has been a go-to place for Seoul locals, and for that reason was featured in "BTS' Life in Seoul".
"BTS' Life in Seoul" is a short promotional video of Seoul featuring our boys, aimed at displaying everything you could do in Seoul.
Address | 40 Sinbanpo-ro 11-gil, Seocho-gu, Seoul, South Korea
See Banpo Hangang Park in the first part of the video:
RM Forest
You read correctly, RM has in fact two forests!
Forest 1 was created by fans in celebration of RM's 25th birthday.
Forest 2 was created in celebration of his 26th birthday.
RM has always been an advocate for the preservation of our environment, so these gifts couldn't have been more spot on.
Addresses:

Forest 1 | 65 Hangaram-ro, Jamsil 2(i)-dong, Songpa-gu, Seoul

Forest 2 | 389 Ichon 2(i)-dong, Yongsan-gu, Seoul
HopeWorld
This location is probably the least popular of the list, just because people don't know it exists!
If you happen to be in Gwangju, you must visit the "hopeworld" sculpture the city revealed near the end of 2020.
The sculpture, a collaboration between the city of Gwangju and a K-pop Art School, was created in honour of J-Hope.
21,800 messages from fans all around the world were engraved on the sculpture, which is set in a very colourful area, making it a beautiful piece to visit.
Address | 62-3 Chungjang-dong, Dong-gu, Gwangju, South Korea
More BTS & Even More K-pop
Hallyu K-Star Road
Originally known as the "luxury road of Cheongdam", the K-Star Road is visited by many Kpop fans all year long and we can easily understand why!
From Apgujeong Rodeo Station towards Cheongdam intersection there is 1km to walk with GangnamDols everywhere and entertainment companies based in the neighbouring streets.
GangnamDols are sculptures of big bear dolls designed with Kpop groups branding.
There are 17 of them, gotta catch them all!
Address | 407, Apgujeong-ro, Gangnam-gu, Seoul
Subway station | Apgujeongrodeo
Star Avenue | LOTTE Duty Free
Star Avenue is a must visit for any fan of the Korean entertainment industry.
You may well have seen the group's handprints everywhere on social media? Well it's here in LOTTE Star Avenue!
Here's a quote from their own website:
"LOTTE DUTY FREE will continue to serve as an ambassador of K-CULTURE which takes the lead in promoting Korean culture and revitalising the tourism industry."
You got it, you'll get to see LOTS of K-pop and K-drama related content whilst visiting this place!
It is a very touristy place so expect crowds all day.
Address | 240 Olympic-ro, Jamsil 3(sam)-dong, Songpa-gu, Seoul, South Korea
HYBE Insight Museum in Seoul
Opened in May 2021, the HYBE Museum is full of exclusive content from HYBE's artists and will allow you to experience music in a very unique and immersive way through technology.
Boasting various exhibitions you will get to see exclusive footage of rehearsals, dance practices but also reward walls and displays dedicated to HYBE's history.
Make sure to book your ticket in advance online or you won't be able to enter the facility.
Address | 42, Hangang-daero, Yongsan-gu, Seoul (HYBE INSIGHT, Floors B1 and B2)
It's best you see for yourself 👇
BT21 LINE Friends Store
You wouldn't leave Korea without a souvenir, would you?
There used to be a LINE Friends Store in Itaewon, but it closed early April 2019.
But don't worry! There are two other addresses in Gangnam and Hongdae.
BT21 is a collaboration between BTS and LINE Friends, each member got to design their own character!
The 3rd floor is a cafe, so make sure you drink a BT21 coffee before you go!
Gangnam Address | 1305-3 Seocho-dong, Seocho-gu, Seoul, South Korea

Hongdae Address | South Korea, Seoul, Mapo-gu, Donggyo-dong, 160-5 1-2층
---
There you have it, 22 places to visit as part of your BTS Seoul Tour!
Were there any places you visited and would like us to add to the list? Let us know in the comments down below and we'll make sure to write about it.
If you'd like to learn the basics of the Korean language before travelling to Seoul and be able to get around more easily, check out our online Flexi Classes.
Prefer face to face classes? We've got you!
You can now learn Korean with LTL in Seoul, and join a Korean language program taught by certified teachers.

Email us your study plan and we'll help you organise it.
BTS SEOUL TOUR – FAQ's
Where is Big Hit Entertainment's old building?

The Big Hit Entertainment building is at the following address:

10-31 Nonhyeon-dong, Gangnam-gu, Seoul, South Korea
Where is HYBE Entertainment new building?

The HYBE Entertainment building is located at the following address:

Floor Yangjin Plaza 5F, 5 Hakdong-ro 30-gil, Nonhyeon 2(i)-dong, Gangnam-gu, Seoul, South Korea
Where is BTS favourite restaurant?

Yoojung Sikdang is BTS' pre-debut favourite restaurant, and is still open today. You can find it at this address:

14 Dosan-daero 28-gil, Nonhyeon-dong, Gangnam-gu, Seoul, South Korea
Where to buy BT21 Line Friends merchandise?

You can buy BT21 Line Friends merchandise in their flagship stores in Gangnam or Hongdae.

Gangnam address | 1305-3 Seocho-dong, Seocho-gu, Seoul, South Korea

Hongdae address | South Korea, Seoul, Mapo-gu, Donggyo-dong, 160-5 1-2층
Is The Min's Cafe closed?

Yes, The Min's Cafe is now permanently closed.
Want More From LTL?
FANCY LEARNING KOREAN? Check out our online Korean courses here.
We offer a 7 day free trial to all online students where you can study Korean 24/7.
Want to study Korean in Korea instead? Our Korean courses in Seoul can either be taken in small groups of no more than 5 students or individually for a more tailored experience.
We even offer incredible homestay experiences in Seoul too.
To top it all off, it certainly doesn't just end with Korean, in fact we also teach:
Come and be a part of our amazing community.