uTalk Review (updated for 2022) – Learn Mandarin and Shanghainese
uTalk Review – The Complete Guide (for 2022)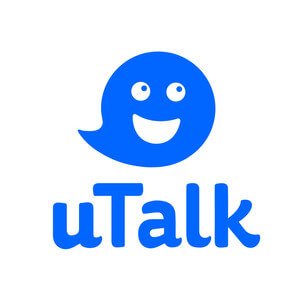 We're back with another language learning app review! Today we turn our attention to this uTalk review.
This time we will review the uTalk app, in which it is possible to learn both Mandarin and Shanghainese (I also heard Hakka will follow).
As you might already know, China boasts many dialects and in the past it was hard for people from different provinces to understand each other.
Mandarin Chinese, also called 普通话 (pǔtōnghuà) "common language", became the national language in 1911 as it was the most widely spoken dialect across the country (more than 70% of the population!)
Shanghainese, as its name will already tell you, is the dialect spoken in Shanghai. Also known as the Hu dialect, it is mainly spoken in Shanghai and its neighbouring areas.
Why learn Shanghainese if it's only spoken in Shanghai? You might ask.
Learning Shanghainese you'll get a better understanding of Mandarin and classical Chinese, you'll be able to communicate with the people of Shanghai in a more meaningful way, allowing you to better understand them and their character.
uTalk Review #1 – Introduction

uTalk Review #2 – Interface

uTalk Review #3 – Topics & Games

uTalk Review #4 – Final Thoughts

uTalk Review #5 – Conclusion

uTalk Review #6 – FAQ's
DISCLAIMER – I have been learning both Mandarin Chinese and Shanghainese on uTalk. As the topics follow the same pattern, I will not talk about them separately, but rather together in a general way.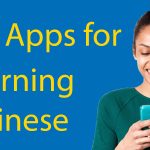 The Best Apps for Learning Chinese (Right Now)
Best Apps For Learning Chinese | Trying to improve your Chinese listening, reading, writing, speaking? These high tech apps for learning chinese will help.
#1 uTalk Review – Introduction
uTalk is a language learning tool available as an app and on desktop, boasting hundreds of foreign languages to learn, Mandarin Chinese and Shanghainese (Wu Chinese) being two of them.
It is a vocabulary-based app focusing on the speaking and listening aspects of the language.
With more than 60 topics to learn from and packed with everyday useful words and sentences for immediate use, both beginners and advanced learners will benefit from this app.
Note that you don't even have to speak English, you can learn a new language from ANY language!
uTalks makes it possible to learn 140+ languages from more than 100 languages. Incredible, isn't it?
Have a look at their introduction video to get a first look into the app 👇
What about the Premium subscription?
If you are familiar with language learning apps you are probably aware they most often offer a free and a premium version. uTalk is no different.
The free version gives access to every language's Free Starter Words category, where it is possible to learn numerous essential words and phrases.
A subscription is needed to have access to the other themed-based topics and be able to fully enjoy the content provided by the app.
At the time of writing, subscriptions prices for ONE language are as follows:
2,99€ /month
19.99€ /year
23.99€ /2 years
To get access to ALL LANGUAGES of the app, the subscription is set at 10,99€ /month.

The uCoins system
The more you study, the more exercises you complete, the more uCoins you'll receive.
What are those uCoins exactly?
Basically, uCoins allows you to unlock content in the app. The more uCoins you get the more topics in your target language you can unlock.
A nice alternative for people who don't wish to commit to a full subscription, or people who study occasionally and spontaneously.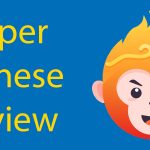 Super Chinese Review (for 2022) | Learn Chinese with AI
Super Chinese App Review (for 2022) It is time for another app blog, and today we talk present to you, our Super Chinese Review. Super Chinese is a very eye catching app when you browse through all of the options…
#2 uTalk Review – Interface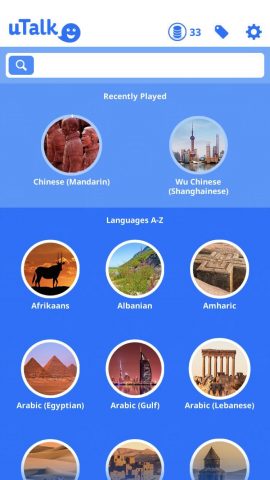 The interface of uTalk is very straight forward and easy to navigate.
After downloading the app and opening it for the first time, you'll be offered to sign up, which I suggest you do to better keep track of your progress and access your purchased content across multiple devices.
After that…
You'll be brought to the one and only FA-BU-LOUS list of 140+ languages to learn.
Choose your target language, or languageS, and start learning!
So, if your sound is activated you'll have noticed the light sound effect every time you click on something. That can be modified in the settings located on the right corner on the top of your screen.
In those settings you'll be able to update your profile, restore purchases, change your language, choose the text size and more.
Going back to the top of your screen, along with the settings button you'll also be able to access the subscriptions section and the uCoins section, explaining everything you need to know to purchase or learn more about these topics.
In each language section you'll see at the bottom of the screen a progress bar, so you know how much you completed of the course.

Always nice to look back and see how much we've learned!
Ready to dive in?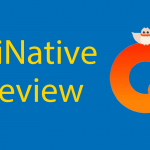 HiNative Review (2020) – Connect and Learn with Natives
This Q&A language learning app is ideal to connect with natives speakers and learn alongside a community of fellow languages learners.
#3 uTalk Review – Topics & Games
As mentioned earlier, uTalk is a themed-based learning app with specific vocabulary divided into numerous topics.
You will not get a full grammar or writing course with uTalk, and if this is what you are particularly looking for, then you should have a look at other Chinese learning apps such has Duolingo or Lingodeer.
Let's start with the first topic, which is free for all users:
Free Starter Words.
By clicking on the topic you will be faced with 6 choices:
Phrase practice
Easy game
Speaking game
Hard game
Memory game
Recall game
Yes, that's a lot of games, but we all know that we learn better and more efficiently when we have fun doing it so that should not come as a very big surprise.
Let's have a look in more details.
Phrase Practice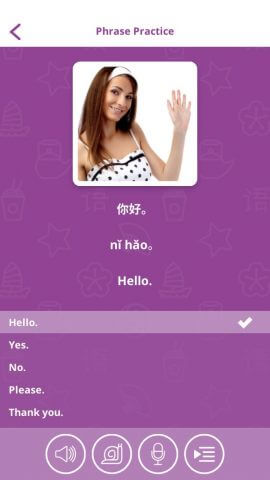 The phrase practice section is where you'll find all the words and sentences used in the topic.
Words and sentences are displayed with their respective characters and pinyin, as well as an image and audio.
On the bottom of the screen you'll see four buttons, all very useful to study and learn the words.
From left to right:
Listening – Click here to listen to the word/sentence told by both male and female native speakers.
Slow listening – Click here to listen to the word/sentence at a lower speed.
Recording – Press to record yourself, press again to stop the recording and compare your pronunciation with native speakers.
Slides – Click here to display all of the vocabulary list in the form of slides, with pronunciation, pinyin and characters.
Easy Game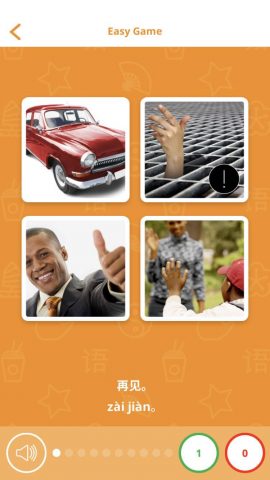 The rules of the games are very simple: match the spoken phrase with the correct picture.
Several images will appear on screen, one after the other with the native speaker announcing the words/sentences.
They are then shuffled face down, a word/sentence is announced and you have to select the correct image.
Easy enough?
If there is anything you don't understand you can always comment below and ask us, we are always happy to help!
💡 TOP TIP – While learning the words/sentences in the phrase practice section, pay attention to the images and remember them, as the games will mainly based on them.
Hard Game
The hard game is very similar to the easy game, but you won't be presented with each image's pronunciation.
You directly have to listen to the word/phrase and find the corresponding image amongst 6-8 of them.
Straight-forward, no time to waste!
There is no limitation on time, but this exercise gives you an opportunity to quickly see if you really know the words, and which of them you need to review.
💡 TOP TIP 2 – Pay attention to the images, some of them will have a "?" or "!" in a black circle. This gives you a hint about the meaning of the image.
Speaking Game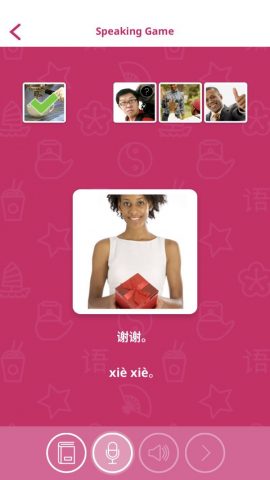 This speaking game was very interesting for me as I've never encountered any like this before, in the many language learning apps I've reviewed.
First of all, at the start of the game you are asked to record your voice for five images presented to you.
For example, when the image for "你好" comes up, you record yourself saying it, and do the next four.
Your recordings are then in a match-phrase-to-picture game, but with YOUR voice along with the native speakers.
Not only do you get to speak Chinese, you can also practice your pronunciation.
And what better way to practice speaking than listening to yourself speak and compare it to a native speaker?
Memory Game
As the name of the game says it all, this is a memory exercise, so I hope you paid attention to those images as I said before!
A set of images is displayed and you have to memorise them before the end of the timer.
Sometimes the images turn face down!
A word/sentence is announced and you have to match it to the correct image, if you remember its position!
The more you play, the more images there will be, so…FOCUS!
Recall Game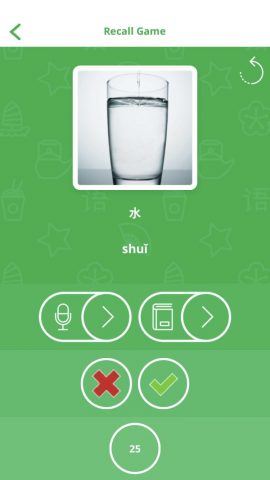 This game sums it all up and you really should do it last to end the topic.
In this game all of the vocabulary studied will come up one by one, and you'll have to remember how to say each of them.
Again, record yourself and compare it with the native speaker's audio.
Choose between ❌ or ✅ depending on your knowledge at the time, and that's it!
Topic completed.
In the case you didn't know the word, the app will show it again and again until you click on that ✅ button.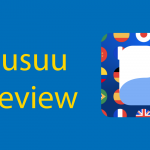 Busuu Review (2022) Learn Chinese with a Personalised Study Plan
Busuu Review (2022) Busuu Review (2020) You may have stumbled upon Busuu before when looking for European languages, but did you know they also teach Mandarin Chinese? You are correct, here we go for another Chinese learning app review! Busuu…
#4 uTalk Review – Final Thoughts
Being an advanced learner in Mandarin Chinese I was very happy to use and review uTalk, as I find their themed-based topic very useful in my case.
Here are the main aspects of the app I like the most:
Being able to study more than 140 languages in one single app, is obviously very impressive.
I like the simple yet effective layout and design of the app.
The games are smart and very helpful in learning the vocabulary.
I love being able to speak while practicing with an app (which is still not very common).
It is easy to notice that the words and sentences are spoken by real native speakers and not a computer voice, which is fantastic to better get a grasp of the Chinese language.
The very large number of topics makes the app a valuable resource and learning tool.
uTalk is a well-designed vocabulary learning app and very easy to learn with, so I'd definitely recommend to download it if you wish to improve your vocabulary.
However, I'd have a couple remarks to take into account if you are a beginner in Chinese and considering using uTalk as your main learning tool.
Here are my two recommendations that could help uTalk turn into the all time best language learning app ever 🏆
Recommendation #1 – Introductory Phonetic Course
Quite frankly, I found starting learning Shanghainese a bit confusing, and the same reason actually also applies to the Mandarin Chinese course.
Hear me out:
What I find the most challenging in learning a new foreign language is getting used to the pronunciation and mastering it.
Every language is obviously very different but I find that understanding the pronunciation and phonetics of a language the absolute fundamental basis to an effective learning process.
And especially so in tonal languages such as Mandarin and Shanghainese.
Check out how to say finals and tones in Chinese right now 👇
It would have been nice to have an introductory course about how the Chinese language works, with explanations about the phonetics and the pinyin system.
Doing so, it would also be an opportunity to explain what tones are, as I remember it being a very unusual and foreign concept to me, a French native speaker, when I started learning Chinese years ago.
Regarding Shanghainese specifically, I have never studied it before and starting the first topic I noticed the pronunciation is actually VERY different from the pinyin and characters displayed in the course.
Usually people learning Shanghainese are familiar with Mandarin Chinese and speak it as well, so it would have been useful to get a heads up (for both beginners in Shanghainese and Mandarin speakers, actually) about the dialect specificities compared to Mandarin Chinese.
For example, how the dialect is written in an informal manner that uses many homophones which only exist in Shanghainese. Or that Shanghainese has 5 tones instead of 4 in Mandarin.
I was a bit lost and very confused, so I stopped the lesson as I felt I was not making any efficient learning progress.
However I will definitely come back to learning Shanghainese on uTalk if improvements are made in the future.
Listen to our student Richard talking about why study Shanghainese and how the pronunciation is like compared to Mandarin 👇

Skip directly to 1:23 for the Shanghainese pronunciation!
Recommendation #2 – Building Sentences
My second recommendation actually concerns the main structure of the app and the general content for each language.
We know by now that uTalk uses a theme-based approach to language learning.
While I believe this is very useful and a valuable resource for learners already knowing a bit of the language and looking to learn lots of new vocabulary, the app might not fit a beginners expectations looking to reach fluency.
You get vocabulary and sentences for daily life and travels, which is great for immediate use don't get me wrong…

But I truly believe that in order to learn a language fast and efficiently, a grammar course, or at least a bit of explanation here and there, is a must.
For instance, in the very first topic Free Starter Words we learn how to say "I'd like a cup of coffee, please" without knowing which of the words is the verb to like or the noun coffee.
When standard phrases like this are very useful while traveling, there is no lesson or exercise in the app to help you create a sentence yourself, but rather repeat sentences previously learned even if you don't really understand the structure of it.
Understanding the structure of a sentence and knowing how to build one is essential to effectively learning and using the language.
If uTalk made it possible to do so in their app, nothing could stop them from reaching their full potential as one of the best language learning apps on the market.
LingoDeer Review (2022) – One of the Most Complete Chinese Learning Apps
LingoDeer App Review (2022) LingoDeer App Review (2021) Hello deer readers, welcome to another app review by LTL Mandarin School! (See what I did there?) Today we will talk about LingoDeer, an app used daily by some of our LTL…
#5 uTalk Review – Conclusion
Having a first look at the app/website I knew already I would like it, not only because of their overall look and languages available but also because of their sassy way of speaking.
Yes, you read that right, I love a funny and approchable team behind the scenes. They gave off that sort of vibe, and it was the first time in my life I actually read an app's license agreement in the about section, or "boring legal stuff" as the uTalk team would say!
ANYWAY… let's be serious for a minute.
Overall, uTalk is a very useful vocabulary app for learners already having some basis of the Chinese language, but total beginners might get confused in learning the language with vocabulary only.
Having so many languages available and vocabulary uTalk could quickly become one of the MUST download app to learn Chinese, if only we could also learn how to build sentences ourselves.
uTalk sets the basis for a very powerful app and is only lacking a bit of structure for total beginners in language learning.
As of now, uTalk is very useful for travels, but unfortunately, far from enough to reach fluency.
We should definitely keep an eye on this app!
uTalk Score – 7/10
Where to download uTalk?
You will find uTalk on both the Apple Store and Google Play Store as well as one desktop:
---
uTalk – FAQ's
Where to download uTalk?
What is uTalk?

uTalk is a language learning app boasting an impressive number of 140+ languages to learn, Mandarin Chinese and Shanghainese being two of them.

They mainly focus on vocabulary and useful daily phrases for immediate use with more than 60 topics to learn from.
Is uTalk free?

uTalk is a free app on which you can then purchase a subscription to access more content.
Can uTalk help me reach Chinese fluency?

uTalk will be a great learning tool for learners with already a bit of Chinese knowledge, as you will be able to strengthen your knowledge and learn lots of new vocabulary.

Beginners can learn vocabulary and sentences as well, but as a vocabulary app you won't be able to learn about the grammar and sentence structure. For that, we recommend you to take Chinese classes with a native teacher to fully understand how the language works.

uTalk is a great companion app, but cannot be considered a standalone Chinese course.
Any other app to learn Chinese?

There's lots of apps on the market and it can be confusing. Here's a list of the best apps to learn Chinese. And because we are now also teaching other Asian languages, here's lists for Korean and Vietnamese apps.
Want more from LTL?
We offer a 7 day free trial to all new online students where you can study Mandarin 24/7. Come and check it out free of charge and see what you think!
If you wish to hear more from LTL Language School, why not join our mailing list.
Sign up below and become part of our ever growing community!